The Skinny Current Issue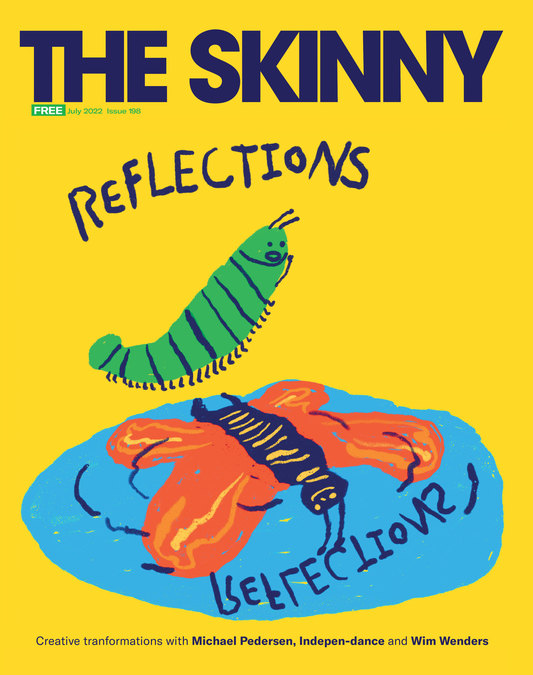 We're having some issues with embedding the PDF of the magazine on this page; we're looking into it, but in the meantime you can click the big cover image above and that will take you to our catalogue on Issuu.
Welcome to our most abstractly-themed issue of the year (so far). Ahead of next month's extremely concretely-themed all of the arts festivals return, we've taken a moment to pause and reflect on art's transformative, therapeutic power – hence the REFLECTIONS issue.
Our lead feature is an interview with Michael Pedersen, the poet now author and Mr Neu! Reekie!, whose prose debut is released this month. Entitled Boy Friends, it explores friendship and loss, meditating on male grief in the wake of his best friend's death. The cover art for the book is also particularly beautiful, and the illustrator has kindly shared another of his works as this month's poster. Turn to the centre spread for your pull-out poster by Nathaniel Russell.
As German auteur Wim Wenders' masterpiece Paris, Texas returns to cinema screens, one writer reflects on the film's central character's physical and psychological journey and the masculine urge to walk into the desert. Indepen-dance, the award-winning inclusive dance company for disabled and non-disabled people, present their biennial international festival in Tramway this month. We talk to them about what to expect from the Gathered Together programme, and their aims in transforming perceptions about inclusion around the world.
Finally, taking the 'art's transformative power' idea extremely literally, we have our Scottish degree show round-up for the year. Read our reports on these exhibitions which have literally transformed the lives of graduates in Edinburgh, Glasgow and Dundee.
Film also meets Iranian filmmaker Panah Panahi to discuss his bittersweet family road movie, Hit the Road, and we talk to the new head of Edinburgh International Film Festival to find out what's in store. In a TV opinion double pager, we consider the problems of the Star Wars franchise, as Obi-Wan Kenobi arrives on screens. And, as cultural gatekeepers express outrage at Gen Z's discovery of Kate Bush through Stranger Things, we share an argument for contemporary pop cultural education.
Music talks to Yorkshire band Working Men's Club to learn about their forthcoming second album, Fear Fear. We meet Belfast's most under-appreciated band, Robocobra Quartet, and discuss their 'no guitar' policy. POWA, Fanny Riot and Popgirlz tell us more about the launch of Friendly Festivals in Scotland, working to make music festivals safer for all.
As Scottish label and design studio LuckyMe turns 15, we have a look back through their evolution alongside a frankly mind-bending composite image they have kindly created for the occasion. Comedy talks to Alison Spittle about her impending Fringe show, Wet. In design, we look at Local Heroes' new V&A Dundee range of specially-commisioned furoshiki, Daytippers! And in Intersections, we speak to women about their experiences with ADHD diagnosis, while one writer ponders the nature of home, identity and belonging.