The best world food in Edinburgh and Glasgow
Your favourite international restaurants hail from across the globe – cutlery in hand, it's time to take a whistle-stop world tour.
It's always the most nebulous of all our Food and Drink Survey categories – isn't every kind of food from somewhere in the world, we hear you ask – but we ask for your world food favourites because there are just so many great places to choose from across Edinburgh and Glasgow. We've narrowed the results down to your favourite five, beginning our world tour in a Glasgow outpost of the Indian capital.
Babu Bombay Street Kitchen offers up authentic twists on Indian street food classics, with an option for any time of day or night. From breakfast chapattis to on-the-go snacks via a host of amazing curries, Babu spend their days brightening up Glasgow tastebuds from their West Regent Street basement, even when it's blowing a force nine gale and raining sideways on the street above.
Heading west, we hit the USA, and Frontier in Edinburgh. The Bruntsfield site has been through a range of tenants over the years, but Frontier's take on US cuisine seems set to stick, not least because of an impressive/ daunting menu. Cajun catfish, southern barbecue and fried chicken, Colorado-inspired stews, Chicago hotdogs, New York burgers, massive syrup-packed breakfasts – Frontier is like a one-room foodie tour of the US.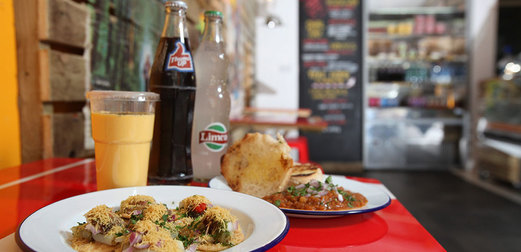 Babu Bombay Street Kitchen, Glasgow
From the States to south-east Asia, and Hanoi Bike Shop, in Glasgow's West End. Step in off Ruthven Lane, and the first thing that hits is the unmistakable whiff of fish sauce. Then there's the film-set decor and close, intimate atmosphere. And then there's the pho. Oh, the pho – big bowls of fragrant broth packed with noodles, meat, veg and with a selection of herbs to add as you will. You'll dribble broth on your lap, your chopstick skills will go to pot, and you won't mind – this pho is worth making a meal of, in every sense.
Over in Edinburgh, Ting Thai Caravan fires out action-packed street-style dishes from one of the city's coolest settings. The menu fits on two sides of paper, and it's no exaggeration to say that every dish is worth trying. There's the Khao Sawy Talay, a fried noodle dish loaded up with seafood; there are the soup bowls laden with aromatics, meats and vegetables; curries, salads, various fried things and a whole load more besides – try them all, you won't regret it.
Fiinally, we return to India, and to venerable Glasgow institution Mother India. Delicious southern Indian dishes abound in this big brother to the sharing, tapas-style Mother India's cafe. One for the grown-ups – making the correct menu decision matters so much more when only you'll end up eating it – but with MI's pedigree, it's safe to say you won't go far wrong no matter what you pick.