Glasgow's Southside: Scottish Food in Microcosm
We journey down Victoria and Pollokshaws Road to look at some of the key developments in Scotland's food scene
Let's start with a pointless sentiment – things have changed a lot in the last decade. But in the world of food, that apparently super-obvious statement is actually super-true. Ten years that began with no one having the faintest idea about an 'Instant Gram' ended with a pal of mine at a restaurant launch where entire tables were standing on their chairs to take photos of their dinner for the clout. Throw in the endless march of food festivals and experiential stuff, and it's been a bit like walking through an non-stop culinary funfair crossed with that one episode of Black Mirror where everyone's constantly got their phones out.
Yet Scotland's food and drink scene has changed in a number of other, less hype-dependant ways in the past ten years, and a pair of streets in Glasgow's Southside prove to be a handy encapsulation of the key trends and changes from across the 2010s. They're packed with excellent restaurants, cafes, shops and bars, in a pair of perfectly straight lines that make for an extremely handy narrative device. From locally-sourced veg to extremely funky beer, these six places are a microcosm of a sparkling Scottish food scene.
349 Victoria Road
When you care about the environment you live in, caring about your food – where it comes from, how it got to you, the ways in which it was procured – is an obvious next step. And as we become more and more interested in ethical and sustainable eating, shops like Locavore are going to become more important and widespread. Locavore is Scotland's first social enterprise supermarket; the Victoria Road shop opened its doors in 2018 and is a mostly organic foodie haven filled with packaging-free staples, and hyper-local fruit and veg grown in community gardens around the city. There are nut butter machines, and there's even the country's first milk vending machine to help further wean us all off our plastic addiction.
Locavore's grown a lot over the course of the 2010s, from a small community hub to the thriving shop and cafe that's actively changing how we think about our food. You have to suspect that its story is nowhere near finished.
607 Pollokshaws Rd
Were the 2010s entirely positive? Nope, but the growing visibility of community action was one of the shining lights of the last ten years. Tools to start a campaign, find funding for an idea, and offer support have all become part of our daily lives. Ranjit Kaur's cafe serves up the kind of Punjabi dishes she served to members of the city's Sikh and Hindu communities for years before launching the Kitchen in 2016, and it's quickly built a hefty local following of its own. Kaur told the Observer last February: "I often look out from the kitchen into the busy restaurant [and] see customers enjoying the food and it makes my heart melt." That's the kind of connection that good food can create, and it's a connection well worth celebrating.
686-688 Pollokshaws Rd
Visually, Koelschip Yard is pretty much what you'd expect from the words 'pub in Scotland'. Wood everywhere, nice detailing, barrels for standing around… it's lovely, but not exactly remarkable. The selection of beer on offer, though, pushes this place to a whole new level, and acts as breathing, musty proof of our love of weird fermentation. Koelschip's ever-changing beer list is loaded with funky, fantastic sour beers from small-scale breweries across Scotland and beyond. It's a bar where the craft of brewing is showcased, and the slightly unexpected things that can happen when you get some hops and yeast are celebrated. Sour beers, kombucha (from the likes of Clever Kombucha, whose taproom has just opened in Dalmarnock), sourdough bread and kimchi – if it's a bit funky, we love it.
452 Victoria Rd
"MILK is a social enterprise set up to empower and support refugee and migrant women living in Glasgow." This is, unequivocally, a good thing we should be supporting. 
The past decade proved, in a very real and often slightly-too-literal way, that everything is political. The places we shop, the company we keep, the people we give our time, attention and money to – these aren't just moments to idly pass us by while a dodgy capitalist system demolishes our society and burns the environment to a cinder. We can make a difference if we want to, and that means using what privilege and power we do have to help others.
As for MILK, the cafe provides its staff work, training and the chance to bed into their new communities, and its events programme constantly sheds light on food traditions and cultures from around the world. Sharing this knowledge, supporting one another and showing unity in the face of hardship – that's the Big Milk Energy I want to see in the 2020s.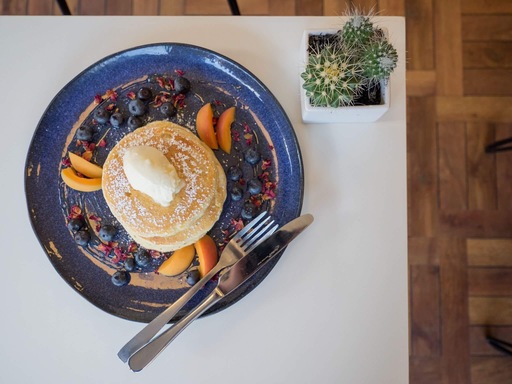 1082 Pollokshaws Rd
If one meal is synonymous with Instagram's impact on food, it's brunch. Visually decadent plates loaded with colour and shape, which almost always feature an oozing egg for you to snap for the Stories, are the ideal dishes for our snap-happy times and Strange Brew's are some of the best. There's endless invention in both sweet and savoury, with waffles and eggs offered in new and exciting forms on an almost daily basis.
The dishes look incredible, the ingredients are top-class, and Strange Brew is now an established destination for Glasgow's brunch crowd. "I scrapped my first menu after one week," Strange Brew's Laurie Macmillan told us back in 2017. "It was too 'cheffy'... now I have built a trusting clientele, they are round to my way of thinking." Not only have they come round, but they're telling everyone and their dog about it.
1109 Pollokshaws Rd
For all that talk earlier about the way that capital-E experiences have taken centre stage in food, it's only half true. Some of the best food to be had in Scotland today is being served up in dinky, lovely, homely places like Julie's Kopitiam, where space is at a premium and failing to prepare means preparing to wait 40 minutes for a table. That's because the Kopitiam has that vital attribute that no amount of fancy marketing can provide; the thing we all crave in an unpredictable and unknowable world – authenticity.
It comes from the recipes, inspired by Julie's Malaysian mother and packed with warming flavours and exciting ingredients. It comes from the one room set-up, where the chefs work together like occasionally competitive siblings behind the counter as first dates and long overdue catch-ups carry on all around you. And it comes from the ambience; the steaming windows, the candle light, the genuine buzz of people excited to be here. Julie's Kopitiam feels like a real neighbourhood restaurant, at the heart of a real neighbourhood; it's no wonder it's so popular.