Liverpool & Manchester's best date places
Forget Netflix and chill; you and your bae deserve better. Make this year's date place list your starting point for a successful evening of romance
When it comes to wooing your lady or man friend, there's nothing quite like a good meal. Food and sex have always gone hand-in-hand – from oysters and chocolate boxes, to that scene in American Pie. Ask out a potential beau and it's pretty likely that 'going for a meal' will be the activity of choice.
If you want to 'seal the deal,' a cheeky Nando's won't cut it. Try one of the spots from this year's best date place category instead. From laid-back street food and shareable small plates to a bustling market and cultural free-for-all, there's something for everyone. Best cafe favourite East Avenue Bakehouse got a nod, as did the guys at Evil Eye. Here's the rundown on the rest.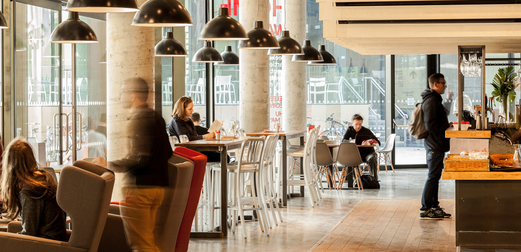 HOME, Manchester
The opening of this cultural tour-de-force was one of the highlights of 2015. A stellar arthouse cinema and a diverse theatre programme already makes HOME a serious contender for best date place, but its food and drink offering is just as good. The ground floor bar makes for a perfect meeting spot, with its floor-to-ceiling windows and outdoor seating space. Head upstairs to the restaurant – all dark wood and gold fittings – for a well-edited menu of platters, pizzas and other shareable treats. If you're catching a film, the small second floor bar is an ideal pitstop, where you can grab a G&T to sip on the outdoor terrace or take into the screen with you.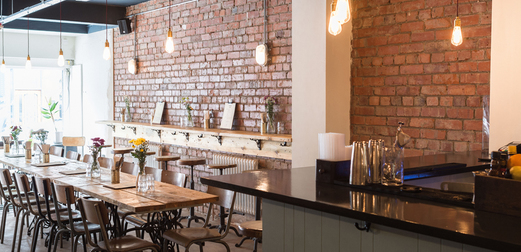 Maray, Liverpool
Situated on Liverpool's Bold Street, Maray is named after the Parisian neighbourhood Le Marais. Inspired by the area's legendary falafel shops, Maray's young team have curated a modern, Middle Eastern-inspired menu with an emphasis on mezze and small sharing plates. You can find date night favourites like rib-eye steak, but it's given a twist with Baghdad butter and burnt onion purée. The wine list has some unique additions; try the Maverick Shiraz, an Australian red that's made using the principles of biodynamic viticulture (google it). Bare bricks and a long, communal table lend Maray a laid-back vibe, so it feels like a treat without being overwhelming.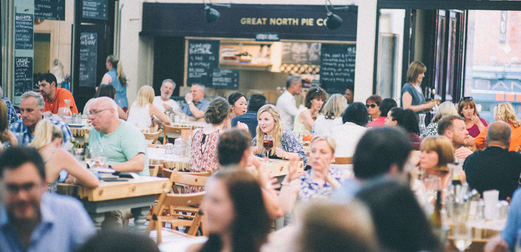 Market House, Altrincham
Market House is taking the concept of the food hall and turning it on its head. It brings together some of the region's finest food and drink traders all under one roof, so it's unlikely your date will struggle to find something they like. Pizza polymaths Honest Crust are a highlight, with their wood-fired, sourdough pizzas and seasonal toppings. Meat fans can head to Tender Cow for gems like steak Benedict and ox cheek croquettes, while the likes of Reserve Wines and Jack in the Box have your booze needs covered. The Victorian architecture and bustling, communal tables make Market House perfect for cosy weekend dates, though late-night openings make it a goer for weeknights, too.