Glasgow & Edinburgh's best takeaways
Stopping to eat? Pfft, we say, as we take a look at your favourite takeaways and venues for food on-the-go
As lovely as it would be to take lengthy lunches every day, and spend weekend afternoons mulling over multi-course meals, we're busy people. Those viral videos don't watch themselves, and the longer we spend eating the higher the likelihood of adding to the Sunday afternoon washing mountain. Still, 'New Year New You' and all that, and if we can't make time to sit down and eat, the least we can all do is make sure we're putting the best stuff possible inside ourselves as we run from one bus to another.
A good place to start is Martha's, the Glasgow takeaway dedicated to making your breakfast and lunch that little bit healthier. We say 'a little', but this place is like a one-room health kick, from the salads packed with all manner of exotic veg to the all-action smoothies heaving with vitamins and other goodness. Even the less healthy stuff fits; the bacon's award-winning, and Martha's policy of only selling sausage rolls on Fridays takes your feeble willpower out of the dietary equation.
Speaking of rolls, let's talk about Piece. Gourmet sandwichmonger is quite the title to give oneself, but considering the sarnies flying out the door at Piece it seems entirely appropriate. A sandwich shop with a breathtaking multi-section menu, Piece are true artists when it comes to putting things between bread. Then they start saying things like 'salt beef and egg mayo-filled croissant' and we start throwing money at them and wondering whether it's possible to courier sandwiches down the M8 in the space of a lunch break.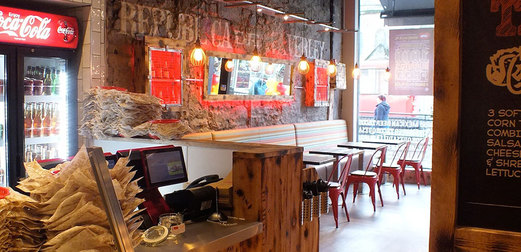 From this point on, things devolve into a three-way burrito battle between a trio of your favourite Mexican eateries. We guess you could call it... a Mexican stand-off. High-five, anyone? Come on, don't leave us hanging. First up are Los Cardos, the Leith takeaway inspired by Cali-Mex street food, but served with a uniquely Scottish twist. Haggis burritos – doesn't sound like it should really go, but it does all work. Irvine Welsh swears by them, so you lot are in good company. 
You're also fans of Pinto and Taco Mazama, the duo of Glasgow-based Mexican joints which have recently made moves across the country to the east coast. Mazama serve veggies and vegans well, with chipotle-braised tofu and baked butternut squash sitting alongside the ubiquitous veggie chilli and a whole host of meaty options, while Pinto have perfected the production line that's at the heart of a good burrito. There's a perfectly even distribution of ingredients, the whole thing comes together in about 15 seconds, and by the end you've spoken to about 9 different, cheery people. So if anyone gets shirty with you for daring to leave your desk for ten minutes, you have the perfect cover – you haven't been slacking off and getting yourself a lovely lunch, you've been doing some impromptu networking, and you've even managed to schedule in a repeat meeting or two.