Edinburgh and Glasgow's best pubs & bars
We delve into your favourite Edinburgh and Glasgow pubs, and find a modern mix of beer bars, all-day hangouts, and lovely spots by the river
Pubs; they're good, aren't they? The prevailing logic is that the classic pub is like an episode of The Simpsons; everyone has a favourite, and the older they are, the more likely they are to be worth investigating. But this year's chosen crop of pubs and bars in Glasgow and Edinburgh aren't all that trad – in fact, there's a pleasingly modern feel to your selections.
In Edinburgh, you plumped for two bars which encapsulate a couple of the key developments in pub-world in recent years. The Hanging Bat on Lothian Road prides itself on housing an incredible range of beers and spirits, within a modern and bright environment. Its staff know their beer and will talk you from one end of the intimidating tap board to the other, the food is on point, and the whole venue feels like a celebration of beer rather than a big room which happens to serve beer.
The Roseleaf in Leith, on the other hand, is a great example of the modern, sociable, all-day pub. The food, the decor and the overall vibe make it a great place to be at any time of day or night, whether you're airing post-work grievances over a pint or two, or fitting in a bit of lunch on your day off.
Over in Glasgow your selections were equally eclectic. Bath Street hangout Moskito was among your choices, and its laid-back approach makes it an ideal option when you've a tough crowd to please. It's affordable but still has a nice feel to it, beer-lovers will be pleased to see draught options from Food Survey winners Drygate and Innis & Gunn on tap, and there's even outside seating for your unrepentant optimists and smokers who insist on telling you that "it doesn't look like it'll rain".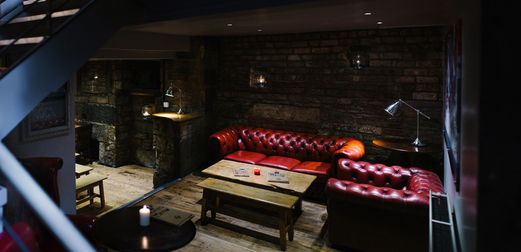 The Hanging Bat, Edinburgh
You also liked newcomer The Hug and Pint, which isn't so much a pub as a pub-slash-vegan-diner-slash-gig-venue. The bar is well-stocked with assorted boozes from all over the place, the food is inventive enough to excite the most bloodthirsty carnivore, and having a eclectically-booked and well-marshalled gig room in the place sure beats the standard muted TV that no-one's watching.
Of course, you lot do still have love for the traditional pub in general, with Glasgow's Inn Deep the particular beneficiary of your votes. The Williams Bros outpost on the banks of the Kelvin, Inn Deep has built on its great location rather than resting on its laurels. There's good food, a barbecue selection complimenting some pub grub classics, and good beer, with the Williams range complemented by the kind of guest brews you'd expect from a pub run by one of your favourite breweries. Sport on the TV if you fancy it, or a lovely view onto the river if you don't, and you can even bring your dog along if you're that way inclined. A dog, in a pub? See, pubs really can do everything these days.