Parveen's @ Civic House, Glasgow
Pakistani supper club Parveen's (fka Mooli) keep it simple in their kitchen takeover at Civic House, with impressive results
Something interesting has taken up residence in the canteen at Civic House, the arts space and co-working building at the Cowcaddens end of the canal. Outside, it's a low, imposing building with its name spelled out across the window frames in a chunky, utilitarian font. Inside the canteen itself, it's a different story. It's a buzzy, stripped-back space with long, old wooden benches, plenty of exposed brickwork, and a shiny open kitchen. On our visit, that kitchen was home to Fariya and Sahar and their Mooli takeover; by the time you arrive, it will have been renamed Parveen's, but rest assured, whatever it's called, you're in for a treat.
The place is – for a Friday lunchtime in January – absolutely hoaching, full of a bunch of the coolest people you've ever seen, and it seems like they're all talking about their friends' architecture practices. Seriously, we can hear multiple of these conversations at once, all under the light of a daytime disco ball pulling the light off the canal and shining it directly into our eyes.
The set-up is simple: the sisters put together one main meal every day, a bread dish to go with it, and a bunch of cakes and buns. All of the dishes are inspired by their Pakistani heritage and family meals gone by, everything is plant-based, and the whole menu changes every day. A short menu keeps prep down and reduces waste, while an ever-changing menu lets chefs experiment and try new things. Arguably the only people who lose out are writers trying to recommend the place based on dishes that, by definition, you won't be able to try, but read on and you'll see that shouldn't be too much of a problem.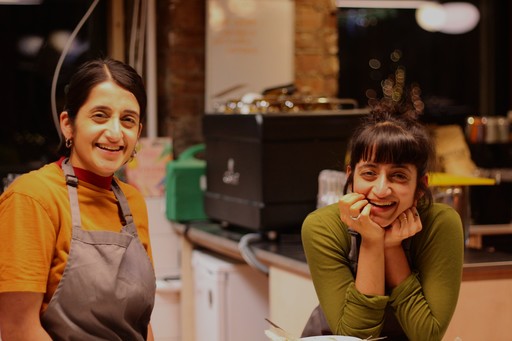 Fariya and Sahar of Parveen's at Civic House. Photo: Martyn Kellighan
We'll start with the bread. The lahmajun (£3) is a savoury flatbread topped with an amazingly earthy and surprisingly spicy mix of… bits. There's some veggie haggis in there, and a few pickled raisins dotted around, with a big sesame smear over the top. Our main is a chunky orange bowl filled with a slow-cooked stew of chickpeas and carrots (£5.50), lightly spiced and flecked with chopped coriander and seeds. That's on a bed of cumin rice, with chunks of sharp, citrussy feta and a big ol' blob of yoghurt. It looks great, it smells incredible, and it all blends together pretty fantastically. It's a nourishing, exciting and ridiculously cheap bowl of food, and you might genuinely struggle to find another sit-down meal that's as good for the price.
And when lunch is this cheap, you're duty-bound to try all the cakes. The cardamom bun (£3) is a well-spiced treat and the wholemeal chocolate cookie (£2) is a rustic, earthy slab of molasses and grains, but the star is the chocolate and tahini cake (£2.50). It's just great – a dense, dark square with some enormous chunks of dark chocolate inside, topped with a lovely thick smear of a buttercream-type tahini icing.
Insane rises in living costs, increased awareness of burnout in the restaurant world, a desire for something exciting and new – these all coalesce together at spots like Mooli/Parveen's. This feels sustainable, fun, inventive and inclusive; a cool place run by cool folk, making great food that doesn't cost an arm or a leg. Shuffle up the bench, prepare your trendiest work anecdotes, and get stuck in.
---
Parveen's, Civic House, 26 Civic St, Glasgow, G4 9RH; Tue-Fri, 9am-5pm, lunch from midday
Follow Parveen's on Instagram at @parveens_canteen