Nice Times Bakery, Edinburgh
The new bakery from the team behind Edinburgh favourite Lovecrumbs is an oasis of pastel colours and impeccable pastries
Free time's precious, so it's always interesting to see what other people do with theirs. Yes, we've been eavesdropping again, although we're not sure it really counts as eavesdropping if someone is standing a yard away from you and loudly yet vaguely shouting about their business deal. Also, lads, it's a Sunday – take five minutes off. This is not The Wolf of Wall Street, this is a delightful cafe and bakery and I'm worried you're going to knock my coffee off the table. 
We're in Nice Times, a burst of life on a relatively grey strip of road between the EICC and Haymarket; an island of Wes Anderson-esque colour amid the natural habitat of the All Bar One business wanker. The tables are a tasteful pastel green, somewhere between mint and aloe. The chairs are three-panel pink leather affairs that look a bit like an extremely minimal drawing of a crab. The floor is bejewelled with black and white polkadots. The toilet looks like someone shot it with a cannon, but there's a lovely handwritten sign on the door that describes it as a 'work-in-progress' so all's forgiven.
Nice Times is the new joint from the team behind Lovecrumbs, and while the decor is a bit more minimal than the 'Mary Poppins' favourite dive bar' aesthetic up the road, the schtick is similar. The focus is on the sweet stuff, with a collection of cheery, kitschy but extremely interesting sweets and treats.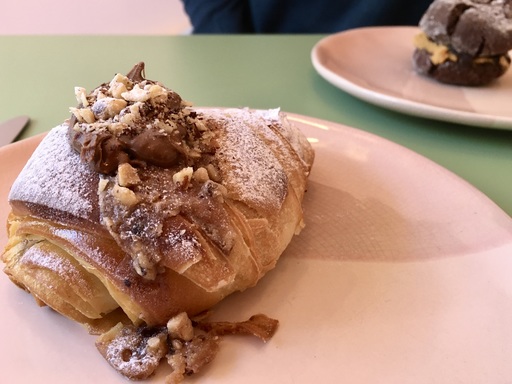 The croissants, freshly baked in the back room, stand out from the pack. The chocolate and hazelnut (£3) manages to be absurdly decadent and surprisingly light at the same time, and the almond (£3) is a supreme example of the genre. The success lies in both their wafer-thin layers, and what we assume to be an absolute shitload of butter. That would explain the crispy, crusty edges, and the super-soft pastry layers within, as well as the fact that we become suddenly and completely covered in butter and chocolate within the first two bites.
The chocolate, rye and peanut butter cookie (£2) is similarly full-on. It's black hole-dense, but its flavours all manage to pull through. The decadence, which you're always going to get when you sandwich two biscuits together, is dialled-back enough for a massive earthy slap of rye to catch you in the face when you aren't looking. It's chewy, it's squidgy, and it's probably more than enough on its own.
While some of these treats veer a bit too sugary-sweet (icing fans, prepare to fill your boots, possibly literally), there's an impressive balance to almost everything on offer. A chocolate and stout cake (£1.50) is dark, rich, and – as you always have to point out when discussing a cake – moist. The lemon and poppyseed cake (£3), meanwhile, is shot through with enough poppy seeds to blow up a drug testing machine, and topped with not-quite enough of an excellent lemon curd.
The coffee is very good, and we're told on the way out the door about Nice Times' in-progress plans for brunch, but this is a place for engaging your sweet tooth. Grab your best pals, wear your third-best jumper in case you get chocolate on it, and take a bit of a break; you've earned it.
---
Nice Times, 147 Morrison St, Edinburgh
http://nicetimesbakery.com/
Mon-Fri, 7.30am-4pm; Sat-Sun, 8am-3pm
Photos: Sally Price