Lannan Bakery, Edinburgh
Lannan is one of the most talked-about new spots in Scotland – we venture into the queue and find some life lessons amidst the fantastic pastry
"A woman let herself into my bakery today and started verbally abusing me because we'd run out of croissants."
Darcie Maher's new bakery Lannan is the talk of the town. It's a charming working kitchen on the corner of an old-timey Stockbridge street, all muted pastel colours, gold lettering and dark wooden cabinets designed to hold a variety of baked treats. It's also one of the most-hyped new openings in Edinburgh in recent memory. That hype means high demand, which means a now-ubiquitous queue down the street, which unfortunately seems to mean people taking the hump as in the above story recounted by Darcie on social media. We'll get onto the pastries themselves in a second, but first, a quick message to the people of The Queue.
Queuers… Wind your fucking necks in. This is just pastry – it's delicious, handmade pastry, crafted with obvious invention and care – but at the same time, come on! This is not a 'shouting at folk' situation. If you've got time to wait in a queue for up to an hour to try and get a sweet buttery treat, chances are that time was yours to give. It was free time, spare time; not time designated for work, or study, or childcare, or getting to places you need to be, or frankly anything important. Your boss wasn't gonna write you up for failing to get a croissant; I'd venture that, in my queue at 8.15 on a Thursday morning, the only person that could reasonably expect that fate is the guy writing this review, and now he's the one shouting at you. If you can say with any kind of straight face that failing to acquire the pastry bag is "the biggest disappointment of your life" (another genuine quote from a real person) then your life's been pretty uneventful and maybe you should keep your opinions and your bad fucking attitude to yourself.
Sorry, got a bit heated there. Let's lighten things up a bit. This queue situation is an example of uncontrollable hype, and where there's hype, there's a list! If you're looking for our Top Lannan Queue Tips, friend, we've got you covered. Be nice to the staff, the neighbours and each other; be prepared for disappointment, because this is a first-come-first-served situation; get a coffee on the way, as you will be standing around in the street for a bit; do NOT get to the front of the queue and start minesweeping whatever's left (this one goes out to the man in front of us who ordered five kouign-amanns for himself despite the many eyes burning a hole in his flat cap).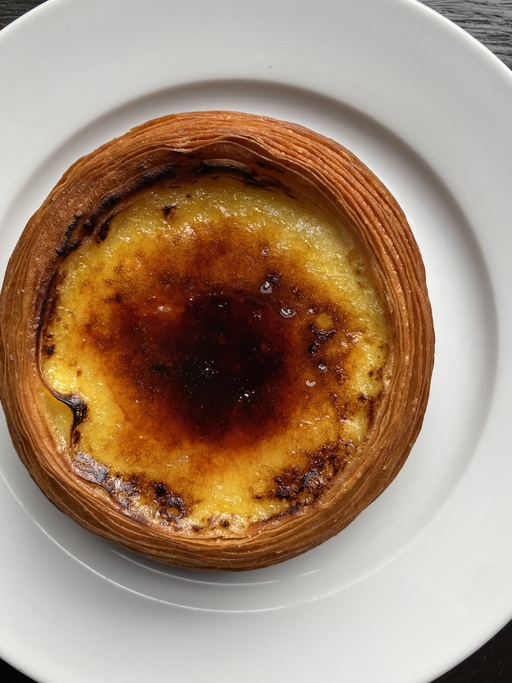 Lannan Bakery's crème brûlée Danish. Credit: @darciebakes
OK, you've waited long enough, it's time to talk about the pastries! They're brilliant. The lamination is excellent, there's a fantastic sheen on everything, and the last croissant has just walked out of the shop as we reach the counter. So close! Never mind, because the cardamom bun (£3) is fantastic. Supremely buttery and almost candied on the bottom, it's sweet and spiced and (obviously) incredibly fresh. Chewy, not too doughy, it looks incredible, it's a very good cardamom bun.
The pain au raisin (£3.60) is also excellent. There are so many layers, and so, so many raisins. Again the texture is excellent – it snaps where you want it to, with soft layers of dough beneath, and the Earl Grey syrup gives a lovely floral vibe to proceedings. Make no mistake, these are incredible pastries, some of the best you can get in the city.
Our final Lannan tip, then, is somewhat contradictory. If you get to Lannan, and the queue is very very long, go somewhere else. Lannan is excellent, but Darcie's old gaff at The Palmerston still has excellent baked treats and far fewer hypebeasts to contend with; if you've made it to Stockbridge but sense the early birds have beat you to it, go up the road to Fortitude and get one of Edinburgh's best coffees. If you want to wait it out and see what's left, cool – but Lannan is going great (don't know if you've heard, but they're selling out every day) and will still be there when the hype dies down.
On the morning we reach the front of the queue, the staff express their gratitude for everyone showing up, but also point to the unsustainable nature of people standing in the street for up to two hours to get a pastry, the constant stress of letting folk down, and the physical limits of what they can produce, in both equipment and staffing. They can't 'just make more', and they can't 'go faster'. The selling point of a queue is that the thing at the end is worth the wait; in Lannan's case, it might be worth extending your wait a bit longer, for everyone's benefit.
---
29-35 Hamilton Pl, Edinburgh, EH3 5BA
Thu-Sun, from 8am til sold out
instagram.com/lannanbakery