King of Feasts @ Polwarth Tavern, Edinburgh
The new residency from King of Feasts brings outlandish levels of flavour to a neighbourhood pub in Polwarth
After 18 months of stop-start lockdowns and constant rule changes, it seems like the Edinburgh dining public have got their sea legs back. It's ten to seven on a Thursday evening, in the middle of a punishing heatwave. Yet the Polwarth Tavern is chock-full of folk waiting for some decadent and wild Instagram-famous food from Rob Casson, aka King of Feasts.
But first, a word for the Polwarth, which this writer lived about 100 yards away from for several years, yet never once stuck his head in the door. As we're coming out of lockdown and looking for places to go, the temptation is to head for the shiny, fancy venues or the hot new places on the scene. Those are good, and you should check them out, but here's a challenge: next time you have a free evening, or want a takeaway, or a quick pint, try somewhere within ten minutes of your house that you've never been before. Who knows, you might surprise yourself. For my part, I was clearly An Idiot, as the Polwarth is a great little neighbourhood pub – light and breezy space, helpful and chatty staff and extremely reasonable pints of Tennents (£3.80).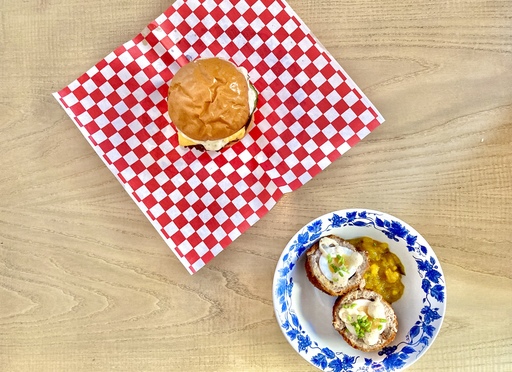 And what goes better with a pint than a Scotch Egg (£5)? This is a delightful example – a jammy yolk; fatty, chunky and lightly spiced sausage; a crunchy exoskeleton that stays shatteringly crisp to the very end. There's a really subtle mayo on top, and a side of piccalilli that will blow your head clean off. Seriously, this stuff is immense; it's sharp, fruity, tangy, spicy, and you'll be wishing it was in your fridge every time you go to make a sandwich from now on.
Those two condiments are instructive of the general King of Feasts vibe, where really high quality cooking runs straight at you, screaming, throwing big flavours around with abandon. Imagine the lad with the flaming guitar from Mad Max, if he were playing the clarinet or bassoon, and you're most of the way there. It's a similar story with the Galley Boy cheeseburger (£5), which is really more of a sauce sandwich featuring a special guest appearance from 'burger'.
It's enormously savoury and punchy, and impossible to eat with any dignity. Tartare and barbecue sauce everywhere, spice and acidity all over the shop. It's a lot to pack into a small sandwich, both in terms of flavour and physically getting it to hold together, and it's just on the right side of overkill. It also feels like a truly absurd amount of flavour to get for a fiver, and its mix of umami and sharpness is ideal with those extremely reasonable pints on hand.
There's more than a touch of Willy Wonka about King of Feasts. The inventive takes on classics, the slightly excessive but well-honed flavours, and the legion of loyal fans waiting for the King's next move. There have been plenty of changes in food in recent times – in fact, the King of Feasts menu has been rewritten completely at least twice between us planning this review and writing it – but if our trip is anything to go by, this King will live on for a while yet.
---
Polwarth Tavern, 35 Polwarth Cres, Edinburgh, EH11 1HR; kitchen open Wed-Sat, 3-9pm, bar open Wed-Sat 9am to midnight, Sun 12.30-midnight