A Grand Day Out: Edinburgh Street Food, reviewed
We spend an afternoon at Edinburgh's biggest and brightest new food and drink venue, and find great pizza, delicious ice cream, and so many neons
2.00pm: Three enormous pink letters, standing out against the concrete like a piece of navigation from an extremely camp video game. That's the first thing we notice on arriving at Edinburgh Street Food. The second is 'whoah, Jesus, this place is absolutely hoaching'. It's only been open for two weeks at this point, and there are people absolutely everywhere. Benches packed, the bar busy, love to see it.
2.15pm: On a second look, it's actually too busy, so we're outside. Edinburgh Street Food is a huge open plan indoor space with the kitchens and bars lined up on one wall, and the rest of the space given over to long picnic-style benches and *large* amounts of decor (more on that once we get inside). But there is also a hefty volume of outdoor seating, and you can order anything and everything direct to your table, such as a flat white with beans from the excellent Leith roastery Williams & Johnson. It's nice, if a bit big; the same goes for the very large crocodile mural on the wall as you go in. Up close we were a bit blindsided, but from out here… yep, that's definitely a croc.
2.40pm: Ah, plastic pint glass with a handle, we meet again. Nothing says 'I am at a thing', whether it's an arena gig or a catch-all celebration of some of Scotland's finest street food vendors, quite like drinking your beer out of a watering can with no spout. If you know where these came from and why they keep turning up in our lives, please email food@theskinny.co.uk so we can get to the bottom of this.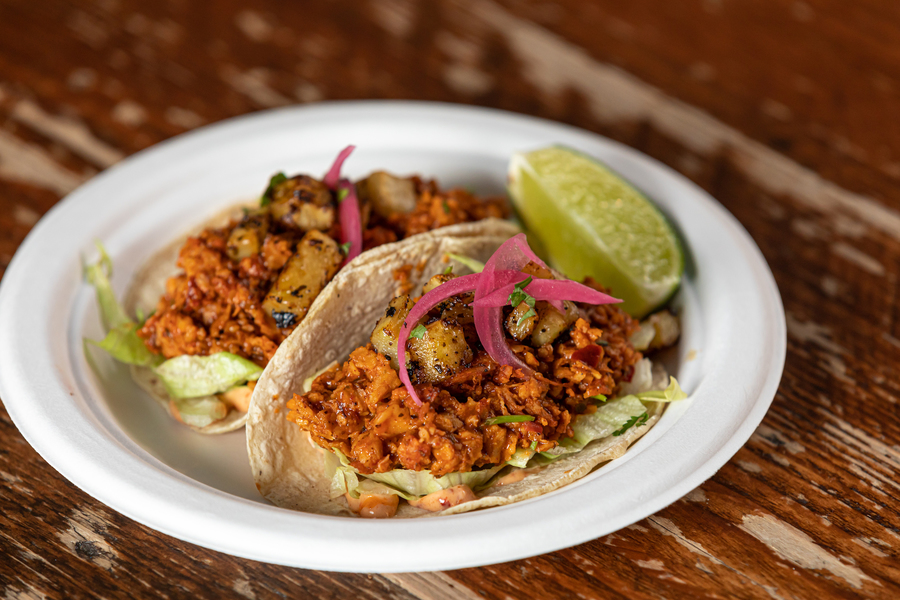 2:55pm: It's been nearly an hour, time to try some food. First up are Antojitos, the vegan taco truck frequently seen at spots like The Pitt and Bellfield Brewery, or running the kitchens at The Dog House or Nice 'n' Sleazy. The remote ordering system plays a blinder here – our endless back-and-forth about which tacos to get in our trio (£10) only annoys the two women sitting directly across from us, rather than a whole queue of people. In the end, the southern fried pineapple taco is a savoury-sweet double act with just a pinch of heat, the al pastor taco is tasty and well-spiced if a little dry, and the tofu asada taco is delicious and a great foil for loads of chilli and lime. We've also written "tacos v corny" in our notes… so now you know.
3.10pm: This outdoor area is a really good use of the space, considering we're between two fairly corporate blocks and not far off a main road. It's colourful and well-spaced, the awnings frame a lovely view of Calton Hill, and it's a nice, chill environment. One guy's drinking a glass of red wine and reading his book; the women from earlier are watching the rugby on a smartphone propped up on a pair of sunglasses. It's a nice time!
3.25pm: Someone should invent a patio heater that heats 'up the way', because our feet are freezing. If you have a solution that could warm our toes without melting our shoes and/or bodies, again, drop us a line…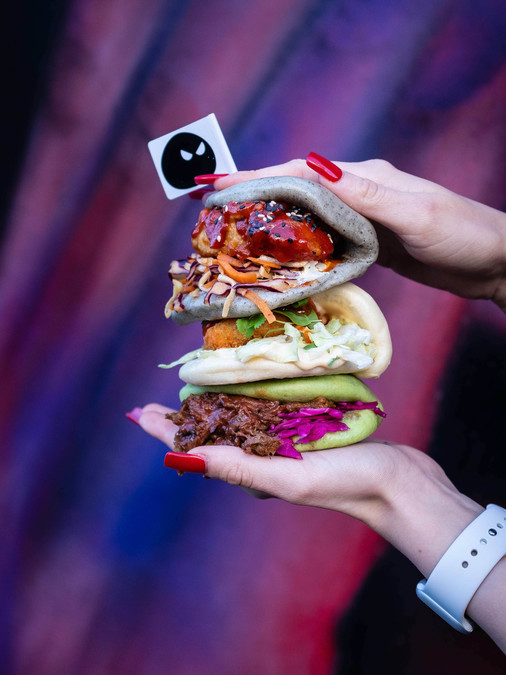 3.35pm: Good news – the buns from Bundits are excellent. They're also pretty sizeable; the Korean braised short rib bao (£6.50) is loaded up with juicy meat and an aniseed-heavy sauce, while the braised shiitake mushroom bao (£6) is an extremely savoury ball of fun. More good news – we've moved inside! It is extremely warm and bright inside, which is to say there are neons everywhere. Neon artwork on the windows, neon signage above kitchens, a neon of the Trainspotting line "Choose your future. Choose life", but with a different font for each of the sentence fragments. One of those 'raises more questions than it answers' interior design choices.
3.45pm: The neons are one thing, but the level of botanical fringe in this gaff is outrageous. The whole room is bordered by (we have to assume, for practicality's sake if nothing else) plastic plants, which we're not totally sure about. If you want plants, get plants; if you don't want to pay for an in-house gardener to handle your Babylonian wall of foliage, maybe leave it? There's a similar issue with the toilets; they look really cool, all neon strips, patterned chipboard and teal grouting. The problem is the signage is so small and the loos so well concealed, it's very easy to just walk past them. As in, three different people in our group got up to go to the toilet, and got lost. One of us ended up halfway into the Omni Centre. It's one thing to solder off the edges of street food to give it more mainstream appeal, but we need to know where to pee. Credit where it's due: the taps are very good. Excellent water pressure.
3.55pm: Our goal was to try every single stand today, but it turns out we gave ourselves a headstart with a visit to Chix the previous weekend. Their chicken tenders (from £6) remain one of the best bits of food you can get in town – all craggly and crunchy, with a spice blend that would put that Colonel to shame. Get them and you won't be disappointed, but we have numerous new places to try so let's keep rolling!
4.05pm: The at-table ordering system works incredibly well – it manages the flow of people, it keeps queues out of sight and therefore out of mind, and it lets you effectively visit four or five stands at once. When your phone stops working because everyone around you is also using their phone, it becomes incredibly stressful. Have I ordered my pizza multiple times? Have I ordered it at all? Also, why is there a bottle of wine in a clear plastic handbag on the next table over? What is going on?!?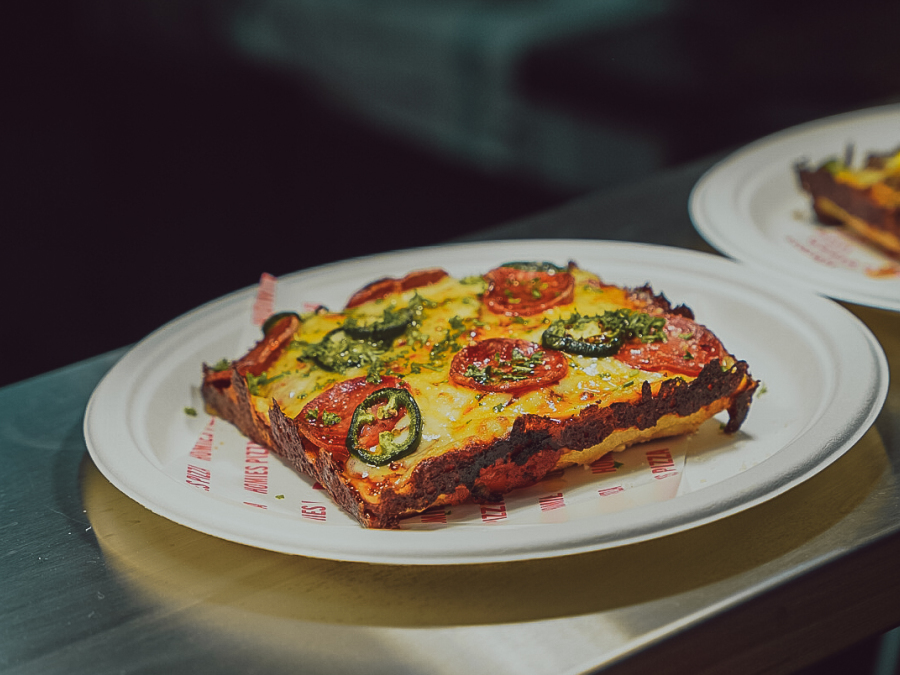 4.20pm: OK, we may have been a bit peckish before. Thankfully, the pizza from Homies is more than hench enough to get us to calm down. The Double Pepperoni (£8.50) is excellent; it's a Detroit-style slice with an excellent fringe of crunchy melted cheese, a rich sugo on the top, and a very crisp base that seems to laugh in the face of the wooden cutlery. Delicious, spicy, cheesy; great stuff.
4.30pm: Junk are the reigning European Street Food champions, and are barrelling around with the confidence and ambition that comes with that kind of title. Le Fritto A'la Misto! (£14) is a ludicrous pile of seafood, fried in a subtly sweet crumb, with loads of chillis and aioli chucked around the place. It's a big pile of tasty fish, so thumbs up from us, but it is also hard to distinguish everything in here. Also, we can still taste the pepperoni from our pizza ten minutes ago; do not do this in the order we did.
4.35pm: Ah, another large pile of food! This time it's the Escalivada (£8.50) from House of Tapas, a collection of roasted aubergines, potatoes, and there's some peppers in there too. It doesn't have the looks of Junk's offering, but it's still fairly tasty. It is unfortunately Too Big For Tapas – vendors, please speak to each other, let's get some portion control going.
4.50pm: Oh look, another big ol' plate! Fabrica's Ox Tail Ragu Rigatoni (£10.50) is one of the hits of the day. The pasta is super bouncy and al dente; the sauce manages to be both refined and overwhelmingly, comically meaty. Our pal's just snapped his fork in half trying to cut up one of those slices of pizza from Homies. Things are going well.
5.10pm: We've passed through the 'large plates' phase and onto the home stretch, and it's time to try something new. Many of the names here are either well-known from the scene or opening an ESF spot as a second location, but What Le Duck? are new to us. As much as their signature 'fries covered in a large pile of confit duck' sounds appealing, we have been eating for several hours at this point, so it's time for duck and haggis bonbons (£7.50). That's three duck and three haggis by the way, and our only note would be 'why?'. Nothing against haggis, but these duck bonbons are delicious – surprisingly subtle and flaky inside, rich and juicy but without being overbearing, a lovely crunch on the outside. Give us all duck! We'll pay whatever it takes! As this article proves, we're very bad at stopping ourselves once we get going!
5.20pm: The Peruvian are a long time staple of the Scottish street food scene, from Fringes and music festivals to regular stops across Scotland. They're also a very clear example of Street Food – a short menu of classic dishes, designed to be portable and producible wherever the van pitches up. But it feels like that's not what we're doing here.
Edinburgh Street Food is pretty great. The infrastructure is excellent, the location is brilliant, and clearly, as the man standing on The Skinny's foot can attest, the crowds are coming. Seems ideal for small food businesses looking for a regular pitch and a switched-on crowd. On the other hand, the expectations (whether those are real, imagined, aesthetic or culinary) are so much higher here than we've seen for street food in the past. Roll out the permanent kitchens and permanent infrastructure, and all of a sudden we have stands churning out confit duck and the kind of pizza that requires an oven that won't switch off if the wind blows too hard. As it is, the cassava fries (£5.50) are tasty enough, but wouldn't make the top half of our leaderboard, partly because the game seems to have changed. On the other hand, we might now be too full to be relied upon…
5.35pm: Oh yes, we're very full. We have also been here for a while – the lights have gone down and there's been a very definite change in the vibe from 'Saturday afternoon, singer songwriter in the corner' to 'Saturday evening, stick on the 'light early-doors techno' playlist'.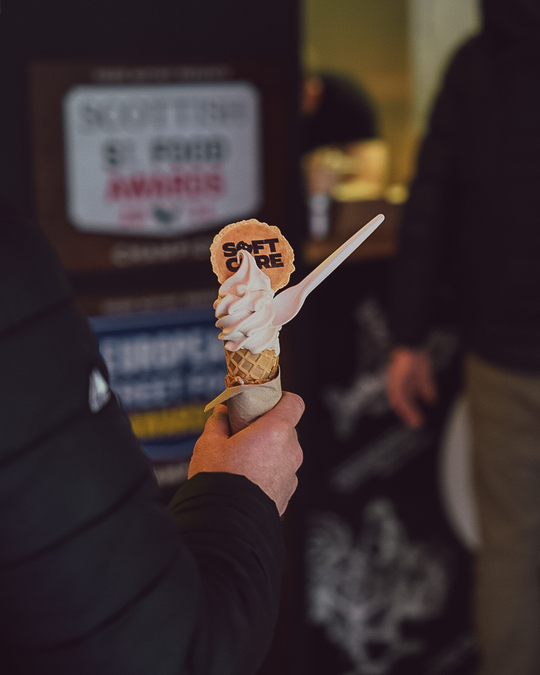 5.50pm: OK, we said we were full, but there's always room for ice cream. Soft Core's vanilla and miso caramel soft serve (£4) is an absolute banger – it's silky smooth, and somehow manages to be refreshing, creamy, rich and subtle all at the same time. It also looks exactly like it should; impeccable swirling technique on display. We have our ice cream! We tried every stand! We've been here so long we've become kids again! We need to go!
---
Edinburgh Street Food, Leith Street, Edinburgh, EH1 3AU
Sun-Thu, 11am-11pm; Fri and Sat, 11am-1am
edinburgh-street-food.com