Phagomania: Edible Christmas Drinks
Take those chestnuts off the open fire, and throw on a pan of deep-fried alcohol as we look at Amy Erickson's edible alcoholic treats
Whenever December hits, all culinary thoughts move towards one thing… Christmas. No debates about how to do turkey, or whether there should even be a turkey, round here – this is Phagomania. For us, one thing comes to mind when it comes to the festive season. Same thing as you were thinking? If that thing was 'booze,' you're in good company.
When it comes to festive boozy treats, most of the press will resort to either incredibly elaborate recipes, or a pretty tame wine list to accompany all that eating you are going to do. But wait… why would you expect Phagomania to draw the line at eating? What if you could combine the two gluttonies of Christmas – eating AND drinking?
Sure, most have tried eating alcohol, even if it hasn't directly occurred to us as an idea. We investigated the views of some regular readers and sure enough, some staple favourites arose. "Vodka Jelly – yum at 16 and still yum at 29." Agreeably a classic, although enthusiasm was not the consensus view.
Cakes featured highly, with the classic boozy Christmas cake securing our hypothesis. "My uncle's attempt to light a Christmas pudding once failed even after most of a half bottle of brandy was poured on it. Best Christmas pudding ever." We also came across gin cake and mojito cupcakes (surprisingly good, may we add).
Then there was the odd. Pernod sandwich, anybody? "It's horrible," we hear, but it sounds like an experiment for another article for another time.
But let's cut to the chase, to the show-stopper, to the reason you all clicked through when you saw that image. The deep-fried tequila. We all need to step up a notch and take heed from one Amy Erickson of New Mexico, USA, creator of the deep fried tequila shot. No snorting salt and getting lemon in your eye – simply eat your shots of tequila as easily as popcorn to bring a bit of 'Zing!' to the 'ding' and 'dong' of Christmas.
These little critters are deceptively simple to make; simply cut a basic sponge cake into cubes, soak briefly in tequila, throw into a deep fryer or pot full of hot oil, and dust in sugar and lime zest. And yes, they do hold their alcohol.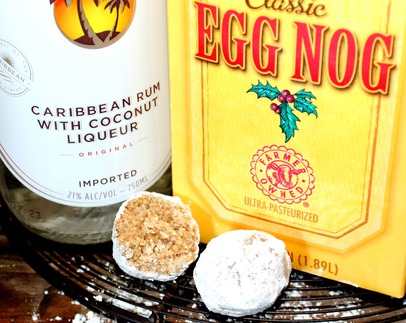 Egg Nog Balls. Yes, these are for real.
If that isn't Christmassy enough for your taste, creator Amy's favourite festive tipple is eggnog. She says: "With or without booze, I love to bake with it, cook with it… and drink it! Ironically, I'm really not a drinker! But I do enjoy the depth of flavours it brings to food," she reveals. Shock, horror, never meet your heroes, etc, but if you give Amy's website Oh Bite It a browse you are bound to find the edible booze for you. Our favourite after the tequila shots are Eggnog Rum balls. How can you go wrong with that?!
"As far as what's up and coming in the tipsy treat world," Amy forecasts, "I think there might be some Bourbon Pumpkin Pie in my near future." Oh god, this is turning into a boozy, seductive Hansel and Gretel. Just give us the pie Amy and shove us into the oven!
We couldn't leave a Phagomania guest without asking them about the visual side of their creations. How important is this for the audience? "All they have is what I show them," Amy offers. "I do like the fact that people can come to my page and just indulge in the fantasy side of the food with no intention of ever making or eating it." But don't do that; instead go forth and make yourself some edible booze this Christmas!
---