Dining Zoom: Eating and drinking in lockdown
Sandwiches on fishing rods, dinnertime livestreams and enormous coffee tastings - here's what we've been up to in lockdown, and what's missing
It's late afternoon on a deserted Edinburgh street, and a lone figure stands in a tenement doorway holding a brown paper bag. There's a brief pause, then something pops out of the first floor window. It's hard to tell what exactly – this is smartphone footage shot from the other side of the road – but whatever it is, it soon latches onto the bag. It then drags it skyward in a weirdly smooth motion reminiscent of an extremely low-key alien abduction. The bag passes through the window, thumbs-up are exchanged, and the next bit of Instagram ephemera loads up while the kettle continues to boil. Did I just watch… someone fishing… out the window? For a sandwich?
I often think about that video, of the sight of a disembodied pair of hands reeling a paper bag into their living room like it's the most natural thing in the world. The clip came from Alby's, the Leith sandwich spot, as they were in the process of delivering dozens of kits across the city for a massive communal sandwich-making party during the early days of the 2020 lockdown. The result was a huge, communal meal prepared and enjoyed at hundreds of locations across the city, with the attendant social media blitz of photos, stories and video clips to flood your feed even if you weren't on the list.
It was an event, and even if – like me – you weren't directly involved, it still felt nice to see. It was the digital equivalent of walking past a heaving pub, condensation running down the windows, watching the last person in the door try to drink a pint with their elbow wedged in someone else's coat pocket. It felt as though something, somewhere was happening, and that despite all the changes around us, our lives would trot on in something close to normality.
They wouldn't. 
It's true that Scotland's food and drink scene has done a very good job of adapting to the changes of the past 12 months, whether that's through offering home delivery, developing new products and ideas, or by building spiffy service hatches and covering everything in sanitiser. The material side of things has been neatly amended to fit a world of social distancing, with the edible bits of the experience often all that remains after various health-enforced revisions. You can still get your flat white – you just need to be ready to stand in the rain to get it, drink it on the go, and don't you dare stop walking.  
The pieces that can be sold are still here, but the communal and social aspect of food is the part that's missing. It's that buzz from the pub, the background chatter in the cafe, getting chased out of your friend's kitchen because you won't stop interfering with the dinner. It's the feeling that you're sharing a space or moment with other people in your community. It can't be replicated on your own at home, and it won't really return to our physical spaces until we're safe and comfortable enough to fill rooms again.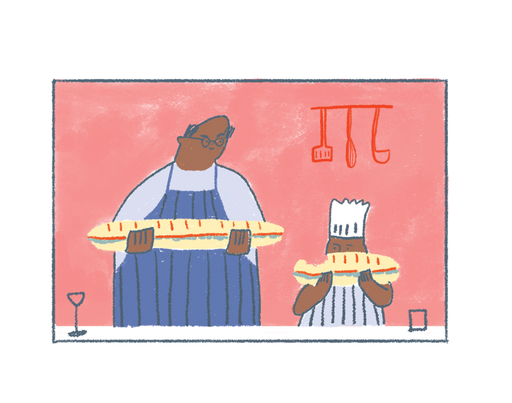 But there are some ways to snag a little taste of it, or at least enough to keep you going. A whole host of Scotland's craft breweries have introduced online beer tastings as a way of giving people a hint of the pub life from their respective living rooms. They all vary a bit, but an online tasting run by Pilot just before Christmas is an instructive example. The brewery sends a selection of cans to the folk on the call, everybody hops on a Zoom call at roughly the same time, and the group talks through the beers with varying degrees of lucidity as the evening progresses. 
It's a rock-solid format, the beers are delicious, and the synchronised crack of tinnies does evoke a sense of pub camaraderie. People can say 'cheers', and feel like they aren't just drinking alone in the dark! At the same time, a good night at the pub with a group of pals is less about having one big conversation, and more about stringing together a collection of smaller chats. When everyone's round a big table, they don't all talk into the middle, throwing their thoughts into the word soup. They chat around the edges, hoping that the pal next to them can understand a word they're saying over the eight other simultaneous conversations. That kind of close-quarters pub chat can't work in the land of glitches, sync issues, and being able to hear someone now, oh no wait they've gone again.
An enormous event with thousands of participants, on the other hand, is ideal for the web tasting format. James Hoffmann is the co-founder of Square Mile coffee roasters and a former World Barista Champion. He is also YouTube's foremost coffee personality, which seems down to both his incredible level of technical knowledge and his equally incredible vocal tone – deep, crisp, conspiratorial, knowledgeable and mildly exasperated all at once. Hoffmann took that voice and knowledge to YouTube to host an hour-long coffee tasting back in October, with the audience blind-tasting five coffees along with the man himself. That audience sat somewhere around the 10,000-person mark. 
This is the kind of grand spectacle that suits our new online forums – an enormous, highly caffeinated communion where one person holds court and everyone else tries to keep up or start arguments in the chat. It's ridiculous, it's outlandish, it's ambitious, and it's a reminder that there are other people out there who are just as interested and obsessive about grind size or terroir as you are. 
Over on Instagram, the chef-patron of one of the world's top restaurants was waving his knife at the camera while his daughter told him off for talking too much about football. Massimo Bottura of Osteria Francescana ran a series of live Instagram cookalongs from his home kitchen in the spring lockdown, and things were decidedly non-cheffy. 
Whether it was making ragu out of leftovers from previous meals or trying to make a tiramisu without getting mascarpone all over the kitchen counter, the videos were a chance to see how one of the world's foremost chefs operates when he's putting together the family dinner. You might be thinking 'isn't that just a cooking show?' But there's something fundamentally different about these videos compared to the slick presentation of a Lawson or a Ramsay – a lack of polish. These are simple, intimate, chaotic, casually bilingual and frequently filled with the sound of clanking pans; they don't feel like home video-style TV shows, they feel like genuine glimpses into someone else's life. They're the IG equivalent of being sat two seats over from the kitchen door, and leave you wanting to poke your head in and offer some well-meaning but probably unnecessary assistance.  
View this post on Instagram
Elsewhere, the likes of Glasgow restaurant Six By Nico were running folk through step-by-step instructions to get the most out of their recipe kit boxes, and there have been so many interesting, enlightening and challenging discussions about food online that they could really make for their own slightly-too-long article. Like we said earlier, there has been no shortage of adaptation, reconfiguration and pivoting when it comes to food, and it has been heartening to hear some apparent good news from the places we love. But at the same time, while these online events can help keep communities in contact and maintain relationships between people and the places they love, there's something missing. It's the unexpected, or more accurately, the weird.
Unexpected smells, strange bits of decor that don't quite fit in, odd snippets of overheard conversation – these intrusions into normality give depth to our experiences. They interfere with our expectations and make us do a double-take, and they can often be found in the merry old land of food. These, by the way, are precisely the sort of things that franchise restaurants, shitty chain pubs, and the supermarket you probably got this magazine from all try to smooth off, which is all the more reason to support your local indies where you can. Because it's the slightly out-of-place appendages that make your favourite pub or cafe stand out. Those oddities are hard to replace when your trip to the pub heads online, mediated by technology designed for running business meetings, or when you're ushered away from the cafe door before you have a chance to eavesdrop. 
The pandemic has been burning away for a year at this point. We did the sourdough thing, we sat in the park with cans for a bit, we got introspective, we looked at bad plans being executed badly and wondered aloud 'whomst so ever could have seen things going thusly?' – now we're all a bit fed-up. Bored and confused and upset and angry and missing the things that we enjoyed, things that seem as far away as ever and almost impossible to replicate in the current climate.  
Well, we say impossible, but one event may have hit upon a formula to bring the spirit of the outside to your screens. Beer subscription box folk Beer 52 have hosted a series of online beer festivals throughout lockdown. These Cyber Fest events feature beers from breweries from all over the world, with each set of brewers providing their own short video to accompany their wares. Watching back through the assorted clips it's clear that if you have yearned through lockdown for one of those nights out where strange and unexpected stuff kicks off, this is the place to be – because oh my days there's some strange stuff going on here.  
We're talking greenscreen allowing brewers to interview themselves, or staff deliberately crashing their bikes into walls, shortly followed by brewers giving extremely detailed and earnest descriptions of their beers. It's a surreal tableau of comedy, revelry and a straight-up information dump that has the uncontrolled feel of a night at the pub. It has the confusing, energising vibe that's needed at this point in lockdown, and it's a lead that we should all try to follow. Failing that, we'll split into two teams – you lot start on the sandwiches, I'll see what I can fashion into a fishing rod.
---
albysleith.co.uk; pilotbeer.co.uk
Beer52 CyberFest, 19 & 20 Mar, beer52.com/cyberfest5
Illustration by Sarah Wilson
Do you have a food story to tell? Scroll on for details of our Food and Drink Writing Competition...