Can-Do Attitude: Home Brewing in Scotland
Can homebrewing give people from underrepresented groups a way to get involved with beer on their terms? We ask around the Scottish beer scene to find out
Craft beer is an industry known for featuring an exceptionally large proportion of white, middle-class males. Just under three-quarters of all staff at the UK's independent breweries are men, according to the Society of Independent Brewers' 2020 report, but only 11% of women employed in the industry actually work as brewers. It's a similar story elsewhere – 88.4% of US craft brewery owners are white, according to research conducted by the Brewers Association in 2019.
Thanks to its low startup costs and welcoming, sharing community, homebrewing seems to be providing a route into craft beer for those who don't fit that majority description. Talking to four craft brewery workers who started their careers cooking up a hoppy storm in their own kitchens, we wanted to find out how they started homebrewing and what made them fall in love with the industry.
Our story begins with Fiona MacEachern, who fell in love with homebrewing in her 30s and, after completing a brewlab course, launched her own brewery, Loch Lomond. "When we launched in 2011 I was the only employee," she tells us.
"I made it, sold it, cleaned everything, delivered everything and I wouldn't have managed to do it without homebrewing knowledge." This holistic understanding of brewing has clearly paid off as Loch Lomond won brewery of the year at the Scottish Beer Awards in 2020.
Karan Nagpal's brewing story is quite different, starting during his university days in Bangalore, India. According to Nagpal, homebrewing is frowned upon in India and people can create trouble for you if you do try it, so his introduction to it was very much on the downlow: "There was a bootleg feel to what we were doing which kind of romanticised the idea for me a little bit."
When he moved to Edinburgh he was able to join online brewing societies, openly discuss his interests and complete his Masters in Brewing at Heriot-Watt University. Nagpal is now the sales rep for Glasgow brewery Overtone and regularly homebrews exciting new beers, most recently brewing up a mint stout and a Belgian-style IPA with hops that give the taste of dill.
Despite his formal brewing education, Nagpal's advice for gaining that elusive pass into the world of hops and yeast is not to gain a certificate: "I've noticed most people who are homebrewers tend to have this little obsession with detail, reading and picking up as much information as they can. I don't think you need a formal education as long as you are getting the right information from the right sources, speaking to the right people and reading articles, books or forums. If you can put yourself in a position where you can talk proper science with a professional brewer then they will respect your opinion, that's a good way to squeeze into the industry."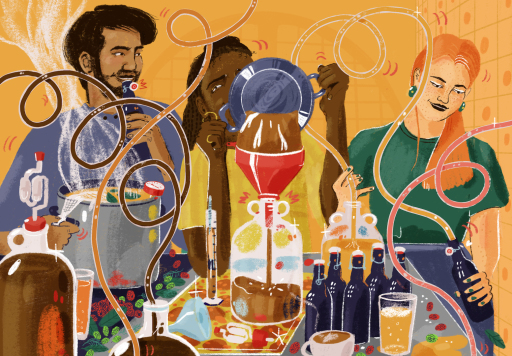 Jenny Watt was also a student, looking for cheaper pints, when she entered the world of homebrew. Having brewed everything from a raspberry beer that exploded, to an elderflower saison that she considered poison, Watt truly learned through experience. Not only did this save pennies on pints it also scored her a job as a Beer in History Tour Guide at ScotBeer. Craft beer education isn't often a course option at university and most breweries expect knowledge of their product in order to hire you, so this autodidactic approach through homebrewing can be the perfect way to get your foot in the door.
Amy Rankine has been homebrewing for just five years, yet is already working with breweries including Drygate, Hanging Bat, Vault City and Campervan. Having also started her foraging business Hipsters & Hobos five years ago, she soon realised that she could combine both loves. Using contacts from her homebrewing adventures she has been able to create beers with pineapple weed, rose petals and even mushrooms on a massive scale, one of the greatest successes being a honeysuckle saison brewed by Cross Borders brewery.
Homebrewing is often perceived as a complicated and costly venture but not according to Rankine, who uses her jam pans and jelly bags to brew mini keg-sized batches in the kitchen. She explains: "Instead of doing a big 25L batch, I scale everything down and do 5L on the stove. It's very ad hoc and experimental.
"I usually follow a recipe from one of the homebrewing forums and adapt it to include something foraged so you would expect it to not turn out exactly as planned, but I've not made anything that's been a drainpour."
No matter your background, your skin colour or your gender, the homebrewing route offers a way into the beer world. If you're interested in giving homebrewing a go but you feel as if there is a paywall, remember you can always find a second-hand jam pan and give that a whirl. If you don't feel like you have enough information then as always, just go online. There are countless forums with welcoming, friendly homebrewers who can't wait to share their knowledge and mistakes with you, in a community that's open to all.