Waste Not: Julie Lin & Rachna Dheer talk food waste
Ahead of COP26 next year, Glasgow Science Centre turn their attention to food waste in a new series of online videos – we talk to Rachna Dheer and Julie Lin about their role in Scraps
Winter is a time for celebrations, big meals and an unfortunate amount of food waste. Yet the stats show that our attitude to food needs a year-round rethink. According to WRAP, food production generates around 30% of global greenhouse gas emissions, and agriculture uses 70% of all global freshwater. In 2016 alone, Scottish households' food waste released 1.9 million tonnes of carbon dioxide equivalent.
Unlike the climate issues over which individuals have little or no control (we're looking at you, fossil fuels and the military), food waste is an issue where we can actually make a meaningful difference. Glasgow Science Centre's Scraps video series aims to encourage us all to reduce our waste through creative uses of the food we would otherwise discard. It's the carrot-not-the-stick approach, which is handy given how many carrots we discard. The videos are part of GSC's Our World Our Impact programme, delivered with support from the Scottish Government.
Rachna Dheer is the mind behind Babu Bombay Street Kitchen, and tells us that the philosophy behind Babu "has always been to reuse and recycle food as much as possible in different ways."
"I think people these days are getting more out of food," says Dheer, "in terms of reusing it a few times. I think before it was much more of a throwaway culture. Now it's becoming more trying to save money, save the planet, you know, to use recycled materials, to use ingredients a few times over."
"I think because we've all been in lockdown," Julie Lin tells us, "you do become so aware of how much you're buying in, how much you're cooking, and how much you can be wasting."
For Lin – the chef behind Southside favourite Julie's Kopitiam – there's also a more practical side to cutting down our food waste. "I can't decide whether it's frugal or just lazy, but I don't like going to the shops more than I have to. So for me, I always try to turn leftovers into something. I know that's a bit of a cliché but it's true, I enjoy having leftovers to turn into something else. And I feel like once you've done the first big cook there's some sort of reward in having stuff the next day… it's like you've half-prepared dinner already."
Dheer agrees on the importance of being prepared. "I think if possible you need to plan your meals for the week," she says. "For example, if you're getting a whole cauliflower and you're just [using] half, use the rest to make a cauliflower cheese or cauliflower pakoras, or you can make cauliflower rice out of it. It's about being more inventive."
Inventiveness is one of the key elements of the Scraps videos, with the series encouraging viewers to make new use of commonly discarded ingredients selected via social media. Those ingredients were combined with accessible additions from each chef, making for exciting dishes that feel like much more than the sum of their parts.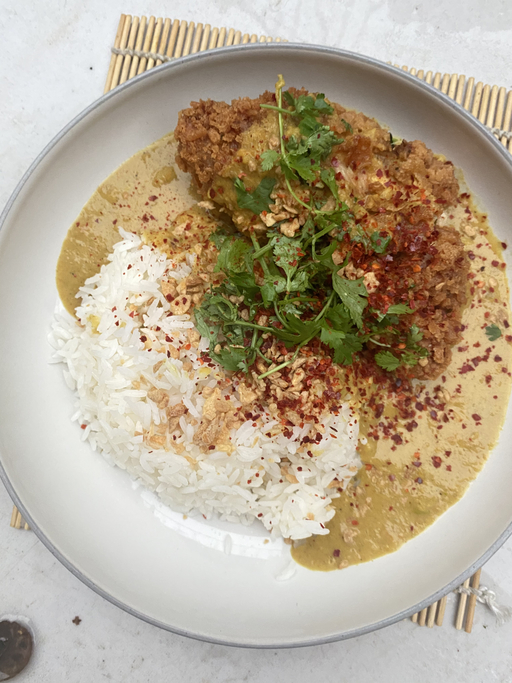 Lin says: "Food waste is something that we all have and that we need to cut down, but it's about small steps like learning basic recipes." One such recipe is Lin's katsu curry sauce for the Scraps challenge, which makes use of leftover pieces of fruit and veg. Dheer's recipes include bread pakora, a North Indian classic which makes use of stale bread "in a very delicious way", and a particularly good choice given that the UK throws away enough bread each year to feed 10 million people.
There are also easy wins to be had if you think laterally. Dheer suggests using leftover veg in dishes like pasta sauces, stews, curries and pies. As she puts it, "you can shove anything in a pie", an idea we endorse wholeheartedly.
The issue of food waste has been rising in our collective consciousness in recent years, and it's something Lin has noticed in diners at her restaurant. "I used to get quite a lot of people maybe ordering too much and just kind of leaving it. Now I encourage people to ask us for takeaway boxes to take their leftovers away, and you sometimes get people who just kinda know they're gonna do that and bring their own boxes, which I love."
Food waste impacts on all of us, and the Scraps videos are geared towards being as inclusive as possible. All the additional ingredients in the chef's dishes are available in supermarkets and local shops – the places where we do the vast majority of our collective shopping. That's where the flabby hand of capitalism comes in. It's all well and good telling someone to cut down on their food waste, but when their local supermarket will only sell them potatoes by the kilogram it can feel like the environmental buck is being unfairly passed.
For Lin, affordable access to food in a zero-waste format is vital to cutting down our waste. She says: "There's lots of amazing small businesses that are doing zero waste trading and organic trading, which is great, but it needs to be affordable for everyone. It needs to be coming from supermarkets, from the higher ranks in the supermarket chains and the bigger places, so that it's not just kind of your 'individually hemp wrapped bag of vegetables'. It needs to be something that's easy for everyone to access."
Food waste is a microcosm of the problems facing the planet – overconsumption, resource inequality, and a handful of massive institutions doing much of the damage within an interconnected global web that can seem very difficult to untangle. Yet the simple fact that a third of the food produced worldwide is never eaten – a third! – makes the issue of food waste a good place to try and make a difference, and the Scraps series shows that the rewards can be delicious.
---
Watch the Scraps videos with Julie Lin, Rachna Dheer and Gary Maclean on GSC's social media channels from 7 Dec
glasgowsciencecentre.org/ourworldourimpact