Culinary Discoveries: Food and Drink in Dundee
We defy Storm Ali and hit the streets of Dundee to talk craft beer, big cakes and breathing delicious life into the city's industrial past
You can invite as many people as you like to your party, but if you aren't able to keep them fed and watered they're only going to stay for so long. That's true of a Friday night rager, and it's true if you've built an £80 million venue for that party, so Dundee's food and drink scene has a key role to play. On an autumnal Wednesday in 'Scotland's Sunniest City', we land in a rainstorm so powerful that it basically destroys our shoes. We were hoping to dive into the city's culinary scene and see what we could come up with; we didn't think we'd need an actual snorkel.
Still, it's ideal weather for comfort food, which means the seminal Dundee institution that is Clark's. Students, workies, school children (including this writer, back in the good old days); have all been through the doors of the 24-hour bakery and come out the other side covered in pastry. We smash a bacon roll into our faces and save a steak pie – a dead ringer for the Desperate Dan classic cow pie – for later. From there it's a short hop around the corner to one of the new guard of Dundee's food and drink scene, 71 Brewing. The beer from the city's leading craft brewery can be found in bars across Dundee and beyond, with an impressive range for visitors and local beer-lovers alike to work their way through. Personally, we have a soft spot for their Raspberry and Lychee Berliner.
That beer, and the others that make up the 71 range are great examples of modern Scottish craft brewing but borne from a piece of Dundee's industrial past. 71's home is on the site of the former Blackness Ironworks, and the building itself is an impressively hefty chunk of that past, all brownstone and vintage murals. It's just five minutes from the Perth Road – home to Dundee Uni, Duncan of Jordanstone art college, and a host of indie shops and cafes – but it feels a bit further, the long arm of big-budget art projects taking its time to work its way out from the city centre.
"The building's been part and parcel of the project since the early days, in good and bad ways," 71's Duncan Alexander tells us over a coffee in the brewery's taproom as the rain thunders down outside. "It would have been a lot easier for us to pitch up in a modern industrial unit and start brewing there. It was costly and difficult to convert this to be useful for a brewing space, but we do love the building and its history. From what was an enormous industrial enterprise that spread over many many acres around here, this is the last piece of it left."
Alexander's a Dundee native who left the city in the early 1990s. He'd been brewing for a number of years by the time the opportunity came to return home and bring an impressive vision to the city's food and drink scene. "Every time somebody puts their money where their mouth is," he says, "it gives other people the confidence to jump in there. The V&A is an example of that on steroids, where it gives an entire city the confidence to go out there and do that, but we're probably a small localised example. We only use a fraction of this building at the moment; there's another 20,000 square feet of space above us."
That space, by the way, makes for exciting viewing – it's an enormous warehouse spot ideal for gigs and exhibitions, and one that property developers in Glasgow or Edinburgh would have earmarked for luxury apartments before the end of this sentence. If the sight of 71 is something to behold, five minutes around the corner, you can smell Verdant Spirits' home before you see it. Rounding an unassuming industrial estate ramp, you're punched in the face with the smell of Christmassy botanicals. Inside, the distillery (currently focussed on gin, with rum to follow shortly) is all shiny metal, concrete and lovely pale wood. Next door is a late-1800s mill engine house that, thanks to a somewhat protracted planning discussion, currently doubles as a comically-oversized office.
"There were two ways to go," Verdant's Andrew Mackenzie says from a chair in that office, which will shortly double as visitor space for tours. "One was find something like this that has got some heritage, some room to open it up as a tourist place and a visitor centre, which is the preferred route but you've got to find the right place to do it. The other option is a square box on the edge of the city somewhere that no-one ever sees, but you just make gin and sell it. It was finding this place that really triggered that off."
Mackenzie's route into spirits has been circuitous, to say the least – he was an illustrator, worked at a creative agency, took on a role at supercar company McLaren, moved to Dundee in 2000, worked with Dundee College, then "spent a couple of years in France learning to cook, basically". His idea for hydroponic salad crops got him a place on Abertay's then-brand-new Food and Drink Innovation masters course, where he happened upon an intriguing lecture in what was then a somewhat alien concept – craft gin. He says: "It was really new back then; I think that year HMRC issued five new [distillery] licences."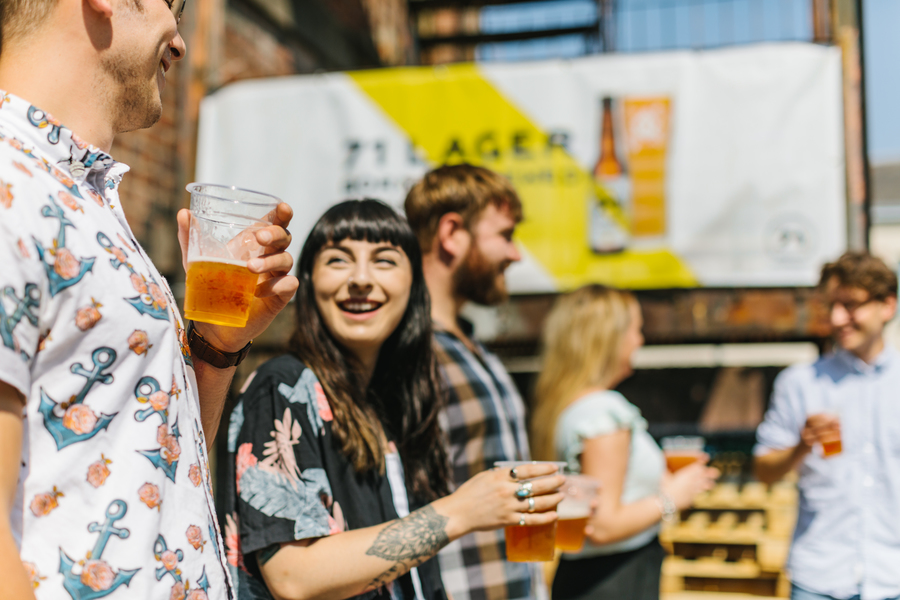 71 Brewing | Credit: Grant Anderson
Given that we're now tripping over the juniper-filled fuckers, it's safe to say that times have changed, but it's a positive change, and that's always welcome as 71's Duncan Alexander explains: "Where you have coffee shops, craft breweries, artisan bakers; some people love seeing them, for other people there's a sort of stigma attached to them saying that they ruin the character of a neighbourhood, but I think it's what we need around here. What we want is to pull people back into living in the centre of town... taking pride in stuff that's produced locally."
Those local producers are out there, and everyone we speak to acknowledges the importance of the V&A in shining a light on Dundee, but also for the food and drink scene to throw itself into that spotlight and jump up and down grabbing people's attention. And there's plenty to be excited by. On the coffee front, we hit up a number of great places for a flat white – Pacamara down on the Perth Road; New Zealand-inspired cafe The Bach's bright and airy new location around the back of the McManus Galleries; and the fantastic cafe-meets-clothes shop Daily Grind, just off the main waterfront strip facing onto the V&A. Many of those places are also serving up local coffee, with Sacred Grounds roasters up in Arbroath providing fresh, zesty and chocolatey beans to many of the city's best coffee places.
Then there are the stalwart Dundee classics like Clark's that frankly deserve all of your attention and money and Fisher and Donaldson with their incredible fudge doughnuts. You've had disappointing filled cakes in the past, right? Filling all off to one side, or hidden away right in the middle? Not here; this thing is like a bowl of amazingly smooth custard that someone has baked a cake around, then covered the whole lot in fudge. Probably terribly bad for you, and originally from Fife and not Dundee, but who cares yum custard nom nom nom.
Turning away from our dessert for a second, Andrew Mackenzie is eager to get Verdant up and running as a food and drink attraction as soon as possible – "We've got people daily turning up saying 'oh have you got a distillery, can we come and have a look?' and we're not even open" – and both he and Alexander recognise the importance of Dundee's food scene in giving people a spot of local flavour when they hit town. In our chat, Alexander notes that Americans in particular "expect" to hit a local craft brewery and taproom for a few pints on their travels; at the very least, they expect there to be one in the first place. "It was probably a big surprise to people coming [here] that Dundee didn't have a brewery – as far as we could see it was the last city in the UK not to have one."
Mackenzie describes Verdant's future as "exciting" and "terrifying" in the same breath, a sentiment that pretty well matches the city's near-future and the day's weather. As it happens, we never do see the V&A; it's closed because 100 mile-an-hour winds are literally knocking people off their feet outside the front door. But no three-digit wind can stop us from grabbing a tasty local coffee and another doughnut for the road before cracking into that pie from earlier. Follow our lead; we suggest you bring a napkin. Leave the umbrella at home though...
---
71brewing.com / verdantspirits.co.uk
Pacamara, 302 Perth Rd; The Bach, 31 Meadowside; The Daily Grind, 18b Exchange St; Fisher and Donaldson, 300 Perth Rd; Clark's Bakery, 3 Annfield St