Get Ready For The Big Lunch
The Big Lunch returns to celebrate communities across the country this June – we look ahead, with help of a new recipe from Scotland's national chef Gary Maclean
Two familiar refrains came out of the various lockdowns of 2020 and 2021. One is that we're more connected to our local communities for support, assistance and a sense of place than we're sometimes led to believe. The other is that, actually, maybe we don't know some of the people in our communities as well as we should.
That's where The Big Lunch, the Eden Project's annual celebration of community, can help. Since its launch in 2009, The Big Lunch has brought together groups of neighbours and community members each June for… well… a spot of lunch. Returning to its usual slot at the start of June, the event is all about giving people the chance to meet, build relationships, and celebrate the vibrancy of their neighbourhood. 
Nine million people took part in The Big Lunch in 2021, spread across over 200,000 events around the UK. Research commissioned for The Big Lunch showed that 77% of attendees at last year's event left feeling closer to their neighbours, and 79% of people felt that the event had bolstered their community spirit.
OK, sounds lovely, but just what *is* The Big Lunch? That's the beauty of it – The Big Lunch is sort of whatever you want it to be. If you just want to throw a barbecue or garden party for your neighbours, The Eden Project provides packs of information, ideas, inspiration and insight to help you get an event off the ground in your area, or you can head along to one of the larger public-facing events running alongside The Big Lunch. There are big events in Dundee, Stirling and Edinburgh under the Big Lunch banner, and The Big Lunch Map is a handy place to track down an event near you.
Of course, you'll need a recipe or two to get going, so we're delighted to have a recipe from Scotland's National Chef (and Masterchef: The Professionals champion), Gary MacLean. Scroll to the bottom of the page for Gary's recipe for Smoked Haddock Mac 'n' Cheese; a lunchtime crowd pleaser if ever we've seen one.
This year's Big Lunch takes place 2-5 June, coinciding with the Platinum Jubilee (four-day weekend!), and kicks off The Month of Community which encompasses a whole host of civic-minded events including Refugee Festival Scotland (17-26 June) and Small Charity Week (20-25 June).
Gary Maclean's Smoked Haddock Mac 'N' Cheese recipe
I have always considered Mac 'N' Cheese to be Scottish. I know it's pasta but growing up and watching my Mum make it from the tartan packet, what else would I think? Marshalls pasta company has been making pasta for over 100 years and what's more, it's made in Glasgow. 
Macaroni is a staple for most families in Scotland and we are now five generations in using Glasgow's own. I have put it on menus for years and have even sold it in Scottish restaurants I have opened and called it Scotland's very own pasta dish. Changing it up a little by adding smoked haddock really lifts it. If you are feeling indulgent, lobster is also a fantastic addition.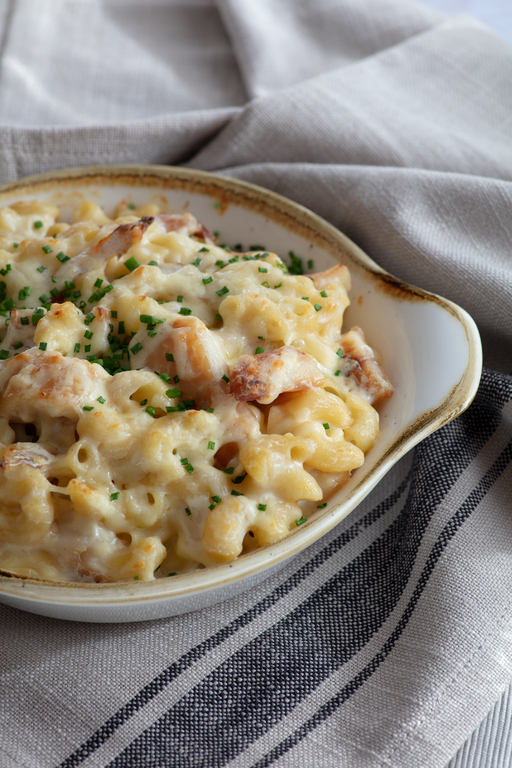 Ingredients for sauce:
50g (2oz) butter
50g (2oz) plain flour
500ml (2 cups) milk
250g (9oz) pale smoked haddock
1 small onion
50g (2oz) cheddar, grated
Salt and pepper 
1 bay leaf, optional  
2 cloves, optional
Method:
The first job is to peel your onion, then, using the cloves, pierce the bay leaf onto the onion. 
Place the studded onion into a small pot and cover with the milk; this is a classic but I still do it. 
Next remove any bones that might still be in your haddock, and place the fillets into the milk. This is going to do a couple of things – cook the haddock, and flavour the milk that will then flavour the whole dish.  
Slowly bring the milk up to a simmer. As soon as the milk is simmering, turn off the heat and allow the studded onion and the haddock to flavour the milk.   
Melt butter in another small pan then add flour and mix to form a thick paste called a roux.
Carefully remove the haddock and put it to one side.  
Meanwhile cook out your "roux" for 3-4 minutes then slowly start to add the warm flavoured milk. 
Stir continuously while milk is added until you achieve a smooth sauce with the consistency of thick double cream. If you add the milk a little at a time you will avoid making a lumpy sauce.
Cook this out for 10 minutes over a very low heat to avoid burning the sauce, stirring every minute or so.
Once cooked, cover with cling film or parchment paper to avoid it skinning. 
Ingredients for the rest of the dish:  
250g (9oz) macaroni
2 leeks, finely sliced 
100g (3 ½ oz) cheddar, grated  
4 tbsp white breadcrumbs 
1tsp good oil 
Method:
Heat the oil in a large, lidded pan over a low heat. Add the leeks, cover and cook for 5 mins until tender.
Meanwhile, cook the macaroni in a large pan of boiling salted water for 10 mins according to the pack instructions until just cooked. It shouldn't be completely cooked as it will continue to cook when baked. Drain and set aside. 
Meanwhile, preheat the oven to 190°C/375˚F.
Add your sauce to your cooked leeks, and add half of your grated cheese.
Add the cooked pasta to the sauce. Next, gently fold in the cooked smoked haddock and place into an ovenproof baking dish. 
Top with the remaining cheese, and scatter the breadcrumbs over the top.
Bake in the oven for 20-25 mins until golden and bubbling around the edges. Serve immediately.
---
Find out more about The Big Lunch, and get your digital Big Lunch Pack, at edenprojectcommunities.com/the-big-lunch 
Gary Maclean's new cookbook Scottish Kitchen is out now via Black & White Publishing