Angus Macfadyen on Robert the Bruce
You wait years for a Robert the Bruce film... and then two come along at once. Hot on the heels of Outlaw King, Angus Macfadyen reprises the role he played in Braveheart and tells us why he felt compelled to write an anti-war version of the Bruce legend
Every now and then, the film world offers up the phenomenon of the twin film, the anomaly where two movies on the same subject appear on our cinema screens almost simultaneously. In 2017 we had two Winston Churchill movies (Churchill and Darkest Hour); in 1998, animations about ants were suddenly all the rage (Antz and A Bugs Life); and in 1991, we got double Robin Hood (Robin Hood and Robin Hood: Prince of Thieves).
The latest film twins to give us déjà vu are a pair of movies about nobleman-turned-freedom fighter Robert the Bruce. Last autumn, David Mackenzie's mud and blood-flecked action film Outlaw King landed in our Netflix queues to tell of how a matinee idol Robert the Bruce (Chris Pine) became the King of Scots. Now, less than a year later, we have a film titled simply Robert the Bruce, a lower-key take on the Scottish folk hero with Angus Macfadyen reprising the role he played 24 years ago in Mel Gibson's bombastic Oscar-winner Braveheart.
It's easy to see why Macfadyen might want to take another stab at the character. In Braveheart, the future king of Scotland is hardly portrayed in the most flattering of lights. Next to Gibson's alpha male William Wallace, poor old Robert comes off as a rather ineffectual soft boy who's dominated by his father. Braveheart does end on Robert leading the charge at the Battle of Bannockburn, but rather than show his outnumbered army defeat the English, his triumph is simply described in voiceover by Wallace (who's been executed at that point) while the Bonnie Banks o' Loch Lomond blares cheesily on the soundtrack.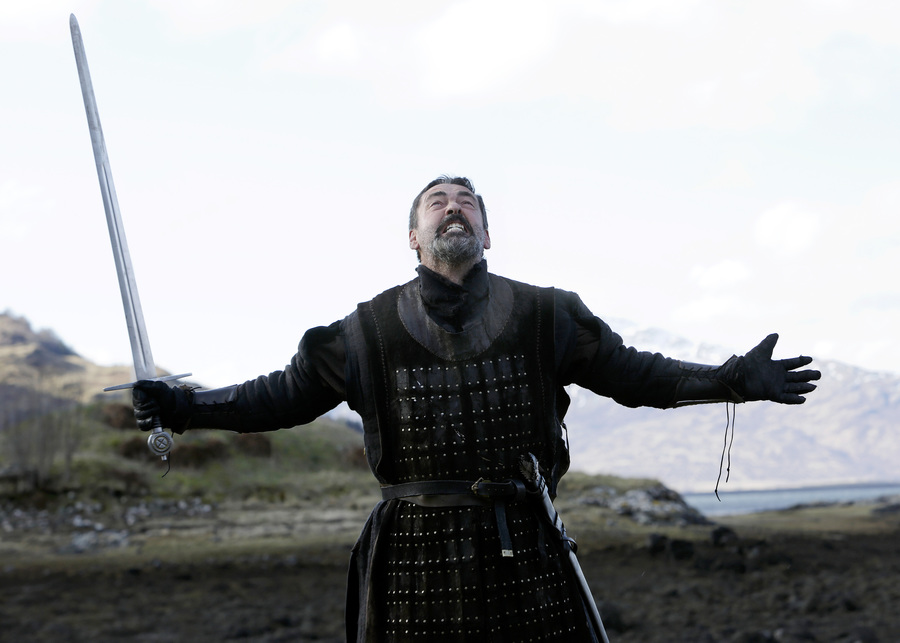 "I never felt we did right by him," a stoic Macfadyen tells us on a crackly phonecall from his home in North Berwick. "I never felt we'd finished the process after the first film." He found himself coming to the Bruce's defence around Hollywood. "I was always sort of talking him up. I realised I was going around seeing if there was any interest in making a follow-up film about him, the story of how Robert the Bruce then became the King. People would go, 'Oh, that could be interesting'." Eventually all this talk turned into a concrete script. "In 2006 I got together with my co-writer [Eric Belgau], and finally sat down and wrote a big sweeping historical epic."
Macfadyen describes a film of Cecil B DeMille-esque proportions. His script combined the regional conflict between Scotland and England with the wider geopolitical machinations of early 14th-century Europe. A major subplot included the goings-on in France, where Philip IV was backstabbing the Knights Templar and taking control of the papacy. This globe-trotting period film proved a hard sell though. "It was gonna cost 65 million to make – we couldn't interest anybody on a budget like that."
In 2010, Macfadyen and Belgau sat down to retool their historical epic into something more intimate. "We shrank it down to focus on this family of crofters, these three children and a widow," he explains. "The woman's husband, the children's fathers, they all died in various battles waged by William Wallace and Robert the Bruce." Essentially this makeshift family represents the collateral damage of the blood and glory we see in Gibson's Braveheart and Mackenzie's Outlaw King. "We really wanted people to be emotionally affected by the story, so this family became really the heart and soul of the film. And it became about Scots versus Scots rather than the twists and turns of an Empire."
The title character also features, of course. The film opens with him meeting John Comyn, his chief rival for the Scottish throne, at Greyfriars Monastery in Dumfries. History tells us that the Bruce stabs his unarmed adversary in this sacred place, but the scene we see play out in Robert the Bruce is quite different. Here, Macfadyen's unarmed Robert is ambushed by Comyn, who's hidden a broadsword in the church's pews. Robert is forced to defend himself against this cowardly attack with a wooden cross he pulls from the altar. This rose-tinted version of history is soon undercut, however, when it's revealed to be a bedtime story read by the widowed croftswoman Morag (New Zealand actor Anna Hutchison) to her boisterous son Scot (American actor Gabriel Bateman), who likes the bloody bits. We then cut to the real Robert the Bruce, who's moping in a snow-covered wood, exhausted and dejected, after another crushing defeat.
"Our film was always going to be the story of a guy whose dream falls apart," says Macfadyen. "He's almost passive in a way because the story is about all of these other people who are either pursuing him or pushing him to fight, and he just wants to vanish from history." Those people pushing him are the family who find him near death after his famous encounter with a spider in a cave. Pursuing him, meanwhile, are a group of his own men, who are after the 50 gold piece bounty on his head.
Once rescued by the family, the film starts to take on the shape of a Western rather than a traditional historical drama. Bruce is the outlaw who's taken in by the kindly family, whom he has to defend when a gang of thugs from the neighbouring village come to kill them for harbouring the traitor to King Edward. Perhaps the Western vibe is partly due to the landscape. There are a few shots of Scotland in Robert the Bruce, but the meat of it was shot in a snow-dusted Montana. "It was the middle of winter where we were shooting it," Macfadyen recalls. "So it gives the whole film the feel of a very brutal, cold, kind of epic looking Scotland. We did come to shoot for two weeks in Scotland after that to link it in – and I do defy anybody to tell me which shots are of Scotland and which aren't."
Macfadyen should be applauded for his tenacity in getting his passion project to the screen. "It's been a long journey to get here," he agrees. "At one point I was in utter despair. I felt like Robert the Bruce in the cave, you know? I just felt like giving up." While Macfadyen was trying to gather financing for the movie he then discovered Netflix had their own Robert the Bruce film in the works. But we can't sense any bitterness when we bring up the streaming giant beating him to the punch. Quite the opposite, in fact. "[Netflix] actually helped us because if you can make one film about Robert the Bruce it means that there's an interest out there. I felt it opened the portal because I was able to argue, 'well look, they're making it, there must be some kind of interest'."
Macfadyen's film is also helped by the fact it's very different in tone to Mackenzie's, with its brutal battles and gratuitous disembowelling. "Basically we wanted to make an anti-war film," he says. "It's not glorifying what Robert the Bruce did." The focus on ordinary people rather than the titular freedom fighter also sets it apart. "I wanted to represent the people of Scotland, the people who fought for Robert the Bruce and the families who suffered the consequences. I wanted to tell that story."
---
Robert the Bruce is released 28 Jun by Signature Entertainment; the film screens at Edinburgh Film Festival on 23 Jun, 3pm and 25 Jun, 8.45pm, Vue Omni Centre