Kelburn Garden Party 2020: first acts announced
Max Cooper, Andrew Weatherall, Free Love, Swim School and Squiggles are among the first acts to be announced for the 2020 festival
If you go down to the woods in July, you're sure of a big surprise! To be specific, the woods in question are those housing the unique Kelburn Garden Party, which this year takes place from 3-6 July at the festival's forever home of Kelburn Castle, near Largs.
Following their 10th anniversary celebrations last year, the first announcement for their 2020 line-up is looking just as strong. Max Cooper brings his live AV show to the Scottish west coast alongside utter electronic joy from Glasgow duo Free Love, cosmic dross from Mancunians HENGE, and cult producer Andrew Weatherall.
The Skinny at Kelburn Garden Party
After two years of programming the Pyramid Stage's Saturday line-up, you'll be pleased to hear The Skinny are back in 2020 for round three, taking on both the Saturday and the Sunday this year, and we've got some real treats in store for you.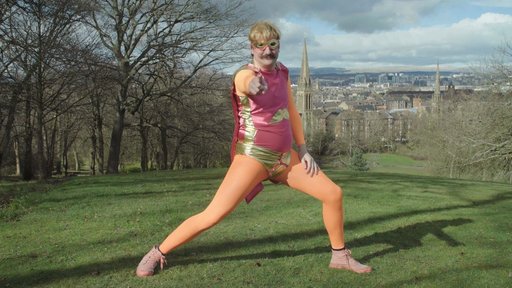 Image: Squiggles by Richie Morgan
On Saturday, we're delighted to have former Spook School drummer-turned-mental health fighting superhero, Squiggles as part of our line-up. Having only played a smattering of shows so far, we can't wait to set him loose on the grounds of Kelburn this summer. Joining Squiggles on the Saturday is dancer-turned-songwriter and producer Edwin Organ, who explored modern masculinity on his 2019 trio of EPs, while our November 2019 cover stars, the inimitable Free Love will bring a euphoric ending to our Saturday night programming.
So far on the Sunday, we're welcoming the incredible rising Edinburgh four-piece Swim School along for the party – their track sway has summer festival fun times written all over it. Noisy band of Michaels, Slime City, who count a shoe amongst their instrumentation, will be bringing their dry wit and Weezer-indebted chaos to the Pyramid Stage for us this year too, as will Olive Grove's incredibly talented Moonsoup. With song titles like Soup Soup Soup, Indecisive Slut-bitch and I Don't Like Rocket Unless It's In Small Portions, we're sure they'll go down well with the Kelburn crowd.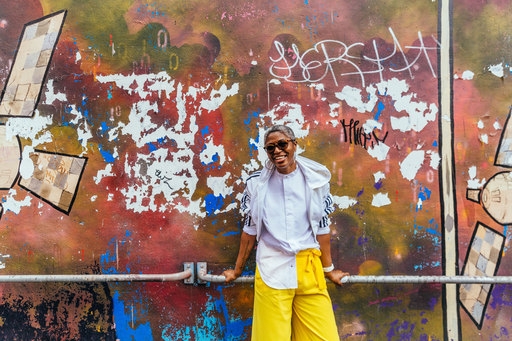 DJ Paulette. Photo: Annapurna Mellor
Elsewhere, the first wave of the announcement includes Haçienda resident DJ Paulette and the saxophone-toting, free-spirit that is Alabaster dePlume. Kelburn's 2020 line-up also beckons the return of one of East Africa's most exciting artists, DJ Kampire – check out her incredible performance at the 2018 Nyege Nyege festival for Boiler Room here.
The largely instrumental Peatbog Faeries, from the Isle of Skye, are also set to bring a slice of Celtic fusion to proceedings, while 24hr Garage Girls, who got their break at the largely revered Boomtown festival, will bring their 140BPM UKG and bass to the party. 
Kelburn Garden Party 2020: Line-up so far
Max Cooper (Live AV), Andrew Weatherall, Henge, Peatbog Faeries, DJ Kampire, DJ Aphrodite, Free Love, DJ Paulette, Marcel Vogel, Dizraeli, The Ragga Twins with DJ Krucial, Alabaster dePlume, Bombskare, The Freestylers, The Fontanas, 24Hr Garage Girls, Onipa, Ida, Kitti, Fat Suit, Miracle Glass Company, Melisa Kelly & The Smokin' Crows, Walk n Skank, Squiggles, Lezzer Quest, Corto.Alto, Swim School, Andrea Montalto, Maranta, Slime City, DJ Dribbler, The Moods, Red Hot Rhythm
---
Kelburn Garden Party 2020 runs from 3-6 July at Kelburn Castle, near Largs; First and second tier tickets sold out, tier 3 tickets on sale now 
kelburngardenparty.com