The Power of Free Love
Following their latest in a series of nominations for Scottish Album of the Year for 2018's Luxury Hits, we meet Free Love at their flat and part-time studio in Glasgow at the tail end of their biggest year as a band to date
Free Love radiate energy. Whether through their ferociously inventive music or exhilarating live shows, the duo of Suzi and Lewis Cook are masters of stirring up emotion. But, unlike the wild, chaotic and wonderfully unhinged energy seen in their live shows, their home life feels remarkably serene.
When we meet at the newly-married couple's Glasgow flat, they're in the middle of attempting to solve a dispute with an airline over some damaged equipment after returning from a gig in Europe. It all sounds very normal and mundane, and a far cry from the otherworldly sounds they produce together as Free Love.
Their flat doubles up as a part-time studio, with the pair splitting their time between it and a more professional studio space in Possilpark. It smells of burning incense, there are plants everywhere and low ambient music plays in the background throughout the duration of our conversation. It's almost exactly as you would expect from the pair who, in their previous Happy Meals guise, once released an album called Full Ashram Devotional Ceremony.
The signs of a makeshift studio are evident. In the living room there are four poles built in from floor to ceiling which they say they use to hold keyboards, a trick picked up from IKEA Hackers – a website which collates all the various IKEA hacks in one place. It's the same website that taught many vinyl fans how to turn those IKEA KALLAX, fka EXPEDIT, bookshelves into ideal record storage units.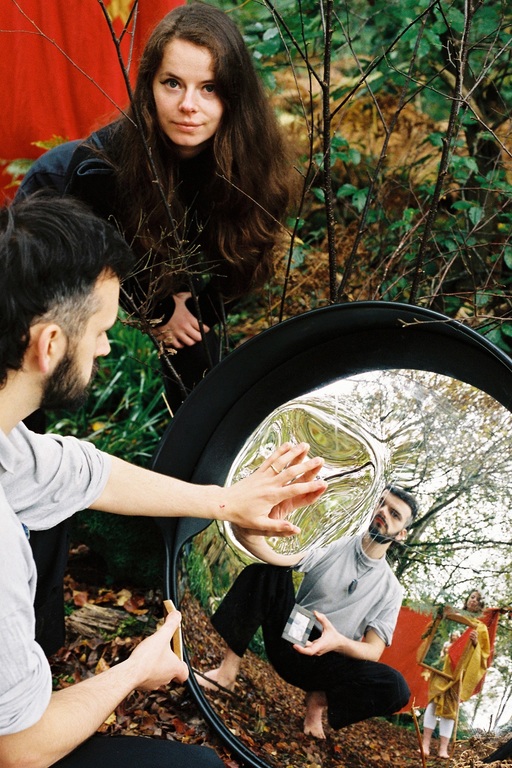 Suzi and Lewis have known each other since high school, but it wasn't until they both took part in a Green Door Studio course that they decided to make their personal partnership a musical one too. While Lewis had previously recorded in the studio with other projects, including his former band The Cosmic Dead, taking part in the studio's NEET (Not in Education, Employment or Training) Course was Suzi's first musical foray, and where they formed Happy Meals. "Without that support, our band wouldn't exist," says Lewis. "That creative energy, that spark with all these different workshops, all these different things happening just multiplied... It was this catalyst for so many things to come out of."
The culmination was a release on Glasgow-based label Akashic Records – run by Golden Teacher's Oliver Pitt – on which Suzi sings on a cover of Devo's Jocko Homo. "That course and doing that track allowed me to go 'singing isn't about sounding good, it's about how you sound in the moment'," says Suzi. "So it wasn't just about [how] I wouldn't have been able to afford to go and record in a recording studio or whatever, but it was also about [how] I wouldn't have had the chance to have found that possibility, enjoying using my voice."
Following two releases as Happy Meals on Night School Records – Apéro and Fruit Juice – and another on Optimo Music – Full Ashram Devotional Ceremony (Volumes IV-VI) – they decided it was time for a change and, ahead of releasing 2018's Luxury Hits on their own Full Ashram label, reinvented themselves as Free Love. Since then, they've fully embraced the connotations of their new name, and have even introduced a new aspect to their live gigs.
At recent shows, the duo have been joined onstage by their self-dubbed NRG vessels, selected through an open call on social media and on a show by show basis. The call-out on social media reads: "Become a conduit of lucid vibration. Body paint. Bear the flag of full nrgetic symbiosis. Absolute ego dissolution. Free backstage WiFi (subject to availability)." The vessels appear dressed in white robes, flower crowns on their heads and holding floral bouquets, which Suzi often proceeds to rip up, spit out and scatter across the audience during shows; it's the kind of brilliant madness many have come to expect and embrace wholeheartedly from Free Love.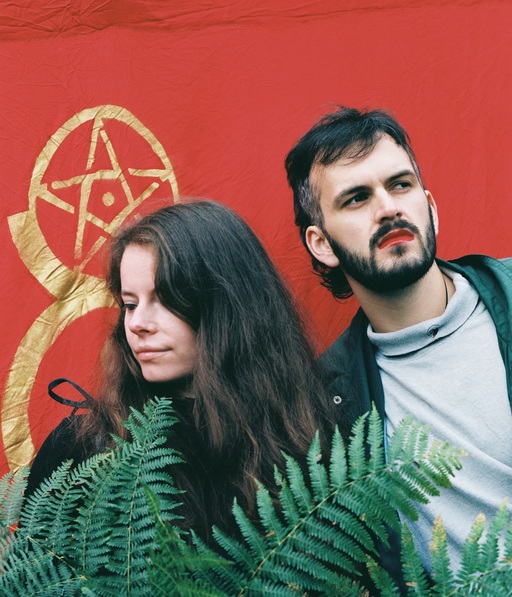 At the time of our meeting, however, the pair are enjoying some downtime ahead of a busy couple of months of touring around the UK and Europe, playing headline shows and festivals, to close out the year. The time off has allowed them to plan their honeymoon and put the pieces together on a work-in-progress project they have planned for the new year. All of which plays into their cunning plan to escape the cold Scottish winter and flee to a more tropical climate.
Using the money awarded to them from their recent SAY Award nomination – each shortlisted artist receives £1000 – for 2018's Luxury Hits, the upcoming project was designed around an idea to put the money to further creative use. "It kind of got us thinking," says Lewis, "an award thing like that, there's lots of conversations to be had about lots of artists who don't really get a look in for various different reasons, but also there's a lot of positivity about it." Suzi interjects: "There's a lot to celebrate."
For the project, the pair essentially intend to create their own version of Shangri-La, hiring out a villa in Europe and inviting various Scottish artists to join them, where they'll be able to contribute and collaborate over a number of weeks. They also intend for the project to remain as environmentally-friendly as possible, selecting a location that's easily accessible via land transport. "We just thought it would be a really nice continuation of that sort of celebration of the spectrum of Scottish music that's happening at the moment… celebrating Scotland but also escaping it," Suzi says, laughing.
It all ties in to Free Love's focus on community and human connection. Since their formation, even in their days as Happy Meals, at the core of the band was this emphasis on world-building, and building a world around them that's inclusive, positive and collaborative. "When you go back to the roots of why we do what we do, or why a lot of people make music, it's that sort of connection with other people and it's the very human joy in making music with people," says Suzi. 
Lewis adds: "And things like, when you have certain successes, you look at a statistic or an algorithm or an amount of money, it's always like, that's great, but it feels abstracted from the experience of music… when I think about what actually keeps us doing this, it's not the money, it's these sort of experiences."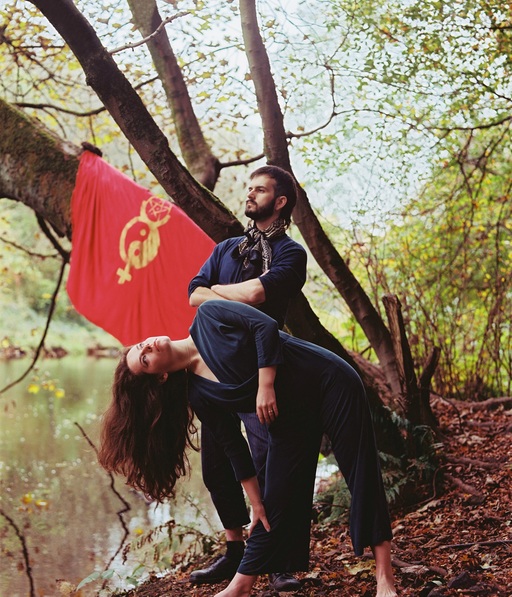 As the buzz around the band started to grow, so too did the attention from record labels. The push and pull nature of these types of conversations is something the duo have had to combat as they have started to achieve greater success. But the process is not one they found particularly enjoyable or rewarding. "We spent the last couple of years just learning, and learning about a side of the music world that we were exposed to that we hadn't ever really been exposed to before," says Lewis. "Suddenly, you're kind of talking to people who have got a lot of money and are working in a completely different world, and you start to realise that it is a different world and the rules are different as well." Suzi adds: "It was a big part of the reason that we decided to self-release Luxury Hits.
"We make music because we enjoy recording together, we enjoy sharing with people and we love the connection… so when we were sitting with Luxury Hits, the obvious thing for us to do was just do that, just go back to the point that you're wanting to get to." She continues: "That's been the journey we've been on over the last few months, I think. Going back to finding joy in all of this, because it's such a privileged position to be in to be able to connect with the people, and to go and play shows that we come away from just feeling high because of the energy that we're surrounded with."
For their latest release, though, they decided to return to a previous supporter of theirs, Optimo Music. Extreme Dance Anthems was released on the label run by Optimo's Keith McIvor, aka JD Twitch, in September, and was announced with the release of lead single Bones. For anyone who fell in love with Free Love through the 80s-influenced pop gems on Luxury Hits, Bones was a step in a whole other musical direction, but this is just one of the things that makes them so exciting.
"When we're recording – as much as we travel – we do it in a very unharnessed, unleashed way, where we sort of let things arrive as they arrive I guess," says Suzi. Lewis adds: "I think, for us, with [Extreme Dance Anthems], we'd made a pop record, or mostly pop songs… but also we were making this other stuff, and it was like do we just not do anything with this because we made a pop record before?"
Suzi offers an interesting analogy for the band's unrestricted and free flowing approach to making music. "It's almost like a marbling kind of effect," she says, "like the more that you put down the more it kind of shifts everything else so it all kind of fits together, but it's pushing it and warping it at the same time." It's an analogy that feels fitting for Free Love in so many ways: the blend of sounds and influences, the constant shape-shifting, the ability to find something new every time, but all the different shapes and patterns coming together to create something utterly mesmerising.
---
Free Love play The Great Western Festival, Glasgow, 23 Nov; Sneaky Pete's, Edinburgh, 7 Dec
Extreme Dance Anthems is out now on Optimo Music
https://www.freelovenrg.com/

Photos by Craig McIntosh