Jupiter Rising announce 2022 lineup
Kathryn Joseph, Glasgow African Balafon Orchestra, Auntie Flo and Shoot Your Shot join the forward-thinking artist-led music and art festival Jupiter Rising
Jupiter Rising, a delicious slice of music festival heaven situated at sculpture park Jupiter Artland on the outskirts of Edinburgh, has announced its full festival programme today and it's a doozy.
We've already revealed that the likes of Emma Pollock, MALKA, AMUNDA, Poster Paints, Susan Bear, Jayda and Djana Gabrielle would be on the festival's lineup, which runs 26 to 28 August. They're joined by Kathryn Joseph, the Scottish singer-songwriter whose haunting performances brim over with emotive potency, and the effervescent producer, DJ and sound designer Auntie Flo. Flo knows something about getting a party started, as do Glasgow party throwers Shoot Your Shot, who are also heading to the festival. Flo and Shoot Your Shot join Jupiter Rising as curators too, alongside the previously announced Hen Hoose and Alloysious Massaquoi of Young Fathers.
Also among the diverse lineup announced today is Glasgow African Balafon Orchestra, who bring with them a cocktail of musicians of all different backgrounds with a sound that blends afrobeat, jazz, highlife rhythm and orchestral music. They're joined by post-punk sextet Kaputt and soulful audiovisual artist chizu nnamdi.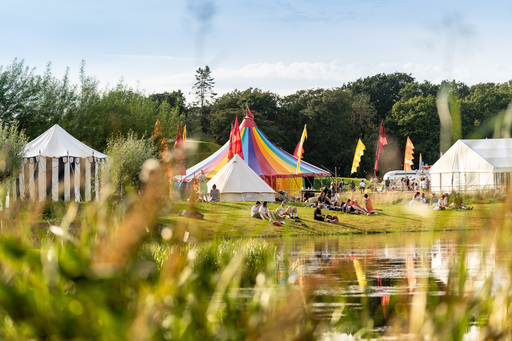 The festival site at Jupiter Rising. Photo: Aly Wight, courtesy of Jupiter Artland
As well as the newly announced acts, the shape of the festival is starting to become clearer today. Auntie Flo and Shoot Your Shot will curate the late night stage, which sees the woodland sculpture park transform into a bliss-filled rave. Joining Auntie Flo on Friday night are Huntleys & Palmers' Andrew Thomson and genre-defying Chilean-German techno producer Matias Aguayo. Shoot Your Shot take over the stage for a late-night party on Saturday with an ace lineup of gender non-conforming artists including FRAN.K, ISO YSO, Mi$$ Co$mix, Purina Alpha, Spent, SHREK 666 and Bonzai Bonner.
Glasgow-based collective Hen Hoose curate the music on Friday with an impressive line-up of female and non-binary artists, headlined by Kathryn Joseph and featuring Poster Paints, Kaputt and Dylema Collective. The Saturday lineup includes Glasgow African Balafon Orchestra, chizu nnamdi, Mychelle, Dean Rodney Jr and The Cowboys, Susan Bear, MALKA, Emma Pollock, Djana Gabrielle, Jayda, AMUNDA and Distruction Boyz.
At the centre of the art programme will be a yet-to-be-announced new commission curated by Alloysious Massaquoi. Arts Foundation award-winner Tanoa Sasraku and interdisciplinary artist Rosa-Johan Uddoh also feature in Jupiter Rising's art programme. There's also the opportunity, of course, to drift away from the festival to take in the amazing work already installed in the park. That work includes a new large-scale bronze sculpture by Tracey Emin, an upside-down universe by Rachel Maclean, some towering monoliths by Phyllida Barlow, the Xanadu-like swimming pool by Joana Vasconcelos and Anya Gallaccio's promethean crystal cave. We haven't even mentioned the beautiful greenery of the landscape, the artist-led workshops, the drop-in Family activities, pop-up performances or the lake swimming.
---
Jupiter Rising tickets are available now, starting at £95 including 2 nights camping. Head to jupiterrising.art for more details