Bluedot Festival 2022: The Report
Bluedot brings a mix of science and art to the Jodrell Bank Observatory in Macclesfield, and a life-altering performance from Björk and The Hallé Orchestra make this year's edition a weekend to remember
There's something quite jarring about watching Squarepusher's manic audiovisual live set while standing next to a parent with their toddler in a FUXTEC wagon, decked out in fairy lights. But that's Bluedot; where affluence is in the air and everyone's got the kit to prove it.
Middle-aged couples in North Face jackets lounging on SnugBoys take the place of the usual bucket hats and bum bags as the festival trends at Bluedot, and there's an overwhelming middle-class energy that separates it from the traditional British festival experience. In fact, it might be the only British festival where families are actually in the majority.
Being a science and arts festival, Bluedot is bound to attract a wide-ranging audience and there really is something for everyone on its varied lineup. To make the most of the festival, you can spend your mornings listening to talks from scientists, authors and academics in the Notes tent before making your way over to the main arena for live music and continuing the party into the early hours at the late-night Elevate stage.
But nothing describes Bluedot's laid-back atmosphere as well as bringing your own camping chair into the arena, and that's what the vast majority do for Hannah Peel's opening performance with the Paraorchestra on Thursday evening. It sets the tone for a weekend of fairly static crowds but thrilling performances and engaging discussions.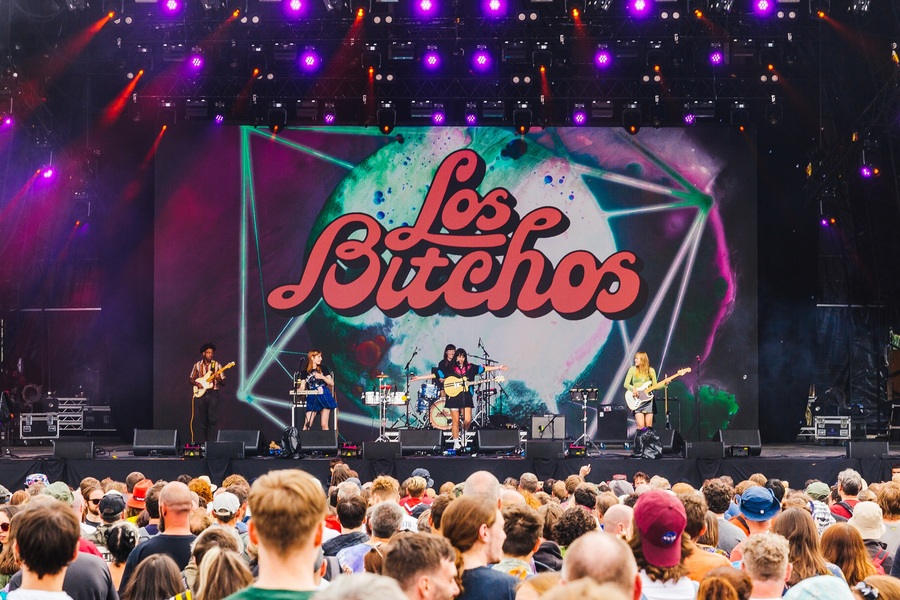 Image: Los Bitchos live at Bluedot by George Harrison
The weather gods aren't exactly kind to Bluedot this year, but Katy J Pearson and Los Bitchos power through the changeable weather to kick off proceedings on Friday, with the sun eventually coming out towards the end of the latter's set. Mandy, Indiana are spellbinding on the Nebula stage, largely thanks to the erratic presence of Valentine Caulfield, who you'd struggle to keep your eyes off, and Kojey Radical manages to keep the sun shining throughout his energetic and joyous set.
Saturday gets off to a slower start with The Lounge Society, who look like they've been practising to be in a band longer than they've actually been in one and their bolshy attitudes feel at odds with their boyish looks. Porridge Radio and Yard Act kick things into gear, though, with both bands really showing their experience in live performance. But perhaps the best set of the weekend – bar one very obvious act – comes from newcomer Grove, whose energy, skill and enthusiasm is unfaltered, and for what is a fairly small crowd Grove manages to get every single person in the tent moving.
Koreless and Mogwai take part in a noise stand-off, with the latter taking the prize of loudest act of the weekend – and, quite possibly, of all time – leaving Koreless struggling to keep up with his intimate set. And the noise continues with Squarepusher, who leaves the crowd struggling to know whether they should be dancing or thrashing, before I. Jordan brings Saturday night to a euphoric close, with reworks of Justin Timberlake's SexyBack, Kid Cudi's Day 'N' Nite and Beyoncé's Diva filtered through their set.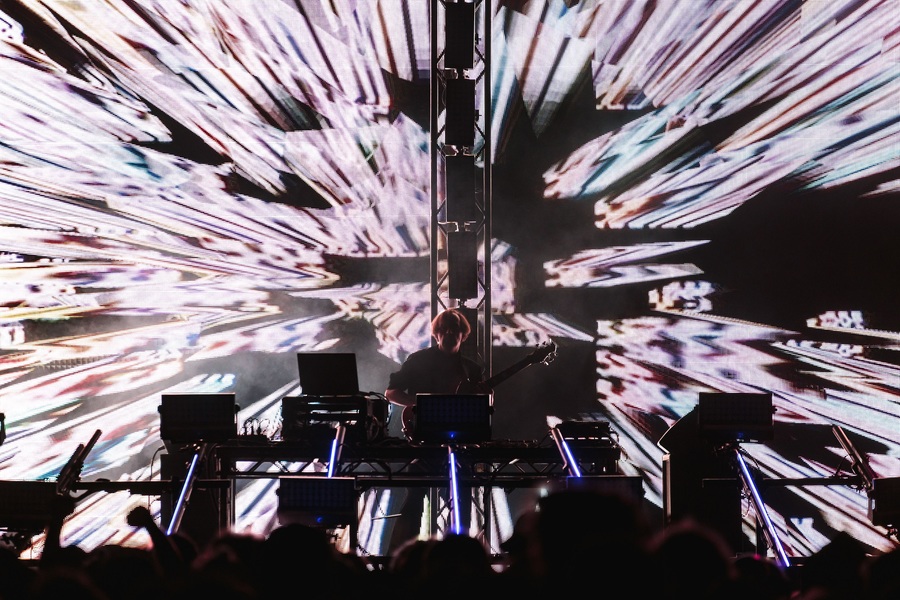 Image: Squarepusher live at Bluedot by Lucas Sinclair
Sunday is the wettest day of the weekend so far, hiding out in a tent all afternoon feels like the only thing for it. BBC Radio 6 Music's Chris Hawkins leads the lineup with a live recording of The Bluedot Podcast in which he's joined by Manchester legends A Certain Ratio for a funny and insightful conversation before their set later in the day. Rough Trade Books follow with a presentation of some of their authors, including Liverpudlian spoken-word performer Roy, and Sheena Patel and Sharan Hunjan of 4 Brown Girls Who Write.
London duo Jockstrap may not be the most search-friendly band going, but they're certainly one of the most exciting. Flitting between delicate ballads and pounding electronics, Georgia Ellery and Taylor Skye encapsulate a truly unique sound and energy, and they're a delight to watch. Anna Meredith and W.H. Lung give equally brilliant performances in the run-up to the main event of the day and, for most, the whole weekend.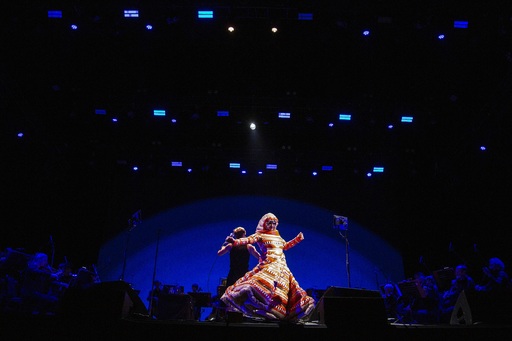 Image: Björk and The Hallé Orchestra live at Bluedot by Santiago Felipe
To say that Björk's performance with The Hallé Orchestra is life-altering may sound like a bold statement, but it's exactly that. To be able to hear some of her biggest and most beloved tracks, like Stonemilker, Hunter and Jóga, stripped right back and performed with the incredibly skilled Hallé Orchestra feels like a once-in-a-lifetime experience. And it's one that every single person in the crowd relishes in complete silence and stillness.
A mesmerising rendition of Hyperballad brings most people to tears as Björk's exquisite, otherworldly voice echoes through the air and she leaves the stage briefly before returning for an encore. Gasps of shock and awe ripple through the crowd as she informs us that she has just recently recovered from COVID, and no one can quite believe it given the faultless performance we've just witnessed.
After playing two more songs – Overture and an unexpected version of Pluto – Björk leaves the stage for good this time and even the orchestra don't know what to do with themselves, as they remain seated until someone comes on stage to let them know they can go. It's a mood shared by the crowd, who are left speechless and oh so very, very quiet.
---
Bluedot returns to Jodrell Bank Observatory in 2023 on 20-23 Jul; tickets are on sale now

discoverthebluedot.com

Photos of Björk and The Hallé Orchestra live at Bluedot by Santiago Felipe; Björk wearing Moncler/Pierpaolo Piccioli; Mask by James Merry; Makeup by isshehungry; Styling by Edda Gudmundsdottir; Conductor Bjarni Frímann wearing Michael Stukan; Special thanks to Rhiannon Lagden and @rhiannonlagden & Elliott Jack Adcock