Yard Act on their debut album and documenting modern Britain
As the accolades keep rolling in, we speak to James Smith, frontman of Leeds four-piece Yard Act, about the band's debut album and documenting modern Britain
Yard Act's world is constantly unravelling. Through 'Prosecco O'Clock' posters, orphans selling lettuces, slices of buttered bread, Morris dancers and Sham 69 records, seemingly unrelated abstract ideas all come together to form elements of a much larger story and, just like any great story, the beauty is in the detail.
Formed by frontman and lyricist James Smith and bassist Ryan Needham in Leeds towards the end of 2019, even the interruption of a global pandemic hasn't prevented Yard Act's meteoric rise over the last two years. During lockdown, the pair set up their own label (Zen F.C.) in order to release a string of sharp and witty singles – all of which garnered huge support from BBC Radio 6 Music – documenting modern life in Britain, and culminating in the release of their debut EP, Dark Days, last February.
Since then, Yard Act has become a four-piece – completed by guitarist Sam Shjipstone and drummer Jay Russell – and their captivating, energetic live shows have earned them a deserving reputation as one of the most exciting bands in the UK. But 2022 is really shaping up to be Yard Act's year. Longlisted for BBC Radio 1's Sound of 2022 and part of DIY magazine's Class of 2022, the band are also set to release their debut album, The Overload, this month, co-released via Zen F.C. and Island Records.
Coming from DIY backgrounds and both well-known within the Leeds music scene – with Smith formerly of Post War Glamour Girls and Needham of Menace Beach – signing to a major label like Island was, undoubtedly, a conflicting decision for the band. "We were just at a point where we couldn't do it ourselves anymore," says Smith. "It's never where we thought we'd end up, but out of all the people we spoke to they were the ones that really got where we wanted to go with it, even beyond album one."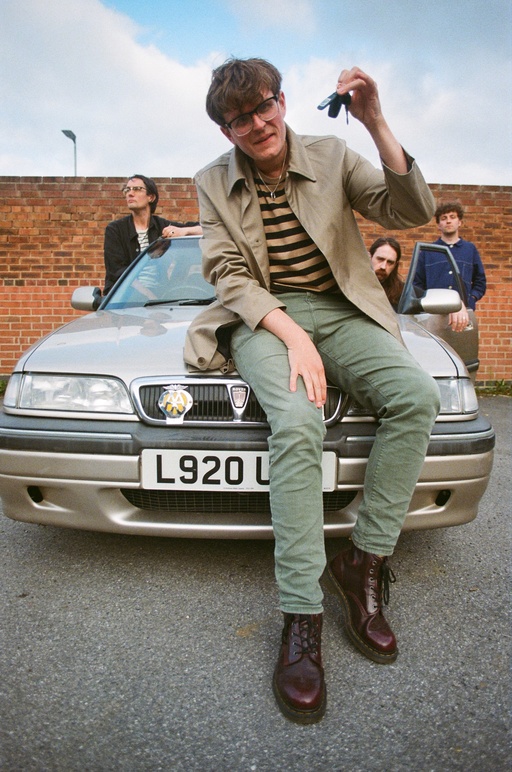 From screen printing their own sleeves and packing their own records over lockdown to having the budget and resources to be able to fully explore their ideas, the band have been able to push their vision even further. Teaming up with director James Slater on the accompanying music videos for the album's singles, Yard Act's world has well and truly been brought to life. "I love the idea of how it's revealed," says Smith. "I love the fact that every track reveals a bit more of the world and reveals a bit more of the album, and that it's got a story running through it. But you have to really commit to not making it obvious.
"The joy is in the Easter eggs really, and that's not being able to explain why there's an orphan girl stood next to a stall full of lettuces [in the video for lead single The Overload] for months, and then have that come out [in recent single Payday]," he continues. "Or me doing a video [celebrating the band's inclusion on the Fifa 22 soundtrack] in a Crewe Alexandra football shirt, running around with a load of kids, knowing that not until the end of January is that going to make any sense… Stuff like that is really fun."
Exploring themes of capitalism, corruption and failing modernity, Smith's lyrics cleverly tread that fine line between sarcasm and sincerity, and he often uses different characters to analyse various aspects of society. On Rich, he speaks from the perspective of someone who has put all morals aside in favour of pursuing wealth: 'Please teach me how to be modest and how to be rich / I've done some terrible things because I'm rich'. While on The Incident, he embodies the persona of a corrupt CEO, probably not too dissimilar to the one who fired 900 employees over Zoom last month: 'Had a hundred youngsters under my guidance at any one time / Willing to learn / Eager to please / And salaried / With the implicit threat of an instant dismissal'.
"Dead Horse, Rich, The Incident, Witness and Tall Poppies... were all separate songs that were floating around and I sensed that there was this corruption and money theme running through them," says Smith. "Then Payday, The Overload, Pour Another and Quarantine the Sticks were written to fit around those to shape this narrative.
"At the very end, there was a completely different track that was going to be the last track on the album…[then] Ryan sent me this 100% Endurance demo," he continues. "He sent me a video of it on his phone, filming the computer screen... and I wrote all the lyrics to this WhatsApp video on a loop… It was a real sort of gut reaction to that song, and I think it's the one that stands out the most."
But the pandemic presented an obvious barrier to developing the kind of intricate character profiles we're used to hearing from Yard Act, and with very little real-life human interaction to draw upon during lockdown Smith had to look elsewhere for inspiration. "A lot of the observational stuff came from the news, and digging back into my own past quite a lot, particularly Tall Poppies and 100% Endurance," says Smith. "[They] were influenced just by me reflecting… and applying it to the current state of things.
"And then some of the tracks, like Land of the Blind, were written during the pandemic and that was just looking at the news," he continues. "[But] I feel like the news always dehumanises people, doesn't it? It makes everyone into factions and statistics almost, and you forget that people don't actually all think the same thing just because they're on a particular side of an argument. They're not set in stone and it's not a complete picture of that person, or how they feel about one particular issue. So the album tries to balance that side of things, I think, with humanising people beyond the news."
Rather than creating a world separated by heroes and villains, the characters in Yard Act's world are sympathetic and multi-dimensional. Even the objectively pretty terrible Graham – who appears as a recurring narrator, first on the band's breakthrough single Fixer Upper and, again, throughout The Overload – is merely a victim of circumstance and is almost endearing in his blissful ignorance; even if his insistence that he's actually 'very fucking nice' may come across a tad aggressive.
But there's also a very personal element to The Overload, with Smith forcing himself to question his own beliefs and morals. Having become a father during lockdown – and on childcare duties for his eight-month-old son during our conversation – Smith's priorities changed, and so too did his outlook on life. "He was another reason that we had to look at the Island deal as well, because when you've got a kid you have to be a bit more sensible with money – you can't really live hand to mouth," he says.
There are very obvious nods to the hold capitalism has over us all throughout the album, and there's a very obvious resentment towards it. But Smith's analysis of the tickbox culture that exists within a capitalist society is no more poignant than on Tall Poppies: 'A promotion followed / A mortgage / A marriage / A dog / And children / A loft conversion / A dead dog / And a second home on the Costa del Sol', he drawls, over an ominous guitar riff and ticking snare, highlighting the cyclical and mundane nature of modern life.
By placing himself within the narrative on The Overload, Smith is opening up a whole other realm of Yard Act's ever-expanding world, and in Yard Act's world nothing is ever quite what it seems. The real thrill, though, is in never knowing when you'll unpeel the next layer.
---
The Overload is released on 21 Jan via Zen F.C./Island Records
Yard Act play Assai Records, Edinburgh, 26 Jan (stripped-back); The Caves, Edinburgh, 2 Mar; Mono, Glasgow, 3 Mar