Robyn @ NOS Alive, Lisbon, Portugal, 11 Jul
Robyn delivers a powerful non-stop party on the opening night of Lisbon's NOS Alive festival
A huge white sheet dominates the stage as we wait patiently for Robyn at the Palco Sagres stage on the opening night of NOS Alive festival in Lisbon. Seconds before her band arrive on stage, the sheet is dramatically ripped down by stage crew; floating to the floor, there's a huge cheer from the currently-modest crowd (The Cure are playing the main stage right now).
The band arrives on stage all in white with the odd silver sequin for good measure, and begin with the opening wheezes of Send to Robyn Immediately. A second, much shorter and much more translucent white sheet unfurls from the rafters: 'Baby forgive me / Baby forgive me / If you got something to say, I need to hear it… Tonight', begins Robyn from somewhere offstage. The song builds and as soon as the bass kicks in, the still-growing crowd emphatically clap along and that's pretty much us in a euphoric whirlwind for the next hour.
Robyn emerges in that white dress with the bejeweled red nipples; calmly and majestically she observes the crowd, a vision of empowerment and confidence. For a lot of people here tonight, who have chosen Robyn over The Cure, it seems that just being in her very presence means a lot. Sliding seamlessly into Honey, Robyn places herself centre stage, dress awash in ripples of coloured light, like oil in water. From hereon out Robyn and her impeccable band are a non-stop party train until the final notes of With Every Heartbeat finish the dozen-song set.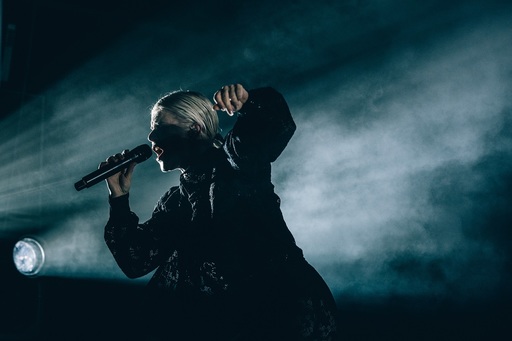 Robyn at NOS Alive, Lisbon. Photo: Hugo Macedo/NOS Alive
Taking in bangers from across her back catalogue with a big chunk from latest album Honey (Ever Again, Between the Lines and Missing U join the aforementioned pair of tracks), there's also big hits from 2010's Body Talk (Indestructible, Call Your Girlfriend, Don't Fucking Tell Me What to Do, Dancing On My Own), as well as two tracks from her 2005 eponymous breakthrough album (With Every Heartbeat, Be Mine!) and a mid-set outing of her collaborative pounder with La Bagatelle Magique from 2015, Love is Free. That track features lots of back-to-the-crowd ass shaking, Robyn by this point wearing a figure-hugging black lace pant suit following a dramatic exit from the stage post-Be Mine!, which involves her ripping down the ethereal sheet which obscured much of the staging until now.
The biggest moment of the night unsurprisingly comes in the form of a heart-bursting rendition of Dancing On My Own, a huge helping of which is served up a capella from the crowd as Robyn conducts us from the stage looking like her heart might too burst. Grabbing at her chest she mouths to the crowd: "Thank you so much." By the end of the track she spins herself into oblivion, giving herself a warm embrace, back to the crowd. It's a powerful statement of the importance of self-love and it's perfect.
Missing U, Call Your Girlfriend and With Every Heartbeat follow, ending an hour which is nothing short of spiritual. Robyn holds her hands in a heart shape above her head, blows a massive kiss to the crowd, says "obrigado", and just like that she's gone. Warm embraces fill the tent and we leave more than content.
---
Part of NOS Alive, which continues in Lisbon, Portugal, until 13 Jul