NOS Alive 2019: Report
With a whole host of knockout performances, combined with great weather and an excellent atmosphere, Lisbon's NOS Alive is a real gem of a festival
On a day where the temperature reaches a high of 37 degrees (!!), The Skinny arrive onsite for the first day of NOS Alive, a leisurely 40-minute meander along the Tagus River from the city's legendary pastel de nata bakery, Pastéis de Belém. There's four euro 40cl cups of ice cold Vinho Verde available on the bars, staff are wandering around selling crisps dressed as giant bags of jamon Ruffles, there's a designated seating area by the main stage for pregnant audience members (Futuras Mamas), drinks are served in reusable eco cups and Sharon Van Etten is our first port of call on the Palco Sagres stage. She's wearing leather trousers. Did we mention it was 37 degrees?
Thursday: Sharon Van Etten, The Cure, Mogwai, Hot Chip
The beautiful sounds of Jupiter 4 usher us into the tent, and from there a big chunk of her set is afforded to latest album Remind Me Tomorrow with a "couple of old songs for the hardcore fans" (Every Time the Sun Comes Up, One Day, Serpents). Throughout her set, Van Etten has a real air of Patti Smith about her; All I Can provides a truly hairs-standing-on-end moment and Seventeen is nothing short of a rollicking masterpiece.
While we've been watching Van Etten, Weezer have already played The Sweater Song over on the main NOS stage – on our way we stumble upon a dog with an Artist Pass that looks like Toto from The Wizard of Oz and arrive in time for a cringeworthy rendition of Toto's Africa. Coincidence? Experiencing some technical difficulties along the way with the sound cutting a couple of times, Rivers Cuomo and co battle on playing forever bangers Say It Ain't So, ending of course with Buddy Holly.
The rest of the evening brings us a topless, highly energetic Kojey Radical on the NOS Clubbing stage in mint chinos (with cargo pant pockets); he's thrilled to be playing his first ever show in Portugal and sets the small crowd alight with his explosive energy. A bursting at the seams Sagres stage for Jorja Smith offers little opportunity to get in on the action, but the crowd seem to know every word so we'll assume it was, in the words of Larry David, 'prettay, prettaaaaay, pretty good'. Loyle Carner, also on the Sagres stage, has a much smaller crowd gathered for his cheeky chappy hip-hop, but highlights come when Smith joins him for a duet on Loose Ends, and when he changes the lyrics on No CD to: 'Because we spent all our money on some custard tarts'.
On the main stage, pre-The Cure, we're treated to an ear-splitting set from Glasgow's Mogwai who end on the glorious double-header of Remurdered and a shimmering Mogwai Fear Satan, before The Cure deliver a two-hour-plus set to a sold out and very happy NOS crowd. We're there long enough to witness some gems in Never Enough, In Between Days and Just Like Heaven, and while Robert Smith truly sounds brilliant, Robyn is our main squeeze tonight, so we bow out early to get a good spot in the suspiciously quiet Sagres tent (read our full five star Robyn review here). Hot Chip then end our first night in true party fashion playing a whole host of tracks from latest album A Bath Full of Ecstasy (Hungry Child, Spell, Melody of Love), mixed with older hits like One Life Stand, Over and Over, Boy from School, Ready for the Floor and more.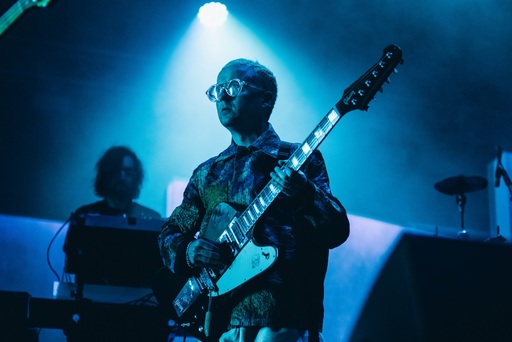 Image: Hot Chip by Joao Silva
Friday: Pip Blom, Grace Jones, Cut Copy
Friday kicks off for us with an early evening set from Amsterdam's Pip Blom who announces that it's their first ever Portugal show. Despite some issues with feedback throughout their set, they seem to have everyone in the Sagres stage on side with their catchy riffs and infectious energy as Pip Blom shakes her hips from side to side throughout, her thick curls constantly slapping her in the face. Ending on the highly boppable Daddy Issues, we're sure Pip Blom will be back in Portugal soon enough.
Later, on the same stage, Ry X offers up a deliciously ambient set before the confusing overlapping stage times of Primal Scream and Johnny Marr on the main stage and Sagres respectively. What's more confusing though, is Greta Van Fleet, who play after Primal Scream on the main stage. Offering up a dumbfounding sound and look that should've stayed in the 70s, we wander away from the retro throwbacks to check out Tash Sultana back on Sagres. A multi-instrumentalist, she switches between trumpet, guitar, vocals and more like it's no big deal, to deliver a set of her unique reggae rock to one of the biggest Sagres crowds of the weekend.
As soon as Night Clubbing begins her just longer than an hour-long set, everyone's forgiven Grace Jones for missing her programmed start time, and she absolutely knocks it out of the park. Innumerable costume changes/adornments punctuate a set made up of classics like her cover of The Normal's 1978 hit Warm Leatherette, Pull Up to the Bumper and My Jamaican Guy; a roaring rendition of Roxy Music's Love is the Drug sees Jones becoming a human disco ball in a mirrored bowler hat, and Slave to the Rhythm is truly life-affirming as she hula hoops throughout its entirety. Continuing to hula hoop as she steps off her podium, walking to the other side of the stage, she introduces her whole band. Surely Grace Jones should be classed as one of the Wonders of the World?
A hard thing to follow, but the night is still relatively young, so we treat ourselves to a bit of Gossip and Beth Ditto is on fine form; 'Fuck Trump! Fuck Trump! Fuck Trump!' she yells at the late night Friday crowd, to everyone's approval. Standing in the Way of Control will never tire and it's a sheer delight to hear live, and ending on the Franz Ferdinand riff-aping Heavy Cross is a great precursor to catching a bit of Australia's Cut Copy over on Sagres before calling it a night. A heartfelt tribute to the recently passed Philippe Zdar, who produced their debut album Bright Like Neon Love, before they play Future is met with warm cheers from the crowd and the short amount of their set we catch is a real danceable treat.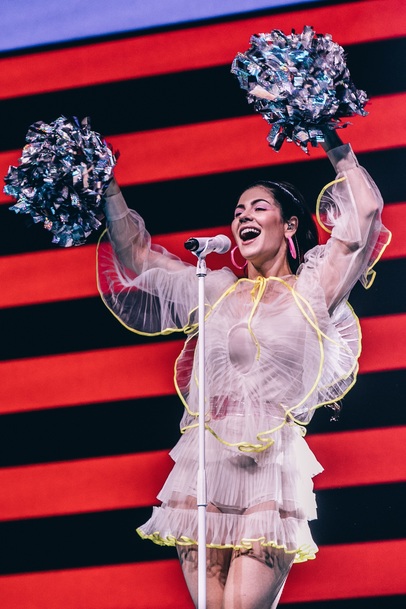 Image: MARINA by Hugo Macedo
Saturday: IDLES, MARINA, Thom Yorke, The Chemical Brothers
Our Saturday gets underway with another gaggle of Aussies as Rolling Blackouts Coastal Fever kick off proceedings on the Sagres stage; it's their first time in Lisbon and much like Pip Blom we doubt it'll be their last. IDLES then kick things up a notch and starting with Heel/Heal, cups are sent skyward mere minutes into their set. With songs about depression, drug addiction, immigration and proclamations from frontman Joe Talbot about the NHS and the importance of self-love, the Bristol five-piece deliver an uplifting set made all the more thrilling by band and audience members crowd surfing throughout, excellent dance moves and fantastic swimming shorts from guitarist Mark Bowen, along with a mid-set Joe Cocker/Sinead O'Connor medley.
After a brief aural dabble in the tepid pool that is Bon Iver, MARINA (fka Marina and the Diamonds) throws quite the shindig back at Sagres; a neon-clad cornucopia and pop show of the highest order, Marina Diamandis is utterly beguiling, with the moves and voice to back up the pomp of it all. Later, Thom Yorke delivers a masterful and frenetic set which takes in a slew of bubbling and bass-heavy tracks from the recently released ANIMA, as well as highlights from Eraser and Tomorrow's Modern Boxes, with a couple of Atoms for Peace tracks thrown in for good measure. It's a heavy and enjoyable set from the off, and the perfect warm-up for The Chemical Brothers over on the main stage.
Glasses charged, we dance our hearts out to a pounding set which takes in all the hits from Hey Boy Hey Girl and Galvanize to Do It Again and Block Rockin' Beats; a huge soundsystem combined with massive visuals is truly the perfect end to our festival.
NOS Alive is a real gem of a festival. With a beautiful city to explore during the day and a stunning festival site to enjoy in the evening, if you can handle the heat then this could be the one for next year's diary.
---
NOS Alive 2019 took place from 11-13 Jul; NOS Alive returns next year and will take place from 9-11 Jul 2020