Bilbao BBK Live 2019: Festival Report
We report back from Bilbao BBK Live, where we witnessed the stars of the future and musical legends in the most idyllic of settings
Bilbao has come a long way in the last 20 years or so. The opening of the Frank Gehry-designed Guggenheim Museum in 1997 marked a huge shift for the city; the former industrial port city became a city with a focus on arts, culture and, particularly, design. Walking around Bilbao, it's hard to imagine it not being the bustling creative hub it is today.
Located in Kobetamendi – a vast natural park up in the mountains – Bilbao BBK Live has been running at the same site since 2006 and has helped establish the city as one of Spain's music capitals. This year, the festival celebrated its 14th edition with headline sets from the likes of Liam Gallagher, Thom Yorke – with his Tomorrow's Modern Boxes project – The Strokes, Rosalía and Weezer.
Brockhampton's early evening set on the Nagusia stage on Friday night sets the tone for the rest of the evening, with the six core members of the group making full use of their pyrotechnics to get the crowd going. Kevin Abstract may be the group's most famous member, but it's Joba who proves himself to be Brockhampton's secret weapon here – his standout verse on Iridescence cut J'ouvert being a particular highlight of the band's high-energy set.
Maintaining the same energy levels, IDLES' politically-charged punk soundtracks the sunset over on the Bestean stage. While IDLES' lyrics may possess a political edge, there's a playful nature to their live performance that sets them apart from other punk bands. Towards the end of their set, guitarist Mark Bowen loses his guitar as the band break into renditions of Sinéad O'Connor's Nothing Compares 2 U and Joe Cocker's Up Where We Belong before the band bring up three female audience members from the crowd to replace them playing their instruments – a touching end to the band's set.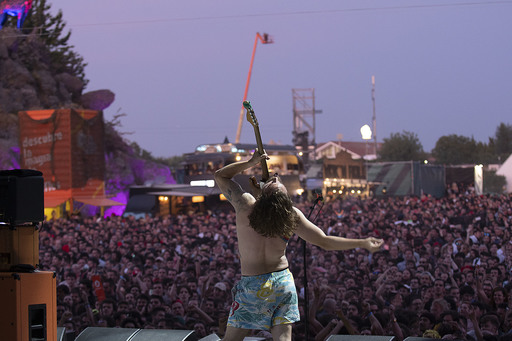 [Image: IDLES by Óscar L Tejeda]
If there's one standout performance of the weekend it's most definitely Rosalía. The Barcelona-raised singer's rise to success may seem rapid on our shores but over in Spain she's nothing short of a homegrown superstar. She works through tracks from her latest album El mal querer, which catapulted her into the global gaze, as well as performing her recent collaborative tracks with James Blake (Barefoot in the Park) and J Balvin (Con Altura). In the moments when she turns it down, singing a cappella and demonstrating her incredible vocal ability, and those when she turns it up, Rosalía is quite simply breathtaking.
And from a superstar on the rise to a group of indie icons – a band whose name has been emblazoned on the T-shirts of just about every second person at the festival today – The Strokes, wh provide the perfect festival headline set for their diehard fans. The New York band essentially play an hour-and-a-half of their greatest hits, bookended by Heart in a Cage and Someday before returning for an encore of Is This It and Last Nite. Julian Casablancas' cringeworthy onstage chat may not be completely up to scratch, but the band's set is sure to have left any Strokes fan very happy.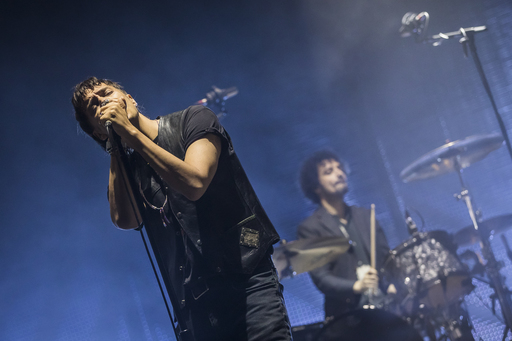 [Image: The Strokes by Tom Hagen]
Another band showing how festival headline sets are done is Weezer, who perform on the same stage the following night, and you don't even need to be a superfan to enjoy it. As well as throwing down their own biggest hits – including Beverly Hills, Say It Ain't So and Pork and Beans – the band also play several tracks from their recent covers album, Weezer (Teal Album). Covers of Toto's Africa, Everybody Wants to Rule the World, and A-ha's Take On Me all feature throughout the band's set, and the reaction from the crowd speaks for itself.
In a pretty drastic change of tone, Vince Staples appeared to be making it his mission to blow everyone's eardrums with some intolerably loud bass during his set. As one of the most promising young talents in hip-hop right now, it's a real shame that Staples' goes almost unheard, drowned out by the gruelling bass coming through the speakers. Nevertheless, Big Fish Theory tracks like 745 and Yeah Right, as well as Fun! and Relay, from his latest release FM! still go off.
Hot Chip's geeky indie-pop/dance hybrid rounds off our time at the festival, dragging out any energy left from those in the crowd for one last dance. Tracks from their latest record, A Bath Full of Ecstasy, flow well with older hits like One Life Stand, Over and Over and Ready for the Floor, and a cover of Beastie Boys' Sabotage thrown in at the end leads proceedings to a triumphant close.
There's something undeniably wonderful about a festival set in the mountains, where gorgeous views overlooking the city serve as a backdrop to the stages. Bilbao BBK Live have definitely got it right when it comes to atmosphere, and is a valuable asset to the city's cultural scene.
---
Bilbao BBK Live 2019 took place from 11-13 Jul; next year the festival will run from 9-11 Jul – tickets on sale now: bilbaobbklive.com