Albums of 2017 (#8): Vince Staples – Big Fish Theory
Vince Staples' Big Fish Theory is one of the most unique and colourful additions to the hip-hop canon in years
Released when he was just 21, Vince Staples' studio debut, Summertime '06, arrived like a slab of musical concrete. Unconcerned with flashy production or big name guests, it didn't so much as announce its arrival as burst through the door and demand a seat at the table. A mixture of swagger, dank, claustrophobic beats and a inimitable knack for dark storytelling ensured that Staples could not be ignored.
Over the subsequent two years Staples' star has continued to rise: eminent festival/media appearances, collaborations and corporate sponsorships. With an increased public profile, and the wealth that comes along with this, Staples has been able to give back to the impoverished community that he grew up in, speaking to young people about the dangers of gang culture and assisting with YMCA programmes.
Now firmly removed from the tumultuous lifestyle that allowed for the stark nihilism of Summertime '06, Staples decided against a repeat performance for album number two, opting instead for a collection of upbeat snapshots that mixed flavours of UK dubstep, electronica and Detroit techno with his powerful delivery. The result makes for one of the most unique and colourful additions to the hip-hop canon in years.
Crabs in a Bucket opens the album with skittering, two-step beats that conjures an image of Staples in grimy East London, emphasising the disconnection with his SoCal roots. However, as the record progresses it becomes clear that he isn't rejecting his typical material, rather he is incorporating new elements that make for a more international sonic palette. The influence of Burial, James Blake and industrial hip-hop can be seen elsewhere, while Homage and Party People revive the hedonistic maximalism that was hinted at on 2016's Prima Donna EP, adding EDM to the smorgasbord of genres that Staples utilises across Big Fish Theory.
The new elements mean that Big Fish Theory jumps from idea to idea with a restlessness so prevalent in today's hip-hop consumption. Club-rap courtesy of SOPHIE, Flume and Jimmy Edgar mixes with acerbic critiques of the corrupting nature of celebrity whilst avant-garde arrangements help to pick apart the self-aggrandisement of the industry. The eerie 'calm amidst chaos' persona that Staples has previously exuded is generally missing, replaced with a narrator happy to revel in the disorder, rather than commenting from the peripheries.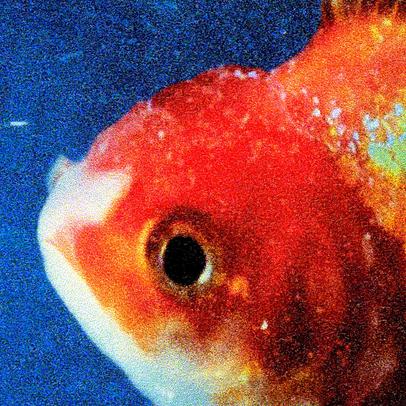 There are also a host of guest stars to go along with the producers, with big names like Damon Albarn, Justin Vernon and A$AP Rocky making appearances. However, these are rarely more than window-dressing to the main event. The two notable exceptions are Kendrick Lamar, who gives a typically spirited show on Yeah Right, and longtime collaborator Kilo Kish who appears on a number of tracks to bring a more palettable edge to Staples' sometimes mechanical proclamations.
Nevertheless, in spite of the genre-hopping and guest turns there remains a thread of bleakness that fuses the album together. This is underscored by Alyssa Interlude, which features an excerpt from an Amy Winehouse interview (from Amy, which inspired his Prima Donna EP). In it, Winehouse talks about her tribulations with love, ending with the admission, 'I'm quite a self-destructive person, so I guess / I guess if you give me some material...', a mantle taken up by Staples as he flatly intones over The Temptations' I Wish it Would Rain.
Staples has no shortage of material, and though Big Fish Theory only comes in at a scant 36 minutes, it's a continuation of his exploration of darkness. Previously, this was concentrated on a view through a single lens, but with new possibilities and collaborators now available to him, Staples can express his ideas in different ways. Big Fish Theory provides a kaleidoscopic melee of treats, but the source remains as precise as ever, like light shone through a prism.
The album's most quoted line, 'How I'm supposed to have a good time / When death and destruction's all I see?' crops up in the middle of Party People where, a verse earlier, Staples considers an 'Awkward silence, my brain scream louder / Askin' when I'm gon' blast myself'. Even on one of the most EDM-indebted 'bangers' of the album, amid stuttering toms and squelchy synths, Staples is still wracked with anxiety and suicidal tendencies, exemplifying a key theme that he's learned along his rise to fame: wealth, popularity and superficial parties don't solve underlying problems. Vince Staples may not have any answers, but he's at least aware of his own ignorance, and that's a start.