Edinburgh Fringe: Where to find the best coffee
Keep fuelled inbetween shows so you can enjoy all the Fringe antics with our guide to where to get your coffee fix when you're in need during the 2018 Edinburgh Fringe
If you're heading from show to show, you'll need a brew to keep you fuelled during the day so you can enjoy all the Fringe fun. So add this page to your faves and think of it as your caffeine fix saviour for August because we've done a round-up of some of the best specialty coffee shops around the city to keep you energised Lionel Ritchie style… All Night Long.
Cult Espresso
104 Buccleuch St | 5-minute walk from Summerhall
Fancy a relaxed atmosphere and a homely feel like you're sitting on your sofa with a brew in hand? Cult Espresso is your go-to. Tucked away on Buccleuch Street (pronounced book-loo), Cult started out in a kiosk in Dalmeny train station where owner Garry Stone turned his dreams into a reality of opening up his very own coffee shop with the support of his friends and family. Head here for a Southside brew if you want friendly service and a good cup of joe.
Burr & Co
20 George Street, EH2 2PB | 3-minute walk from The Assembly Rooms
Grab a coffee and sit in with your laptop, meet some friends and have a glass of red and some nibbles, or get a cuppa to go so you can head to your next show; Burr & Co pretty much has all your needs covered. Their coffee beans are ethically-sourced from London-based Caravan Coffee Roasters, so grab a filter coffee, a flat white and even choose from oat, almond or coconut milk for a dairy-free alternative beverage.
Fortitude Coffee
3c York Pl, EH1 3EB | 20-second walk from The Stand Comedy Club
Got a show at The Stand and fancy a coffee? Head out the door, take a left, climb some stairs and you'll arrive at Fortitude (approx 10-second walk door-to-door). It might be small, but that just means they take their time to craft your coffee to perfection. They even use single origin coffee roasted by their sister company Fortitude Coffee Roasters and serve pastries and cakes from local bakeries around the city.
The Milkman
7 Cockburn St, Edinburgh EH1 1BP | 5-minute walk from Assembly Hall
Located on that windy road leading to the Royal Mile, Cockburn Street sits The Milkman. This old town coffee shop's cosy interior invites you to take shelter when the festival fun is just a little too overwhelming. Chat with the friendly baristas or take a seat in the window nook with your Kindle to catch a breath and enjoy a well-earned java, whilst watching the festival bustle head past.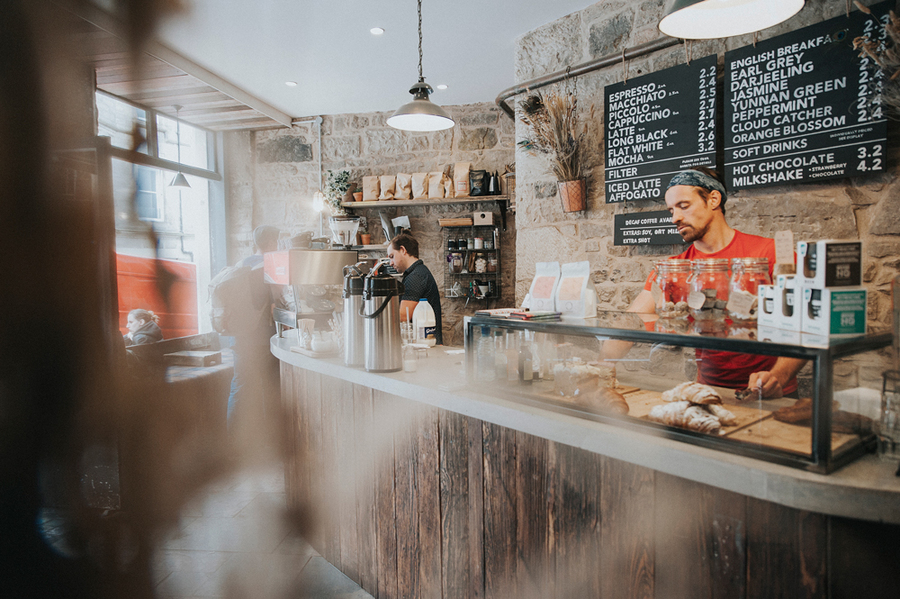 The Milkman
Eden Locke
127 George St, EH2 4JS | 5-minute walk from Gilded Balloon Rose Theatre
Along the stretch of George Street are a handful of coffee shops to nip into, but you might just miss this one as you're walking past. As well as being voted one of the best hotels in Edinburgh according to Conde Nast Traveller, Eden Locke's ground-floor coffee bar serves artisan cuppas from 7am onwards before transforming into a lively bar in the evenings serving wine, beer and hi-ball drinks. But if you still need a caffeine pick-me-up later in the night (a 9pm slump is a thing, right?), they're one of just a few coffee shops in Edinburgh able to fulfil your coffee needs. Better latte than never we say.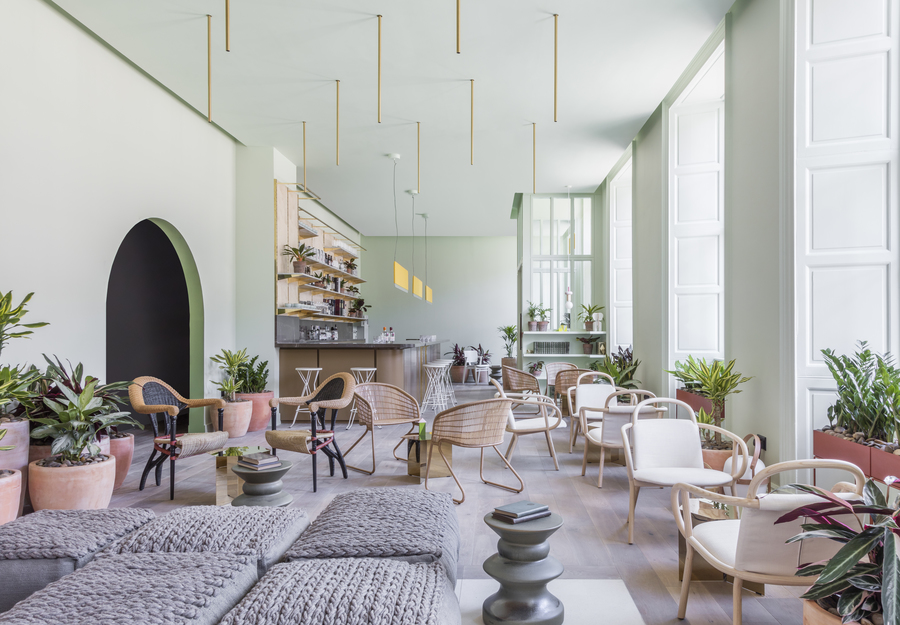 Eden Locke
Cairngorm Coffee
1 Melville Street, EH3 7PR | 5-minute walk from The Book Festival's Charlotte Square Gardens
Grab a sipper from Cairngorm Coffee in the West End before heading to talks by your favourite authors at the Edinburgh International Book Festival. Cairngorm is a bright, spacious coffee shop with counter to ceiling windows, long benches and iPads to keep the kids entertained whilst you enjoy your fancy flat white.
Baba Budan
Arch 12, 17 East Market Street, EH8 8FS | 5-minute walk from Pleasance
Homer Simpson's perfect combo: coffee and doughnuts. Nestled in The Arches and a two-minute walk away from Waverley train station, Baba Budan accompanies its coffee with a fresh made-to-order food menu and a line up of the most delicious doughnuts you'll ever eat. You can even sign up to their coffee and baking master classes. Trust us, you doughnut want to miss out.