Grahame Ward on La Cheetah, Room 2 & Riverside Festival
As Glasgow's La Cheetah Club celebrates its 10th anniversary this year, the club's booker, programmer and resident DJ Grahame Ward (aka Wardy) discusses the venue's ongoing success
Over the last ten years, Queen Street nightclub La Cheetah Club has grown into one of Glasgow's most popular clubbing spots, and the team behind it have developed a solid reputation in the city for its diverse range of bookings.
When current owner Dario Bernardi took over the space that once occupied Twisted Wheel in 2009, he set about refurbishing it into a fully-formed club space, installing a proper DJ booth and a sound system. Soon after, he enlisted local promoter Grahame Ward to take charge of the club's booking and programming.
"I was running parties up at Basura Blanca and I moved everything I was doing down to La Cheetah because I always liked the space when it was the Twisted Wheel basement," says Ward. "I probably ran parties down here for about two years before Dario took me on to initially do the bookings for the club's own in-house parties, then eventually took me on to programme and book for the venue itself."
As well as maintaining a focus on the development of new club nights, La Cheetah is also known for its exciting residency programme. As part of the club's 10th anniversary celebrations, they have already announced a series of four-part residencies this year from Objekt, Shanti Celeste and Avalon Emerson, with more yet to be announced. "It's quite good that there's a large gap between how big some of the acts are and how new some of these nights are, and they're all happening in the same space," says Ward.
"The thing about [the residences] is, for instance, an Objekt or an Avalon Emerson or a Palms Trax, they're going to bring enough of a crowd in, so it means they can book whoever they want to put on," he continues. "And it's cool because we get to book these artists that we're hearing about and we'd love to bring in for a show, but maybe it's not the right time for them or maybe it just wouldn't work out as well because they've maybe not got as much of a profile in the city as we'd like them to before they play for us."
Room 2 Glasgow
And if running one successful club wasn't enough, earlier this year the team opened their latest venture Room 2, reoccupying the space the infamous Chambre 69 once held on Nelson Mandela Place. For its opening weekend, the team enlisted local legend JD Twitch, as well as fresher faces on the Glasgow scene – The Burrell Connection, Sofay and Ribeka – to christen the booth before a headline set from Detroit techno royalty Moodymann the following night.
But the team plan to expand the space into more than just another nightclub. "We've got it up and running as a club but it will morph as time goes by into a fully fledged venue; that is the main intention with it," says Ward. "We love the idea of having live acts come down and play in a club environment, and/or even play early on and it run straight through into a club."
---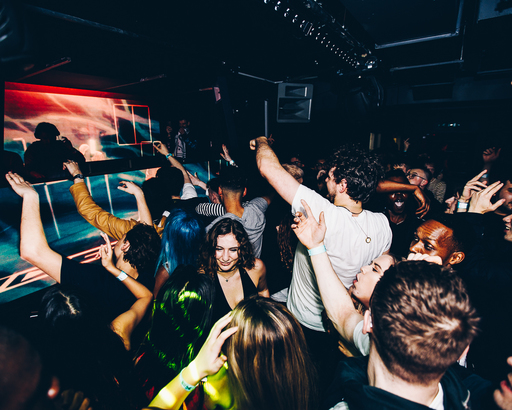 Magic City @ Room 2, Glasgow
---
La Cheetah @ Riverside Festival
The team take their first steps into festival curation this year too, curating a stage at Glasgow's Riverside Festival, with the line-up proving to be an accurate representation of the club's ethos. Taking place on the Saturday of the festival, the La Cheetah 10 stage will see sets from local talents like Eclair Fifi and Nightwave, as well as festival mainstays like Midland and Shanti Celeste, who described La Cheetah as "one of my fave places to play" when announcing her residency in the club on Twitter earlier this year.
As La Cheetah Club approaches its teenage years, it can count itself a favourite among Scottish clubgoers and a firm fixture on the clubbing landscape with what's looking to be an even brighter future ahead of it.
---
La Cheetah Club, 73 Queen St, Glasgow, lacheetahclub.co.uk / Room 2, 69 Nelson Mandela Pl, Glasgow
Riverside Festival takes place at Riverside Museum, Glasgow, 25 & 26 May – scroll on to read Ward's guide to the La Cheetah 10 stage line-up