Scottish Clubbing Highlights: August 2023
Our August clubs round-up includes big festival nights in Edinburgh, the return of Connect festival, and a huge party at The Ferry in Glasgow
Starting off August we have Bristol's leftfield legend Bruce at Sneaky Pete's for haptic in Edinburgh (2 Aug). Following on from this, Overground has a huge lineup for the Fringe's 'opening night' over at The Mash House, while over at Summerhall, Optimo Espacio returns with Eyes of Others, fresh off the back of releasing his self-titled debut (4 Aug).
Meanwhile, over in Glasgow, Missing Persons Club welcomes Funk Assault, for what will be a fast-paced evening with multi-genres and excellent vibes at The Berkeley Suite (4 Aug).
Back in Edinburgh, Headset heads for Leith for a festival special at Lost In Leith (11 Aug). The lineup boasts several local and huge DJs, including Bleep and Break legend Neil Landstrumm for a live performance – something for those who are into analogues and synths! Other highlights include Skillis, Proc Fiskal, Alliyah Enyo and more.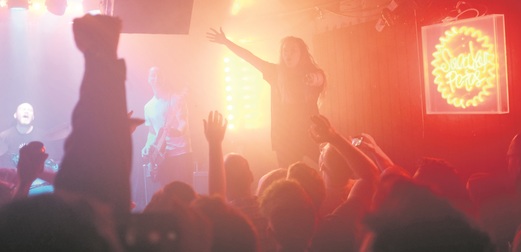 Sneaky Pete's
Also catch Skillis this month at Agora as they go back to back with LWS all-night long at Sneaky Pete's until 5am on Thursday 17 August. Meanwhile, FLY hosts a very special Fringe night with club hours staying open till 5am – all-female trio Disco Tits take control for the evening at Cabaret Voltaire (18 Aug). Club Sylkie are hosting a very special edition of their usual club night at Summerhall in Edinburgh, with Manuka Honey, LVRA plus local support (19 Aug).
Celesté hosts a huge party at the floating Glasgow venue: The Ferry. The lineup includes Elanda, Inez, and DJ Suzie (27 Aug). Meanwhile, outside Edinburgh another edition of Connect festival takes place at the Royal Highland Showgrounds (25-27 Aug), acts include Róisín Murphy, Fred Again.., Slam, TAAHLIAH, Loyle Carner, plus many more.