Category Is, Lighthouse and Book Nook on supporting indie bookshops
"Shop indie" is a common slogan, and in a year where Amazon's profits have soared while the majority struggle, Anahit Behrooz explores exactly why independent bookshops are important, and why your support matters more than ever
Ever since I was very small, I have wanted to work in a bookshop. I would imagine the tottering piles of books, my childhood self paid simply to curl in a corner and read. The sheer romance of stories, made material in gleaming spines and coloured endpapers.
Unsurprisingly, my first bookselling job, at the rickety, intensely loveable Armchair Books in Edinburgh, quickly put an end to such unreasonable fantasies. Bookselling, I learned, was work – actual work. Heaving stacks of books from shelf to shelf, staring bemusedly at people openly pocketing antique copies of Alice in Wonderland, my most anticipated books scooped up by customers before I could sneakily set them aside.
Yet the more the romance of it rubbed off, the more I fell in love – actual love. With the strange, endearing characters, with the deeply personal care that goes into each newly alphabetised shelf and heartfelt recommendation. In his Nobel Prize speech, Kazuo Ishiguro said about writing: "But in the end, stories are about one person saying to another: this is the way it feels to me. Can you understand what I'm saying? Does it also feel this way to you?" That's what independent bookselling is, too. "I loved this. I hated this. I can't stop thinking about this. And you? And you? How will it feel to you?"
In a year which has seen Jeff Bezos' personal wealth increase by $82 billion, understanding this unique role that independent bookshops play in our communities and imaginations is more important than ever. "Bookshops are a space for the potential in the written word to come alive," explains Mairi Oliver from Edinburgh's Lighthouse Books, the capital's radical bookshop. "We are a physical representation of ideas and dialogue, which is why it is so important to us that those ideas and conversations champion the oppressed and be widely accessible."
This idea of a physical space was also important for Leanne Brown and Jasmine Stenhouse at The Book Nook Stirling, a secondhand bookshop that opened a few months into the pandemic. "Our main hope for our shop was that we would become a community space," they explain. "I remember reading years ago about the concept of a 'third place' – a place that wasn't home and wasn't work, but was instead a place to congregate and socialise. We want to be a home away from home."
For Charlotte and Fionn Duffy-Scott at Category Is Books, their queer Glasgow bookshop can be a third place for those who struggle to find it elsewhere. "We spent a lot of time looking online at different queer books and magazines but were desperate to see it physically all together," they say. "We wanted to be able to hold these stories and histories and put them next to each other, to see if together they would weave a more vivid representation of queer life, history and culture. We're also big believers in the importance of physical spaces that community can grow and thrive in and around."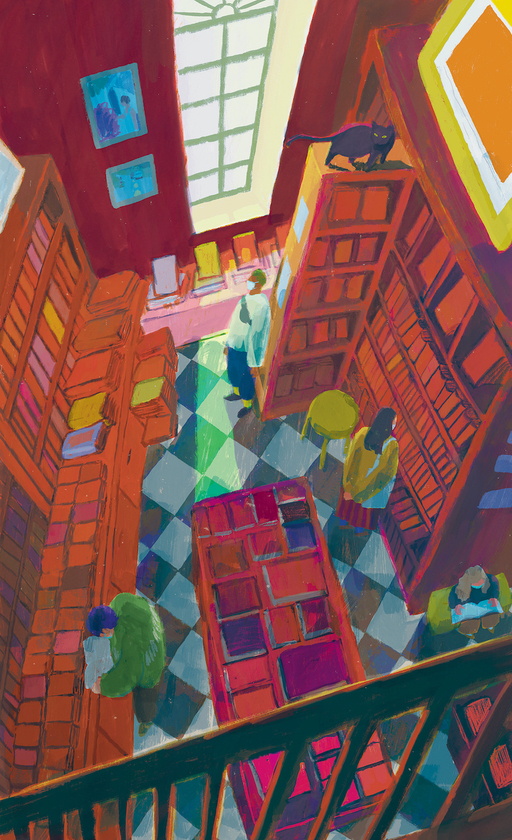 Yet while this year has deprived us of these physical spaces, and has placed enormous pressure on independent businesses to survive, there have been great kindnesses too, acts of community which demonstrate the irreplaceable value of these shops. "It's impossible to think about opening a bookshop without considering the impact of Amazon," Brown and Stenhouse consider. "We decided from the outset that we wouldn't necessarily put too much stock into competing with them on price, because it seems like a losing battle. Instead, we try to focus on the things we offer that they can't. [The response] from communities to support small, independently run businesses has been so wonderful."
Oliver agrees. "Thousands of pounds have gone through our Pay-It-Forward fund, sending people books they couldn't otherwise afford and giving groups like Books Beyond Bars resources," she enthuses. "The surge in demand for antiracist texts allowed us to rally behind books and authors we love and channel profits back into phenomenal projects like Fringe of Colour and Free Black University." 
Category Is Books has experienced similar generosity. "We see lots of books going out as part of care packages and cheer up gifts which is lovely, and we recently raised over £1,500 in just a day for our Pay-It-Forward fund. Things are terrible but humans are still being caring and kind towards each other, despite the opposite seeming true".
It is this understanding of our fundamental interdependence, this intrinsic politics of care, that makes independent bookshops what they are: a space for the lonely and tired, a voice for the angry and the silenced, a declaration of determination to exist for those who need them the most. "As an industry, we have a responsibility to make more people care," Oliver states firmly. Perhaps it was this that made me fall in love with bookshops all those years ago, long before I could put it into words.
Book picks from Lighthouse, Category Is and The Book Nook
For those keen to support their indie shops, but not sure where to start, our booksellers have also given some of their top picks to start with.

The Book Nook Stirling: "Our favourite authors include Margaret Atwood, David Mitchell, Toni Morrison, Haruki Murakami and Sarah Waters. We're both obsessed with Gothic, horror and all things spooky. We have a mutual obsession with Lanark by Alasdair Gray. Selling secondhand books can be a big thrill to be honest, because you never quite know what's going to be presented to you or what you're going to find.
"Right now we're both currently reading and absolutely loving Happiness is Wasted on Me by Kirkland Ciconne, so that'll probably be our number one recommendation for a wee while!"
Lighthouse Books: "Recently we've been (over)indulging the team's love of darker, weirder, subversive fiction, pushing books like Stephen Graham Jones' The Only Good Indians and Haunted Voices, Daniel Mallory Ortberg's Merry Spinster and the utterly riveting Mexican Gothic by Silvia Moreno-Garcia. Several of the team read and loved Alice Tarbuck's A Spell in the Wild (pragmatic and ethereal, full of learning and application) and Rebecca Tamas' powerful essay collection Strangers so naturally we've been throwing them at enough readers to have made them recent bestsellers."
Category Is Books: "If we could make everyone leave with a copy of Dykes To Watch Out For we'd die happy because it is eternally uplifting and a beautiful snapshot of the community. Fionn is renowned for making everyone heal their relationships with magic books, by reading the incredible Out Of Salem by Hal Schrieve, or something by Sarah Gailey.
"Charlotte's favourite book this year is LOTE by Shola Von Reinhold. This time of year we love to re-read Derek Jarman's Chroma and Tove Jansson's Winter. We've always got copies of Audre Lorde and James Baldwin at the counter too because they are constantly relevant and everyone should read them!"
---
Category Is Books, 34 Allison St, Glasgow, G42 8NN, categoryisbooks.com
Lighthouse, 43-45 W Nicolson St, Edinburgh, EH8 9DB, lighthousebookshop.com
The Book Nook, 24 Upper Craigs, Stirling, FK8 2DG, thebooknookstirling.co.uk
Illustration by Natsumi Chikayasu