Scottish Art Events and Exhibitions Calendar 2019
Each year, before galleries head on their winter vacation, The Skinny asks what the Scottish art scene has coming up in 2019. Every year, the answers are surprising and exciting, and this is no exception
Before the year was out, The Skinny checked in with Scotland's many art spaces, galleries and workshops to figure out some idea of what's coming up in 2019. So here's the art calendar for 2019 as it stands at the time of writing. No doubt more announcements will be made over the course of the year, so keep up to date via our monthly art column in print and online.
Glasgow
The CCA had a tough 2018 after an unplanned closure in the wake of the fire at the art school in Glasgow. Starting off their year of new and experimental approaches to their gallery spaces, Katherine MacBride (9 Feb-24 Mar) will present a performance that speculates an alternative queer, decolonised, ecologically conscious and feminist Europe. Then, there's the film work of Shadi Habib Allah who considers the dependencies and disparities of government welfare policies in Miami's Liberty City neighbourhood.
Working to create some overlap between the defined gallery slots, artist Emilia Beatriz "has been commissioned to make a new speculative fiction narrative based on oral histories from Scotland and Puerto Rico", then for 16 weeks during the summer, the CCA pilot a programme of "non-stop" events, exhibitions and performances in the three downstairs gallery spaces. The participating artists will be announced early this year. Rounding off the year at CCA, there are further solo shows from prolific sculptor and multidisciplinary artist Grace Schwindt, and artist and filmmaker Basma Alsharif.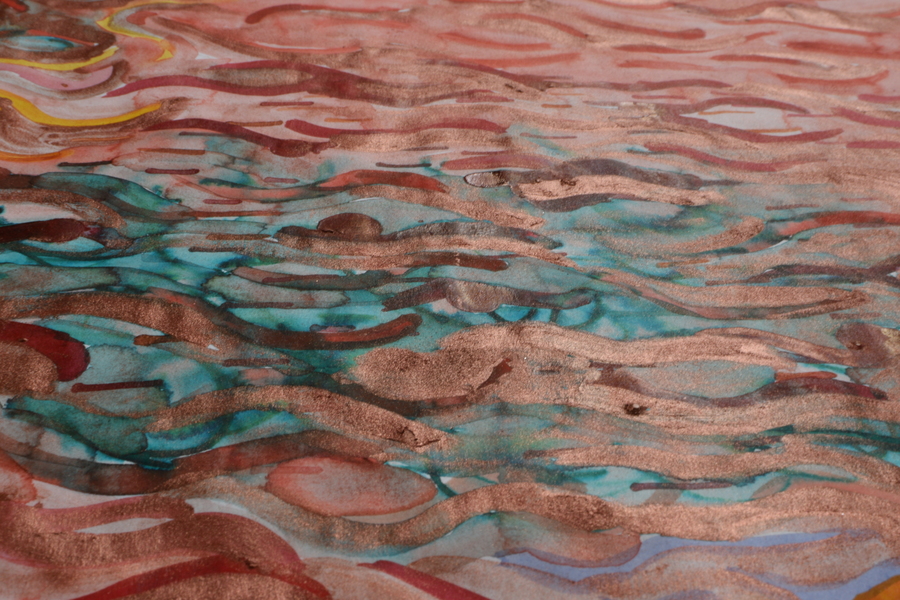 Katherine MacBride
Also directly affected by the fire in the Mackintosh Building, the Glasgow School of Art's Reid Gallery reopens this month with some student-led design exhibitions. In February, there will be postponed group show ambi (named for the Punjabi term for what is known as Paisley pattern in Scotland), in which three invited artists and writers draw out new stories and artworks from the GSA textile archives. After the hijinks of degree show season, GSA Exhibitions celebrate the Art School Film Club's consistent output of bespoke film posters to accompany weekly screenings since 2006, a selection of which will be shown later in the year (14-29 Sep).
Market Gallery has some of its year already plotted, including a Night School event by the curator Linsey Young, who is hard at work on curating the Scottish presentation at the Venice Biennale this year. This event takes place at the end of January, full details TBC. In March, Market host an exchange exhibition by the curatorial collective Komplot. The curatorial collective, usually based in Brussels, give a platform to experimental and collaborative art. 
Street Level Photoworks has a packed year on and off-site with exciting exhibitions and projects from photographers and artists working with the medium. From 9 February, they showcase Arpita Shah's Nalini, work which explores a specific diasporic experience as represented through three generations of women in her family whose histories span India and Africa before settling in the UK. This exhibition will also be shown in An Lanntair in Stornoway in October 2019.
From 13 April to 23 June, Street Level work in collaboration with Stills in Edinburgh for their Ambit exhibition, before Doro Zinn presents the outcomes of her encounter with the Gorbals, an intimate portrait of the place and the people by the German-based photographer (29 Jun-8 Sep). As part of the same exchange programme, artist Robert Henderson presents an exhibition on Glasgow and Berlin, then there's a focus on Scottish rural landscapes and communities in the photographs of Nicky Bird (Sep-Nov), before Scotland's foremost documentary photographer of the 20th century, Oscar Marzaroli (1933-88), is given a retrospective.
For Mary Mary in Glasgow, the year is already all planned out, and begins with the suggestive fabric sculptures of Gerda Scheepers (9 Feb-30 Mar), then the surreal and technically deft paintings of Emily Mae Smith (13 Apr-25 May), followed by painter Lisa Alvarado who engages non-Western concepts of abstraction in her large scale set piece paintings (1 Jun-20 Jul). The final two exhibitions bring the trompe-l'oeil pencil drawings of Milano Chow (7 Sep-20 Oct) and Aleana Egan's evocative and often understated sculptural work (3 Nov - 22 Dec).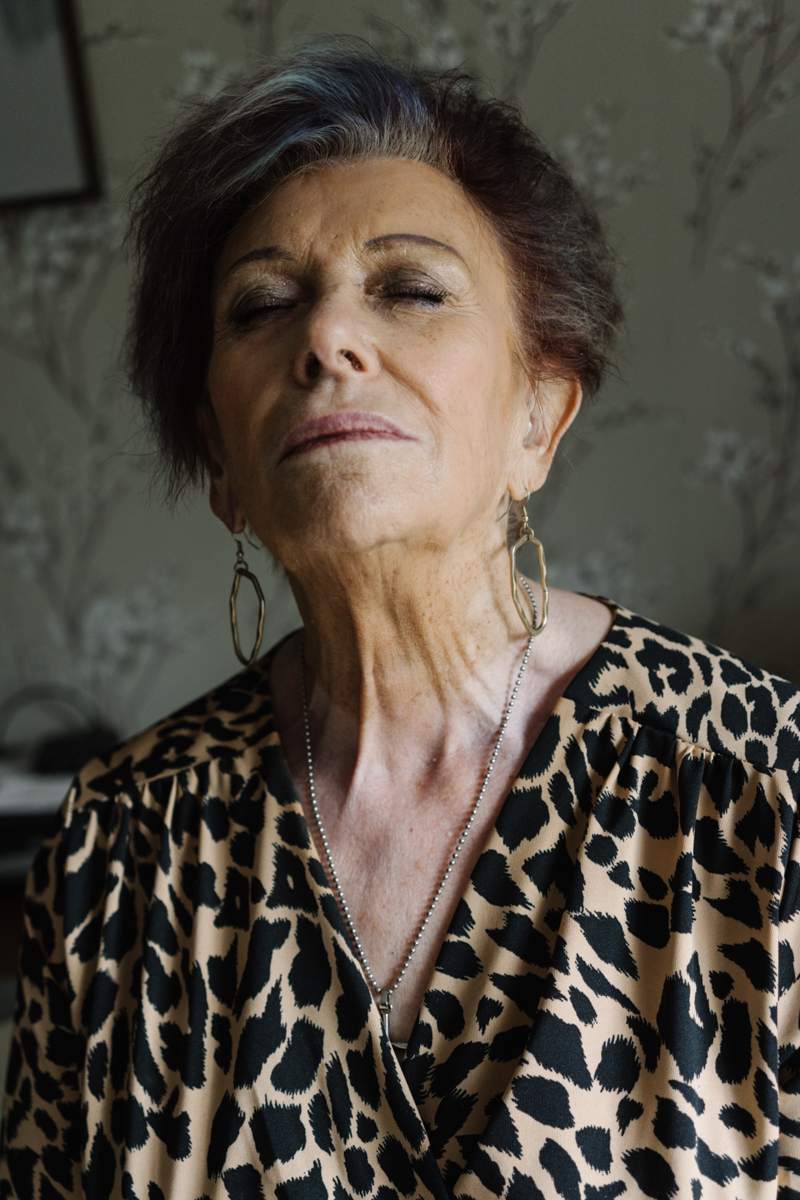 Doro Zinn
David Dale have some dates for the beginning of the year already set. They're collaborating with the Lux archive, and will be tasking four early career artists with selecting some work to show alongside their own films, as well as potentially some readings and performances. These are planned to take place on 31 January, 7 February, 14 and 20 February.
In Glasgow's WASPS Studios, there will be exhibitions across their South Block and Briggait Gallery Spaces. In the Briggait, these include the nature-inspired sculptural and performance of Bibo Keeley (January), the formally elegant photographic-sculptural works of Angus Wolf (February), the experimental neon sculptural installations of Katrina Cowling (February), the colour field paintings of Eric Cruikshank (March), and the intuitively made colourful and sculptural drawn and painted works of Paul Keir (June).
Platform in Glasgow's East End has two exhibitions already on the roster for the year ahead. From 27 April to 25 May, they present Timefield – Ian Cameron, Kate Clayton, Frank McElhinney, Annie Peel and Lesley Wilson consider ageing, the passage of time and its effect on nature and the landscape across painting, photography and soundscape. Then, from 27 June to 3 August, Sogol Mabadi and Birthe Jorgensen build on their collaborative practice for Home Where Home Is Not, drawing on their identities as "New Scots".
16 Nicholson Street will be showing the work of James St Findlay, whose films, drawings, writings, performance and sculptures slide back and forth between tender and intimate revelations and disturbing nightmares. Next, sculptor Temjai Cholsiri will be in residence then present an exhibition of work that considers balance, concentration and focus through the assemblage of art and non-art materials. The next part of the year is given over to supporting and showcasing the work of five 2018 graduates: Hayley Jane Dawson, Zolatrope, Josephine Lee, Helen Robinson and Holly Osborne.
Glasgow-based curatorial collective Love Unlimited have big plans for their gallery space in the upcoming few months, though at this point aren't ready to give confirmed details. However, they're also looking forward to an off-site project at the flat of two of their members, possibly during Glasgow Open House. They're planning on assembling a group of queer artists and performers that "work in/with fashion/costume", and will combine a formal exhibition with performance events during or after the exhibition.
Similarly, Transmission will release further details but so far have planned a series of events to open the year in February, before a themed international group show, their Members' Show in June and July, a Scottish solo show in September and October and an international solo show in November and December. Also in the To Be Confirmed group, The Common Guild have made certain they will not host exhibitions at their current premises but instead will endeavour to put on a series of talks by artists, architects, curators and other cultural practitioners through the year.
Many Studios also has three projects already lined up for the year ahead. Dates are still to be confirmed, so keep a close eye on their website and social media for further details. In March 2019, artist Ayọ̀ Akínwándé takes part in a four-week residency in advance of his first solo UK exhibition. He works across media in order to "monologue socio-political realities in his environment" and, on his residencem, will give particular attention to market trading, with the well-loved Glasgow market The Barras surrounding Many Studios.
During the summer, Many Studios presents work by London-based artist Larry Achiampong, who "employs imagery, aural and visual archives, live performance and sound to explore ideas surrounding class, cross-cultural and post-digital identity." As the last planned project of 2019, Many Studios partners with Content House in Kenya to host an exhibition of new work by eight Kenyan artists in October 2019. The project focuses on the experience of people in Turkana in Northern Kenya.
Edinburgh
Collective Gallery head into the the new year in their newly-refurbished gallery building on Calton Hill, and their first new show comes from artist Emmie McLuskey, as part of their Satellites Programme. Swedish artist Petra Bauer and SCOT-PEP (a sex-worker led organisation in Scotland) present Workers!, a new film resulting from their long-term collaboration and generated from feminist film practices (13 Apr - 30 Jun). From 26 July, artist James Richards presents a finely tuned six-channel sound work that combines material from the artist's bank of found and recorded sound, works by other artists, murky late-night TV and archival research.
In Edinburgh Sculpture Workshop, there will be a series of outcomes from the micro-residencies that begin this month. Residents include the performance artist and choreographer Ashanti Harris, as well as Chilean collagist and sculptor Carlos Navarrete, Jasper Coppes (who often works in large scale architectural interventions), and Dorian Braun, a sculptor who works in many ways with wood including by making musical instruments. The final resident confirmed so far is Leontios Toumpouris, who makes sculptures that reference historical objects.
ESW's DIY neighbour, Curfew is a front room gallery that has been raising Edinburgh's grassroots art exhibition profile for over a year. So far, they've got one exhibition lined up by Glasgow-based sculptor Jack Cheetham.
In Fruitmarket Gallery, the first new show of 2019 comes from African-American artist Senga Nengudi (16 Mar-26 May). She was a trailblazer in the avant-garde scenes of Los Angeles and New York in the 1960s and 1970s, and her work is characterised by a radical experimentation with material and form. The gallery then closes for refurbishment in June 2019. Fruitmarket will be involved with an off-site project during this time with artist Katie Paterson, who has created buckets and spades in the shape of world mountains that will tour the UK coastline. 
RSA New Contemporaries, the Royal Scottish Academy's roundup of 2018 degree shows returns from 9 March to 3 April, and will showcase 64 graduates working across painting, sculpture, filmmaking, photography, printmaking, installation and architecture.
In February, Talbot Rice Gallery presents Borderlines, a politically-charged group show that draws attention to ownership of natural resources, as well as legally-drawn borders and limits (23 Feb-4 May). Later, there's "a new kind of student exhibition" that intends to draw connections and relationships between the art departments and the wider gamut of academic disciplines across the University of Edinburgh. From July-October, Hong Kong-based artist Samson Young presents an experiment into musical instrument-making. As the final project of the year, a group show – The Extended Mind – considers the cultural and technological means of "a new collective sense of self". Throughout the year, there are also five resident artists in Talbot Rice Gallery working across and with the University's academic faculties, and they will present experimental outcomes throughout the year ahead.
The National Galleries announced their full programme in November, and it's a breathtaking schedule that includes artists and practices from across history, up until the contemporary. Some highlights include Cut and Paste: 400 Years of Collage, "the first survey exhibition of collage ever to take place anywhere in the world" (29 Jun-27 Oct). There's also an ambitious retrospective of Portugese painter Paula Rego, whose figurative, atmospheric and often uncanny work draws into "contemporary feminist and political issues". There are also two more episodes of NOW, "the dynamic three-year series of contemporary art exhibitions", with the fifth centering on the changing, natural and spectacular installations and sculptures of Anya Gallaccio – a prominent figure of the Young British Artists, born in Paisley.
Dundee
The Cooper Gallery in Dundee start the year with Phil Collins' Ceremony, a film that contextualises classical Communist thought within the social conditions of contemporary Britain (17 Jan-16 Feb). Then from 8 March, the Cooper hosts Anne-Marie Copestake for an exhibition, which includes the artist's film, sculpture, writing and sound, 'foregrounding the performativity and collaboration inherent within her practice.' After the summer's BA and MA degree shows, the winter exhibition is given to Jasmina Cibic, who explores the political rhetoric contained in art and architecture in her own film, sculpture, performance and installations. Dates and details for this final exhibition are still to be announced.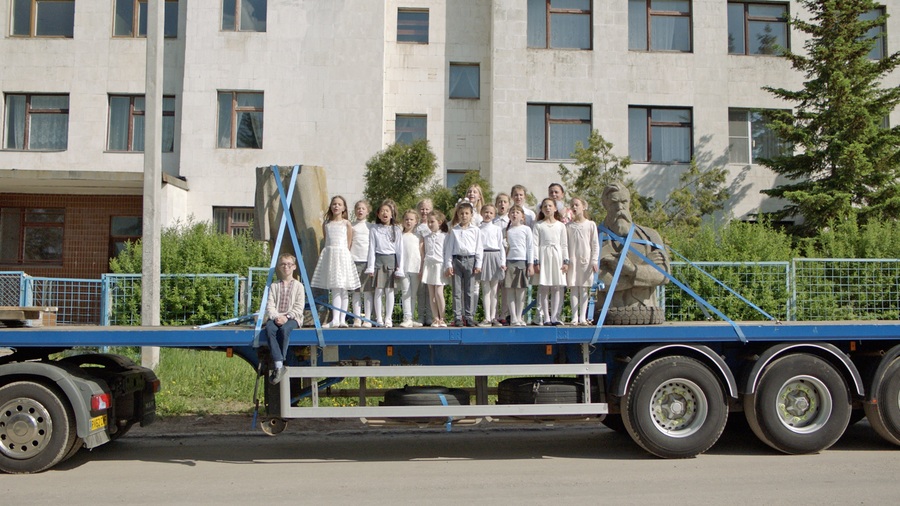 Phil Collins, Ceremony, 2017
For their 20th anniversary, Dundee Contemporary Arts are celebrating with an international programme of four exhibitions. Their new year of exhibitions begins with David Austen, whose exhibition Underworld will include new drawings, painting and film (23 Mar-9 Jun). Come summer, LA and London-based artist Patrick Staff reworks a 19th century German play, continuing their practice of tackling "politically charged subject matter, blending both personal experiences with wider social issues… to question the authority of post-colonial power, its implications and its legacy".
For autumn, Barbadian artist – and recipient of the 2018/19 Margaret Tait Award – Alberta Whittle receives her first solo show in Dundee Contemporary Arts. Working across Scotland, Barbados and South Africa, Whittle's performance, film and sculpture practice "is widely motivated by the desire to work collectively towards an idea of radical self-love". The DCA year closes with a group show of Scottish, British and international Artists titled The Left Hand, centering around a groundbreaking sci-fi novel by well-respected author Ursula K. Le Guin, "set on an icy planet called Winter, whose inhabitants shift and change gender throughout their lives".
In Generator Projects, they start the year with their Members' Show (9 Feb-3 Mar). Next up, it's Miriam Mallalieu and Daniel Twist, who both consider the sense of artworks in different ways (30 Mar-14 Apr). Generator is also known for giving its space over to members in a more substantial way than other artist-run spaces. Rachel McCreadie brings the year's first takeover, who uses sculptural processes to generate a multi-sensory experience of repulsion and attraction through different materials, scents, silhouettes and textures in April 2019. They Had 4 Years is Generator's annual showcasing of artists from around the Scottish degree shows of the previous year, and it returns from 25 May. Then, as the last confirmed show, there's a takeover by Helen King, who combines artistic and architectural research and practices towards a "contemplation of the urban architectural environment" (22-30 Jun).
Aberdeenshire
Out of the main cities, the Scottish Sculpture Workshop are celebrating 40 years of making, as well as the 25th anniversary of their renowned foundry. There is the culmination of a long-term place-sensitive performance project in the Cairngorms National Park, which "explores and celebrates women's+ relationships with montainous places". They also launch their new courses this month for the year ahead, as well as more than 30 residencies throughout 2019.