Follow at FACT: curating the life lived online
A new group exhibition at FACT explores life lived online and features a new commission from performance art collective LaBeouf, Rönkkö & Turner, among others. Curators Amy Jones and Lesley Taker discuss ideas of identity and celebrity in the digital age
Confession time. Much of this last year has been spent in a weird obsessive relationship with various YouTube vloggers. More hours than I care to admit have been spent listening to Zoella talk about bath bombs and watching her play with Nala (her pug). I know that Alfie was recently away at a meet and greet in Singapore with Marcus; that the Shaytards just got back from New York and the Saccone-Jolys are trying for a new baby. Last week I went to eat vegan ramen with Jenna Marbles in Japan and then, back home, followed her to the vets because her dog Kermit had broken his tail. Now they're all doing Vlogmas (that's vlogger for 'Christmas') and it's too, too much. I couldn't tell you what any of my real friends did last week but perhaps these online people are my real friends. They tell me they love me at the end of each vlog and I believe them, the minute I click 'subscribe' – I'm making them richer.
Of course, the term 'vloggers' is so last year. Now they are 'The Creators', and one of these 'YouTube Creator Spaces' has been recreated in Gallery 2 of FACT's new exhibition, Follow. These spaces are small production studios, which can be found in YouTube headquarters around the world and which open, like a members club, only to those with the very top subscribers. (You have to have 10,000 subscribers to 'unlock' the Creator Space in LA; in London it's a slightly easier target at 5000 and in Berlin it's almost too easy at 1000.)
The FACT setup, like The Creator studios, comes complete with green screen, lighting rig and basic filming and editing equipment and, according to the exhibition blurb, provides a space for 'critical experimentation around the way we use social media… an open space free for all to use – regardless of position in the social media hierarchy.' Artist Louise Adkins will lead a series of workshops in the space 'specifically looking into themes of online identity, celebrity and the reasons why we produce online videos in the ways we do.'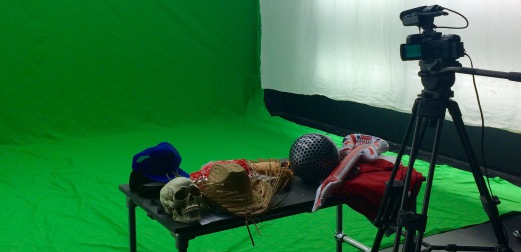 The green screen (and prop box) at FACT
The life lived online
Ideas of experience and views of identity, sharing, and micro-celebrity within the context of a life lived online are at the heart of this group exhibition. In it, the curators, Amy Jones and Lesley Taker, ask: "How do we act when everyone is watching?"
"Follow has been a long time in development," says Jones. "The ideas in the show – identity, celebrity culture, consumerism – are inescapable if you're online using social media (and elsewhere in our lives too), which is one of the reasons we felt it was so important to address them. On top of that, the themes are something we've been very eager to explore for some time after conversations we've had with each other, with artists we love and with colleagues. We've been seeing and working on other shows at FACT where the themes present in Follow were referenced but not thoroughly explored, and that made us really keen to make what we feel are really important concepts, concerns and ideas, into a show of [their] own."
"We had seen a lot of work together which kept adding to the core themes," adds Taker. "These ideas of identity, which we kept looking at from this specific angle [of social media and micro-celebrity]... you get to a point where it becomes very exciting, and you can see something evolving from all of those research obsessions. It also seems like a very timely show as, more than ever, social media keeps making the headlines (both individual accounts and experiences as well as on a more corporate level), and I think it is important not to approach this from an angle of instant negativity, but rather try and unpack what is going on in these cases and really analyse how we use the tools we've developed."
A key process for both curators was looking through their own online archives, bookmarks, posts they had liked and theorists they followed. "We realised that we'd been researching and collecting information for the show for a really long time (before we even knew it was a show!)" says Jones. "Once the show was fully formed we felt that this resource, which grew further through the development process with artists and colleagues, should be accessible during the exhibition. As a result in the FACT Connects Space [the foyer] we've created Bookmarks. The space functions as a library and resource space, with an area for informal discussions around the show." 
LaBeouf, Rönkkö & Turner and more
So what's in the exhibition box? "There are a number of new commissions," says Jones. "We've worked with Cécile B. Evans, LaBeouf, Rönkkö & Turner, Ant Hamlyn and Joe Orr to name a few, to develop new work specifically around the core themes. We also worked very closely with artist Candice Jacobs on the exhibition environment and Simon Whybray on the exhibition identity. A lot of these artists were really influential to our thinking about the show, both through their previous works and conversations. It's been amazing to be able to work with them to develop something new just for Follow. We've also been lucky to be able to include existing work by artists such as Constant Dullaart whose work High Retention, Slow Delivery will be re-staged at FACT for the exhibition."
High Retention, Slow Delivery saw the artist buy 2.5 million Instagram followers and distribute them between a selection of self-selected art-focused Instagram accounts. As anyone who works professionally with any kind of social media will know, this is a tricky business. You can find hundreds of online 'hourlies' or freelance sellers offering to provide you with X amount of Twitter, Instagram or Facebook followers but you have to make it look legit. The followers are released to your account slowly so it looks like this is an organic process. If you just instantly added 100,000 followers on Twitter, the platform would kick you off for being a 'fake' profile… and they would be right, in a way, but also wrong in a more realistic understanding of what it means to be 'real' online today. 
Dullaart's Vimeo of the project takes us through the bought Instagram followers' photographs, so specifically generic – "the smiling nuclear family," he narrates, "that came with the cheap picture frame." The voice-over has a brilliant deadpan quality, rather like listening to Werner Herzog reading Where's Waldo – "Hidden somewhere in this noisy morass of society, is our fellow traveller – Waldo."
High Retention, Slow Delivery from voornaam achternaam on Vimeo.
New technologies
How, indeed, do we find our fellow travellers online? How do they find us? Technology and social platforms are moving at such a rate that even those who are active daily online can struggle to keep up. Apparently 2016's popular social platform predictions are Wanelo, Shots, Ello, Hyper or the new Bebo. Apart from Bebo, have you heard of them? FACT, however, has always had the remit of helping and training people to navigate new technological waters.
"FACT works a lot with artists who employ new technologies in their work," says Taker, "and we use a lot of those same technologies ourselves. I think we have to take a step back and look at how we are using them, why, and the ways in which it affects us.
"One thing FACT is amazing at is equipping people with knowledge and skill to be able to understand quite difficult technologies – things which we use every day but don't really understand. This show is not about saying 'Isn't social media terrible' or 'If you don't have a Twitter account, you don't exist' – we're not interested in that sort of polarity with this exhibition and the research that went into it. What gets really interesting is the grey areas – the ways people are really using these readily available technologies; the way artists and businesses are using them – and how it is altering the way we communicate, develop relationships, even the way we think.
"FACT has always looked at this in the context of other research themes – mental health, working patterns, science fiction – but this show really focuses on the medium first. Follow looks online and thinks about it as an integrated space to our everyday living, and how it impacts everything."
Jones agrees. "Looking at those grey areas and being able to see it from both sides has been an important part of the process," she says. "I think there is a lot of scaremongering about new technologies and FACT has the privileged position of being able to explore those ideas on a public platform, and give people the space and the tools to be able to find out for themselves."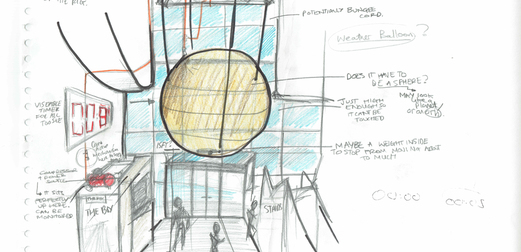 Designs by Follow artist Ant Hamlyn for The Boost Project, an inflating orb that responds to social media activity
Online or off?
One thing that is interesting about the exhibition experience is that a physical gallery visit is essentially an offline experience. Or perhaps not: You will have received the exhibition info via email and might have checked the website. You're reading about it here online. So perhaps, instead, it's an integrated experience. Is there such a thing as the offline participant?
"I think it is becoming rarer to find offline participants, just people with different levels of engagement with 'online,'" says Taker. "So much so that it is becoming frustrating for those who want to remain offline, as it is almost impossible to do so. From banking, to getting train times, or the news – going to Google is just expected if you need information. It is the reason why businesses like that have so much power – so much control over your data, online experience, etc. – because it is so much easier to live a connected life now. 
I think a lot of people vilify social media and people experiencing things through their phone, or a screen, rather than 'engaging.' Personally, I am all about what would be considered as the 'real' moments – but online living doesn't mean unreal living. I think you have to be aware of what these tools do to you, how you become dependent on them, how they shape the way you approach tasks, conversations, friendships and the like. But I am talking about simply understanding your relationship with technology, not demonising it. 
"I think [that] is why it is such a hot topic for parents, and for schools. The technology has advanced at a rate where even the people who are using it on a regular basis don't really understand what is going on behind the screen – and that's a scary place to put your kid. So education and empowerment is key here.
"Priority is also an interesting word to use in regards to this question, because it suggests a hierarchy between online and offline which I feel doesn't really exist – or at least is becoming more and more indistinguishable. It's not like in The Net when Sandra Bullock is trying to run away from 'online' and go 'off grid' – I have the internet in my pocket and a lot of the time I wouldn't know what to do without it, but I also don't obsess over it. Sort of like any integrated technology – electricity or cars, etc."
The modern gallery
A lot of museums and galleries, however, are experimenting with the way in which their exhibitions or creative output can have a life intended primarily for the online. Of course it is the larger institutions, with their larger pockets, that are paving the way. In the late 1990s the Hunterian Museum in Glasgow was one of the world's first museums to make its collection records available online, meaning they could be accessed and researched by anyone worldwide. Now the online presence of art and culture goes beyond the record: you can visit the Louvre on the Nintendo DS or in Second Life, and museums and galleries are investing more and more in dedicated online commissions.
AGNES, a Cécile B. Evans commission for the Serpentine, is a good example. The work's creepy little voice asks you questions and responds with videos and meditations on the world. AGNES could ask you if you're very busy at the moment and, when you respond yes, play you a video of sick children in a hospital ward, dance tutorials and people floating in the Dead Sea. She could equally start to tell you about a past Serpentine exhibition. It's very random and very good. For Follow, Evans is showing new video installation Commercials (It's not possible, it's real), which takes the form of commercials in a campaign, reflecting the real-time absurdity of contemporary marketing. It is also exhibited online, allowing for different experiences with the work.
"I think a lot of art organisations are working online in really interesting ways now," says Jones. "In the last few years there's definitely been a shift in thinking in some of the larger institutions which is exciting. Places like the Serpentine are really leading the way in how to integrate online work in meaningful and exciting new ways, while online sites like Rhizome and New Hive continue to push new formats and ways of approaching exhibiting online. As a result, it's a really exciting time to be working as a curator in this field as there is a real the freedom to experiment with new formats and approaches."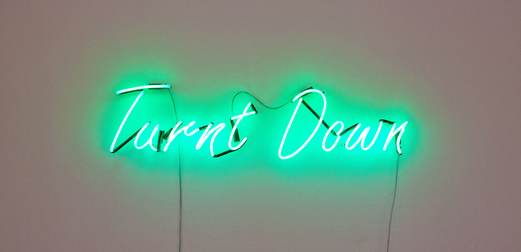 Work by exhibiting artist Joe Orr
The social artist
And of course, aside from specific web-based commissions or work, the social networks that most of us use today have an impact on the way artists produce, and the way we consume, their work. "Social media in particular has had a massive impact on the way artists make and disseminate work," says Jones. "These networks mean that art is being consumed firstly in a different way and secondly at an increasingly rapid rate, making it a very challenging (but equally interesting) time to work online as an artist. On top of that, you're also getting instant feedback on your work from your followers, giving the artist the potential to shape their work in relation to their audience (if it gets more likes, it must be a better work, right?), which I think is as useful as it is potentially dangerous."
"It's always really interesting to see what artists put up online – of their own work, what they are following, what shows they are going to," adds Taker. "As Amy mentioned, places like New Hive and Rhizome highlight the ways in which the arts scene intersects with the internet, and we are seeing more and more shows coming up with artists who would never get gallery shows even five years ago because their practice was seen as only existing in the 'liminal' space of the internet. Artists also aren't afraid to use the internet as a resource and claim it; they aren't trying to hide that as a source material, but rather allowing it to really shape their practice and acknowledging its contemporary position. Things are becoming more interdisciplinary in that way. And that is really, really exciting."
 Check out Follow artist Ant Hamlyn in The Skinny Showcase
 Shia LaBeouf is in Liverpool for #TOUCHMYSOUL: how to participate