Cheer
Netflix docuseries Cheer showcases the risks and rewards of competitive cheerleading through Navarro College's pursuit of their 14th national title in Daytona Beach, Florida
Series Creator:
Greg Whiteley
Starring:
Monica Aldama, Gabi Butler, Jerry Harris, La'Darius Marshall, Morgan Simianer
In the cheerleading world, Navarro College is acclaimed for its 13 national titles and five grand national titles since 2000. Navarro's cheer coach Monica Aldama is held in high esteem for the success of the Navarro cheer squad, and throughout this new Netflix docuseries she's lauded by her student athletes as their saviour or their second mother. This endearing portrait of Aldama is soon contrasted with her stoic and stern coaching methods, which push her cheerleaders to test their physical limits for the prosperity of their routines.
Throughout Cheer, personal profiles are interwoven with action shots as the team prepares for the 2019 College Nationals cheerleading competition. Eager to please, the athletes featured in Cheer worship Aldama, and live in constant fear of failing to meet her intense expectations. 
The individual narratives unpacked throughout Cheer are loaded with lament and highlight the diverse backgrounds and personalities behind Navarro's squad. Overcoming years of abuse, neglect, and harassment, the cheerleaders share their personal journeys and, by doing so, generate important conversations about grief, depression and self-worth. Diving deeper into the meaning of community, Cheer emphasises the importance of trust and tough love when attempting to achieve a common victory, and the passion and devotion of the Navarro cheerleaders shine through.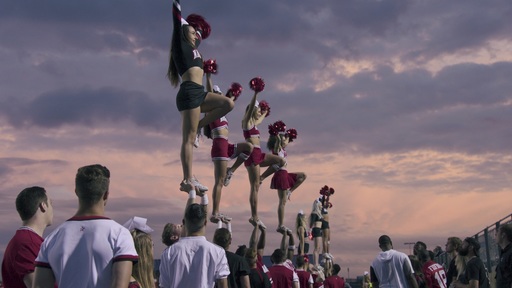 With stunts and skills that send flyers airborne, emotions are not the only thing sent soaring by Cheer. Detailing how the sport has evolved from a simple sideline attraction to an intensive competitive spectacle, Cheer spotlights both the perils and the prizes of cheerleading. Because cheerleading is not recognised as a varsity sport by the NCAA – the general governing body of American student athletes – cheer has its own ruling body called the National Cheerleading Association (NCA). With far fewer rules and regulations for its athletes and their safety, it's no surprise that injury is a prominent element of Cheer.
Athletes continually throw their bodies only to be caught by the mat rather than the arms of their teammates. Mistakes are common, but are met with little sympathy. When the cheerleaders are unable to consistently perform with the level of precision needed, they are replaced. While the hazards of cheerleading are expected, watching the accidents unfold throughout Cheer is alarming and calls into question the method behind all the madness. Aldama's praised coaching techniques also lean towards the tyrannical, enforcing perfection regardless of the potential cost. 
As a whole, Cheer is a sensation but at times it can struggle to hold attention throughout its 50- to 60-minute episodes. Despite occasional lags, Cheer redefines stereotypical understandings of what it means to be a cheerleader in all its grit and glory. Exposing the multifaceted complexities of the cheerleading industry through the athletes and coaches participating in the sport, Cheer is an emotional and perceptive show that is both inspiring and frightening.
---
Streaming now on Netflix