Altered Carbon
Netflix's adaptation of Richard K Morgan's cult sci-fi mystery novel is full of thrills and intrigue, but it fails to adequately critique the sleazy future in which it is set
Bodies, bodies everywhere. Naked, dismembered, fetishised, used, thrown away. Two minutes in and Altered Carbon's tone is set through Joel Kinnaman's egregious muscles as he shivers naked on the floor of a lab. This is our protagonist Takeshi Kovacs, a terrorist from the past, now "sleeved" in a new body to solve a murder.
In the world of Netflix's newest series Altered Carbon, digitised consciousness is a reality. It is nestled in your "stack" – a microchip that contains your soul. Your body dies, you remain (provided you have the money of course). All that flesh doesn't come cheap; the super-rich methuselahs, "meths" in the world's parlance, have eternal life and slip between bodies at will. The poor have one or maybe two lives; the gods of capitalism manifested in the flesh.
It is one of these meths – Laurens Bancroft, played with a peerless mixture of grace, venom and self-satisfaction by James Purefoy – who has sprung Takeshi from his virtual prison and rented him a body. Bancroft's reason: to solve the case of his own suicide, because he is convinced that, if he had truly wanted to end his life, "he would not have bungled it in this fashion."
Altered Carbon, the adaptation of Richard K Morgan's debut novel of the same name which swept the SF industry's award season when it was first published in 2002, had been in development hell ever since Matrix producer Joel Silver picked up the rights in 2003. It's easy to see what he was attracted to: a tightly-plotted detective story full of all those naked bodies and violent set-pieces would serve the big screen well. However, as Morgan himself highlights on his blog, the X-rated material and big-budget demands made it a tough sell to studios. Now, however, there's a new player in town with cash to burn: Netflix picked it up and ploughed $70 million into bringing Morgan's hyper-masculine fantasy to life.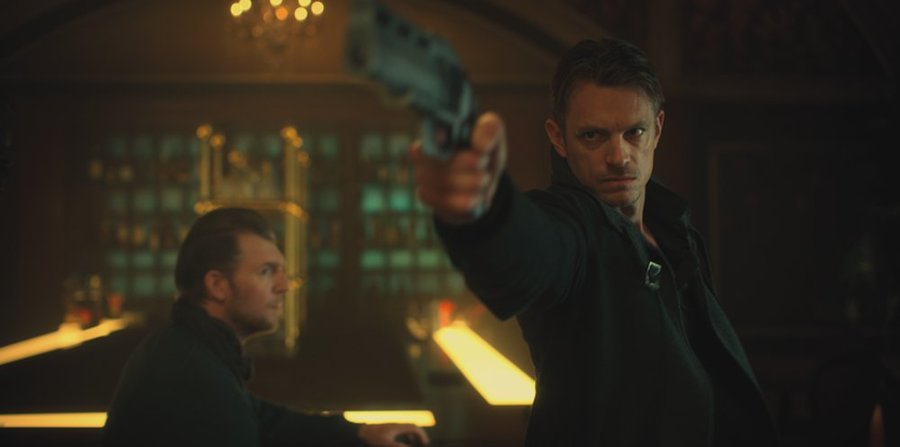 Joel Kinnaman as Takeshi Kovacs in Altered Carbon
And what a time to do so. In the context of the #MeToo movement and public fury at gender-power relationships, Altered Carbon feels timely – and not always for the right reasons. This is a story about power, about sex, about the unfettered whims of the uber-rich and the toll that takes on the bodies of the rest of us. Hidden under the excesses of Hollywood glamour and the wealth of the 1%, flesh is truly disposable.
At times the series vividly explores this theme, with Purefoy's character maniacally beating his own clone to death as his artificially youthful family look on ("I'm 67 years old!" says his youngest, her beach body cleavage bursting out from under her toga). There is also poignancy cleverly extracted from the concept at the heart of Altered Carbon, with the same tattooed skinhead playing both a main antagonist and the grandmother of 'Organic Damage' cop Kristin Ortega (played by the superb Martha Higareda) to wonderful effect.
The acting is solid. There are great performances throughout, despite the chains of genre sci-fi leaving several characters necessarily archetypical. Meanwhile, the script captures the hard-boiled attitude and necessary gravitas of the story without feeling mawkish or pretentious, a real achievement in a post-Nolan world.
At other times, however, the critique is lost completely, as we witness eight needlessly naked versions of a main female character slaughtered. There are some genuine attempts by the script to deplore this fetishisation, but at the end of the day this mutilation of female bodies only serves as the call-to-action for our flinty hero. There's also a disappointing imbalance in the treatment of males and females by the camera.
Often we'll linger pointedly on female forms, but Kinnaman's modesty is conveniently protected by the futuristic decor whenever his character strips down, a la Austin Powers in the opening credits to The Spy Who Shagged Me. The nudity might have felt less sleezy if the camera's ogling was equal opportunity; there is one notable exception where Purefoy strides across the screen as nature intended, but this simply feels like dick service.
Furthermore, the female big bad is so (surprisingly) poorly-written that despite being a meth god of unlimited power she somehow manages to come across as whining in the face of Kovac's chiselled masculinity, which is a real shame. It contributes to a lacklustre ending that speedily wastes the tension that had been ratcheting up to that point.
Overall, this is an exceptionally competent sci-fi adventure that delivers the thrills and at times the critique of the brilliant world in which it is set. The source material provides a plot that can't fail to leave you intrigued. Despite a rushed ending and occasionally unsophisticated camera-work, Altered Carbon is an intelligent, well-acted thrill ride that is worth your time, even if it occasionally makes the very mistakes it is trying to condemn.
---
Altered Carbon screens on Netflix from 2 Feb