Vic Does Deutschland
As Germany continues its rise as Europe's de facto cultural epicentre, Vic Galloway analyses the rich past and present of its enduring music scene
As a broadcaster, journalist and author, taking a week away from the Edinburgh International, Fringe and Book Festivals is a most curious thing to do in August. But when invited by the Initiative Musik gGmbH in Germany to embark upon a week-long tour of their four main music cities; it was a no-brainer. I had only vague awareness of Germany's current music scene and sparse knowledge of their Federal system, so it was a fact-finding mission from the off.
Being the only UK representative, I was part of an 18 strong group of music writers, radio presenters and bloggers from across the globe. Hand-picked from as far and wide as the USA, Canada, Estonia, Greece, Finland, Italy, South Africa, South Korea, Ukraine, Poland, Cameroon, Japan and Uzbekistan amongst others; I found myself in good company indeed – here was a group of nerds like myself, who'd happily chatter all day about pop culture obscurities. We laughed, we bonded, we stroked our chins!
As you might imagine, the daily routine was tightly scheduled and organised within a minute of its own life. This suited us fine actually – the more you experience and immerse yourself in, the better. With a day in Cologne, another in Düsseldorf and two days respectively in Berlin and Hamburg, it was an enlightening whistle-stop tour. Over the six days I'd not only find out huge amounts about German music past, present and future, but I'd see a country whose cultural life seems to be blossoming, thanks to investment and encouragement from all sectors. Here are a few highlights of a week scouring the German urban landscape for aesthetic artefacts and nuggets of sonic invention... 
---
"I saw a country whose cultural life seems to be blossoming, thanks to investment and encouragement from all sectors"
---
• Studio für elektronische Musik
When looking into the earliest experiments in electronic music, you may hear about the Westdeutscher Rundfunk (WDR – West German Broadcasting Corporation) who set up a studio in 1953 especially for its development, way before the BBC's Radiophonic workshop. 71 year old Volker Müller was our passionately animated guide, an original tape operator and engineer from the years 1971 until 2001 when the studio was eventually closed. Here's a man who aided and abetted Karlheinz Stockhausen amongst other luminaries. Now housed on the outskirts of Cologne under a health-complex, the reconstructed studio is more or less a museum with a vast assortment of synths, analogue desks, tone generators and tape machines. Those with an interest in the dawn of sampling and looping were left with their jaws agape.
• Kompakt Records
Celebrating its 20th anniversary, Cologne's internationally revered minimal techno and electronica label opened their doors and welcomed us into their lair. Housing a vinyl and CD store, warehouse, recording studio, live agency, meeting rooms and in-house, chef-run kitchen under one self-managed roof, it's every creative's dream come to life. After a guided tour by co-founder Reinhardt Voigt we were treated to label signings Coma performing a live instore, before emptying our wallets in the shop.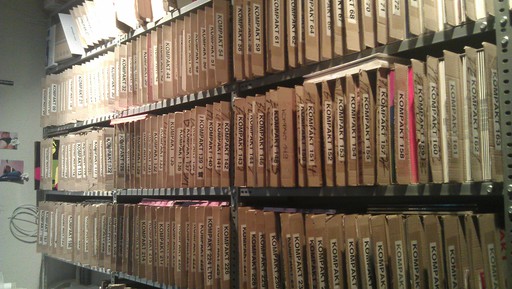 • Cologne Cathedral (Kölner Dom), Gerhard Richter Window & Päffgen Brauhaus
Cologne is home to the largest Gothic cathedral in Northern Europe and the city is proud. An enormous tourist attraction, it was augmented inside by an exquisite, abstract stained-glass window by artist Gerhard Richter in 2007. Glorious and yet utterly non-religious, the design was criticised when unveiled, but is now part of the cathedral's unique, imposing charm. Having visited the offices of INTRO magazine and the C/O Pop Festival offices to meet and greet various Cologne scenesters, we paid a visit to one of the city's most traditional hostelries, 'Päffgen' Brauhaus, our dinner-venue of choice. Meat, meat, two veg and even more meat was the order of the day as my Canadian counterpart tucked into a ¾ metre long wurst! When in Germany...
• Hans Peter Zimmer Stiftung – Hauschka
Whenever the city of Düsseldorf is mentioned, the term 'Krautrock' immediately trips off the tongue. Home of electronic pioneers, Kraftwerk and other essential groups such as Neu!, its punk and post-punk scenes in the late 1970s and 1980s also blazed a trail, giving way to the proto-industrial movement that would take hold across the world. It's an important city, but today it somehow plays second fiddle to its nearby rival Cologne. However, when shown around the Hans Peter Zimmer arts compound, a real sense of unbridled resourcefulness shone through from their connected community. We were introduced to the enchanting, effervescent, gifted composer and 'prepared' pianist, Hauschka, currently signed to Fatcat Records. With a private, solo recital in one of the complex's many gallery spaces, he demonstrated why he is sought after for film and theatre soundtracks, as well as unique concert performances.
• Kling Klang studio, Düsseldorf street tour & Slowboy Gallery
Now at a secret countryside location run by sole original member Ralf Hütter, every fan-boy who visits Düsseldorf needs to pay homage to Kraftwerk's Kling Klang Studio at the original Elektro Müller building. We duly did and... There was nothing to see! Still, I can now say I've been there. Far more interesting however was a city tour with local music aficionado Dr Michael Wenzel, and his meticulously planned route complete with an eccentric DJ who played relevant pieces of vinyl at every pit stop. From punk Mecca Ratinger Hof, via the tragic story of Kraut-synth wunderkind Wolfgang Riechmann, to meeting legendary, deceased drummer Klaus Dinger's wife and local artist Miki Yui at her Slowboy gallery; it was riveting. Yet again, I purchased another sack-full of goodies including an original pressing of La Düsseldorf's Viva album and the Klaus Dinger Lick my ass if you can book.
• Salon Des Amateurs – Stefan Schneider & Sven Kacirek
Bringing our Düsseldorf experience to an end was a one-off performance from To Rococo Rot's visionary Stefan Schneider and drummer Sven Kacirek, in the acclaimed arts hub known as the Salon Des Amateurs. Coaxing us through a menacing set of throbbing, improvised electronics the assembled crowd were spellbound in an unassuming venue that has seen Michael Nyman, Mouse on Mars and Kriedler through its doors over the years. The aforementioned Hauschka has even named an album of his after the venue.
• Dear Reader at Badeschiff & Berlin night-life
Undoubtedly one of the world's major creative hubs, Berlin is steeped in potent, political history and an underlying tension between east and west. Today its unification has brought with it an outpouring of innovation in music, arts and new media. Vibrant areas such as Neukölln, Kreuzberg and Friedrichshain are 24-hour party zones with low rents and breathtaking club spaces. Clocking up the miles with visits to the Spacehall record shop, local label Robosonic, an intimate acoustic show from South African Berliner Dear Reader in the converted warehouse Badeschiff and beers in Das Gift, Barry Burns from Mogwai's bar, the tone was set for two evenings of tasty, Turkish food and righteous, repetitive beats. 
• Kreuzberg Tour & Berlin Boat Trip
Pounding the streets of a hip, bohemian city is the only way to get to know it and with a team of experts at hand we visited the Festsaal Kreuzberg, whose bookings look like a who's who of the finest incendiary, independent, DIY music in recent memory. Tragically scorched in an electrical fire this year, they're raising the money to make the space come to life again. Legendary SO36 punk club was also on the agenda, and entering its hallowed corridors you understand how Berlin's DIY scene has flourished over the decades. Venues such as these are crucial in uniting the young punk, queer, techno and even Muslim fringe groups within the city. A boat trip around the canal and river systems of Berlin played host to breakthrough German acts Kid Simius and Claire as we admired the ever-changing architecture and scenery.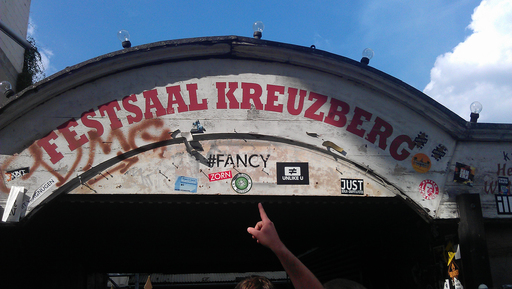 • Kraftwerk 3D Exhibition & Talk and Q&A with Michael Rother, Andreas Dorau & Kurt Dahlcke
Leaving Berlin, by way of an astonishing Kraftwerk 3D exhibition of projections currently used in their live show, we soon arrived in Hamburg via train. My inner fan-boy jumped once again, as we were introduced to Neu! and Harmonia guitarist Michael Rother. Approachable, straightforward and down-to-earth it was a pleasure to hear him talk about the late 1960s and 1970s, Bowie, Eno and Germany's curious indifference to 'Krautrock'. Has there been a more influential sub-genre of 20th century music? Flanked by the equally significant Kurt Dahlke of the Ata Tak label and Der Plan, and Neue Deutsche Welle prankster Andreas Dorau; an absolutely fascinating afternoon was spent in their company.
• Reeperbahn Tour & Dockville Festival
No trip to Hamburg is complete without a Beatles tour, stopping at the Kaiserkeller and Star Club sites where the band cut their teeth and learnt their chops. On a short Reeperbahn sight-seeing mission to Hamburg's seedier, edgier music venues such as the infamous Molotow, we were under the wing of hilarious, foul-mouthed, electro-punk, anti-guide Lars Lewerenz. The metaphorical cherry on the cake of the tour came in the form of the Dockville Festival set to the mechanised docklands backdrop of cranes, oil-tankers and industrial buildings. Combining mainstream acts such as Foals and Woodkid with new talent Vimes and Fenster, as well as our very own Chvrches; it's the brainchild of artists, instigators and free-thinkers. A fitting end to an inspiring adventure!
As you read this piece, I'm heading back to Hamburg once again for the annual Reeperbahn Festival which hosts another selection of home-grown and international acts including Anna Calvi, Roosevelt, The Strypes, 65 days of Static, Barbarossa, Kraak & Smaak, David Lemaitre, Efterklang and many more. It's a well organised urban music, arts and trade festival on a par with The Great Escape or a mini SXSW, and even more proof that this powerful, European epicentre is further upping its game in the cultural stakes – something we in the UK could learn something from. Deutschland, ich liebe dich!
Vic Galloway presents on BBC Radio Scotland on Mondays, 8.05-10pm, and co-hosts Rapal TV on BBC Alba on Thursdays, 10pm.
His book Songs In The Key Of Fife is out now, published by Polygon.
http://www.twitter.com/vicgalloway