The Skinny guide to Tollcross, Bruntsfield & Marchmont
Tollcross, Bruntsfield and Marchmont are three interlocking Edinburgh neighbourhoods with an intensely local feel and plenty to discover (updated for 2023)
Tollcross' vibrant intersection is filled with independent cafes and excellent charity shops, but climb a few minutes up the hill to Bruntsfield and the tenements immediately get fancier, the brunch spots more refined. Marchmont, meanwhile, is the perfect marriage between the two: a deceptively quiet area filled with students and quirky boutiques.
Food and drink in Tollcross, Bruntsfield & Marchmont
Brougham Street is the food hub of Tollcross: you can pick up literal mounds of noodles from Thailander (no. 25) for less than a tenner or for a tiny bit more at Sen Viet Vegan Restaurant (no. 23a), or get stuck into Greek food at charming taverna Taxidi (no. 6).
For Asian food made practically in front of you, head to Dumplings of China (60 Home St), Korean BBQ (3 Tarvit St), Yamato (11 Lochrin Ter), or Cafe Pomelo (21c Strathearn Rd), whose hand-pulled-noodles are the stuff of legend. Bruntsfield has a fancier vibe: there's fine dining and wine at Decanter (183 Bruntsfield Pl), well-crafted Japanese cuisine at Harajuku Kitchen (10 Gillespie Pl), and reasonably priced vegetarian fine dining at Hendersons (7-13 Barclay Pl). And for a neighbourhood vibe, Three Birds (3 Viewforth) is tucked at the bottom of a tenement building and offers a rotating Scottish seasonal menu.
Tollcross isn't exactly nightlife central, but there are a few chill drinking spots. Cloisters Bar (26 Brougham St) is located in a cobbled former church, while The Ventoux (2 Brougham St) is perfect for a post-meal drink at one of Brougham Street's many eateries. Located almost opposite each other, Bennets Bar (8 Leven St) has a dark wood, dark academia vibe, while The Blackbird (37 Leven St) offers a creative cocktail menu.
And for the daytime hours, you're spoilt for choice: tiny KONJ Cafe (67 Home St) serves authentic Persian food including aromatic tea and handmade treats; Don't Tell Mama (64 Home St) offers modern Greek brunch, and Seven Neighbourhood Cafe (7 Home St) does an excellent all-day breakfast. And finally, for the coffee snobs (sorry, connoisseurs), there's nowhere better in the city than Detour Espresso (39 Argyle Pl), Machina Espresso (32-38 Marchmont Rd) or Artisan Roast (138 Bruntsfield Pl).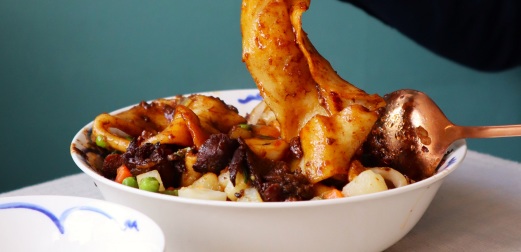 Cafe Pomelo. Credit: Cafe Pomelo.
Indie shops in Tollcross, Bruntsfield & Marchmont
This is one of the best areas in Edinburgh for off-beat boutiques and local, independent designers. Lupe Pintos (24 Leven St) keeps the local area well-stocked with hard-to-find North and Central American ingredients, from hot sauces to a large bin filled with corn tortillas and tacos. There's more foodie treats at I.J. Mellis (330 Morningside Rd), just one of several of the local cheesemonger's branches dotted around Edinburgh.
For the artistically inclined, Edinburgh Art Shop (129 Lauriston Pl) has everything you could possibly need, while Doodles (27 Marchmont Cres) is a paint-your-own ceramics workshop with a delightful primary school studio vibe. Prefer looking at art to making it? The wonderfully named Flamingosaurus Rex (22 Bruntsfield Pl) is an eclectic gallery filled with prints and unique tchotchkes made by local artists, while Curiouser & Curiouser (106 Bruntsfield Pl) has an ever-rotating collection of prints, cards, candles, and curated coffee table books.
Finally, for something a little more practical, Snapdragon (146 Bruntsfield Pl) is a dinky plant shop filled with fresh and dried bouquets and hardy potted plants. Indie bookshop Edinburgh Books (219 Bruntsfield Pl) has a great selection that belies its size, including an array of children's books, while for the music fiends, Thorne Records (125 Bruntsfield Pl) and Greenhouse Records (10 Barclay Ter) are great stopping points.
Things to do in Tollcross, Bruntsfield & Marchmont
This really is a local's area and, as such, there aren't many tourist attractions. If you want to feel like a resident, Blackford Hill and the surrounding Hermitage of Braid nature reserve offer some of the best views of Edinburgh (including of Arthur's Seat). For damper days, try the Cameo (38 Home St) and Dominion (18 Newbattle Ter) cinemas: both are housed atmospherically in renovated theatres. And, for something extra weird, check out Wild West (off Springvalley Gdns), a 1990s advertising gimmick which has left an entire side street in affluent Morningside looking like a Sergio Leone set.