The Skinny guide to Stockbridge & Canonmills
Stockbridge and Canonmills bring together huge parks, historic energy, great independent cafes and some cracking pubs, and our 2022 guide will help you find the best ones
If you head north downhill through the New Town, you will eventually come to Stockbridge and Canonmills. These historic residential areas have a bit of a village vibe and are home to a startling number of charity shops, independent bars and eateries, plus a wide range of increasingly niche bookshops. 
Go outdoors
Running between the two areas is the Water of Leith, the scenic waterway that flows from its source in the Pentland Hills to the Port of Leith via the eponymous bridge. From Stockbridge, follow it past neoclassical folly St Bernard's Well, through Dean Village and to the Scottish National Gallery of Modern Art. From Canonmills, it will take you to Leith, past allotments and through parks, as part of the north Edinburgh cycle network following the old train lines. 
In Stockbridge, the vast Inverleith Park has a pond (including a family of swans), playpark, tennis courts, rugby pitch, allotments and bowling club. In Canonmills, find George V Park, a self-contained dell, with playparks and sports equipment. 
The Royal Botanic Garden Edinburgh (Arboretum Pl) is a place for scientific study and conservation, but also a free-to-enter garden. There are exhibition spaces, a cafe and a restaurant; the Botanics are also home to some very engaging squirrels, and assorted waterfowl.
Drinks
Stockbridge is home to a few top-class traditional pubs. On St Stephen St, The Antiquary (72 St Stephen St), locally referred to as the Tic, is a basement pub of the real ale, Sunday roasts and board games variety. At the end of the street, The Bailie (2 St Stephen St) is an unreconstructed boozer which serves hearty pub food. At the other end, St Vincent (11 St Vincent St) offers a dark and cosy Scottish pub with an extensive menu of burgers, wings and delicious drinks.
If it's wine bars you're after, you will find a few gems here. Good Brothers Wine Bar (4 Dean St) have a carefully curated list, served with a small plates menu centring local produce. For cheese, fine wines and antipasti, head to Smith & Gertrude (26 Hamilton Pl) or cosy Bacco (136 Dundas St). 
Hector's (47-49 Deanhaugh St) offer a contemporary pub environment with a menu of well-made classics. Over the road, The Stockbridge Tap (2-6 Raeburn Pl) similarly offers a refurbed traditional pub with an extensive selection of… taps. Back on St Stephen Street, The Last Word Saloon (44 St Stephen St) serves a sophisticated take on classic cocktails in a dark and cosy basement.
Over in Canonmills, One Canonmills is a light and airy corner bar with a focus on craft beer served alongside a street food-inspired menu. Clark's Bar (142 Dundas St) has a traditional interior with craft beer on tap and a small plates menu.
If you're looking for coffee, you've come to the right place. Body swerve the Caffè Nero and Costa and head straight for Fortitude (66 Hamilton Pl), Cowan & Sons (33 Raeburn Pl) or Artisan Roast (100a Raeburn Pl). In Canonmills, The Bearded Baker (46 Rodney St) and Hata (5 Rodney St) will both sort you out with coffee and baked goods.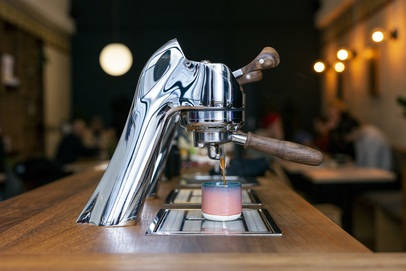 Fortitude, Hamilton Place
Food
First off, Stockbridge bloody loves a cake shop. The selection at The Pastry Section (86 Raeburn Pl) is incredible, from delicate lemon meringue pies to Persian love cakes, or check out La Barantine (27b Raeburn Pl) for French patisserie and Söderberg (3 Deanhaugh St) for Scandinavian-style pastry. Newly-licensed Grams (68 Hamilton Pl) focus on vegan, gluten-free or high-protein bakes, and for a savoury snack check out family-run Italian joint Cafe Gallo (96 Raeburn Pl).
For sit-in, The Pantry (1 NW Circus Pl) has excellent brunch and lunch options, while Nok's Kitchen (8 Gloucester St) serves up some of the city's best Thai food and Kenji Sushi (24 Deanhaugh St) provides fast, reasonably priced Japanese food. Earls Burger Co. (74 Raeburn Pl) comes highly recommended for juicy burgers and crispy waffle fries. Keep going along Raeburn Place and you will find the Neighbourgood Market, serving up a variety of Scotland's finest street food on a cricket pitch until 17 July.
St Stephen Street is home to a series of small but perfectly-formed restaurants: local institution Bell's Diner (no. 7) serves burgers that some claim to be the city's finest, Kim's Bulgogi (no. 11) offer quick Korean classics and Rokko Rokko Desu (no. 112) is your local go-to for ramen. 
Novapizza (42 Howe St) in Canonmills serve up delicious vegan pizza, or if it's meat you're after The Smiddy BBQ (22 Dunedin St) will provide you with an array of Texas-style barbecue, slow-cooked meats and sides.
Indie shops
For all the delicious cheese you could desire, check out I.J. Mellis (6 Bakers Pl) or George Mewes (3 Dean Park St). For drinks, visit Vino (26 NW Circus Pl) or newly opened Winekraft (6 Brandon Ter) in Canonmills. The Beerhive (24 Rodney St) is a much-loved beer and wine shop stocked with interesting local and international cans.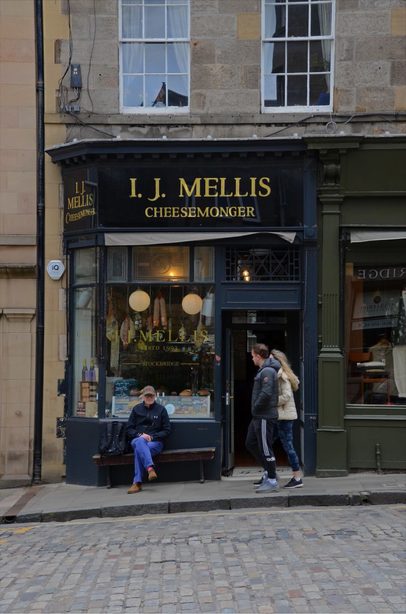 I.J Mellis, Bakers Place
An Independent Zebra (88 Raeburn Pl) sells work by local small design businesses, and Caoba (56 Raeburn Pl) is jam-packed with brightly coloured Mexican homewares. On St Stephen Street, Golden Hare (no. 68) is a cosy bookshop with a perfectly selected range, while Ginger and Pickles (no. 51) focus on beautiful children's books, and Voxbox Music (no. 21) sell a carefully curated selection of new and used vinyl. In Canonmills, Duncan & Reid Antiques (5 Tanfield) are a treasure trove of curios.
The charity shops have a lot of good stuff, the local residents being relatively affluent. The specialist Oxfam Music and Books shops are particular stand-outs, as are the Bethany and Shelter stores. Stockbridge Market (Saunders St) runs every Sunday, featuring a wide range of artisanal foodstuffs and wares.