The Skinny Guide to North Glasgow
North Glasgow has cultural projects a-plenty, green space to walk in, and a diverse mix of food and drink - Read our guide, updated for 2022
North Glasgow has cultural projects a-plenty, green space to walk in, and a diverse mix of food and drink. The Glasgow that exists north of Great Western Road is comprised of several different neighbourhoods, strung together down the Forth and Clyde canal.
To the south west, packed between the canal and the River Kelvin lie Maryhill and North Kelvinside, land historically owned by literal Mary Hill and today a beloved residential area frequented by students and locals alike. 
East of the canal you'll find Port Dundas, a 19th-century industrial hub which in recent years has given birth to many exciting cultural projects – various members of the Glasgow Canal Co-operative form a cluster here between Port Dundas and the Firhill Basin. Cultural heavy-hitters like the Royal Conservatoire of Scotland, Scottish Opera, and National Theatre of Scotland also have studios in the vicinity. 
Go Outdoors
From the Botanics, you can latch onto the Kelvin Walkway for a leafy amble over the Ha'Penny Bridge and up towards Maryhill. Across the river, walk along to the Children's Wood and North Kelvin Meadow (76 Kelbourne St), to visit the last wild space in Glasgow's West End.
As outdoor spaces go, Ruchill Park has a bit of everything. Feeling sporty? Head over to the Disc Golf Course (and watch out for flying discs). Fancy a jog? There are plenty of routes to take, from the pleasant and flat to the torturously uphill. Want to get your bearings? Go up to the flagpole and see what you can make out from its vantage point.
Things to do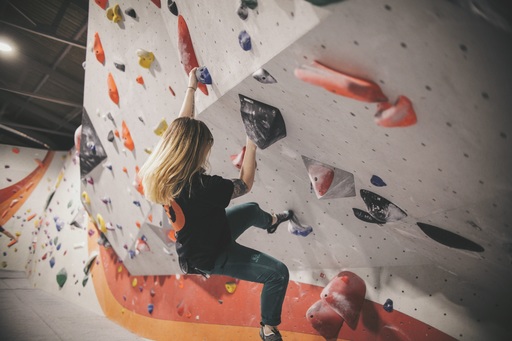 The Prop Store, Craigmont St
If you like being high off the ground but don't care so much about the views, The Climbing Academy's Prop Store (24 Craigmont St) is a varied selection of bouldering walls packed into the BBC's old prop warehouse (its in-house cafe will fix you up with a great coffee and bite to eat, too). After another way to get active indoors? Check out The Loading Bay skatepark (Borron St) – a state of the art park with bowl and street skating layouts, modular ramps, a trampoline room for practising your tricks, and a cafe. In a similar vein, Pinkston Watersports (75 N Canal Bank St) is Scotland's only artificial whitewater course, with tubing, paddle boarding and canoeing all on offer.
For a dive into the city's cultural past, the historic Queen's Cross Church (870 Garscube Road) can be found just round the corner from a four-storey-high mural of the sun that closely resembles local team Partick Thistle's magnificent mascot Kingsley (Northpark St). One is a site of worship and iconography that has left its mark on Glasgow's art world; the other is the Charles Rennie Mackintosh church.
The banks of the canal north of the M8 are home to a huge array of creative folk. Many of them can be found in The Whisky Bond (2 Dawson Rd), a hub of creative workspaces, events spaces and artists' studios, which also incorporates the Glasgow Sculpture Studios. Round the corner, Carnival Arts Yard and Grey Wolf Studios (124 and 131 Craighall Rd) are always worth a nosey.
Civic House (26 Civic St) is a community-minded arts space that hosts everything from music festivals to LGBTQIA+ bike maintenance workshops. Nearby, The Glue Factory (22 Farnell St for studios, 15 Burns St for events) serves as an occasional music venue, but its day job is housing artists' studios, such as that of Skinny-favourite RISOTTO.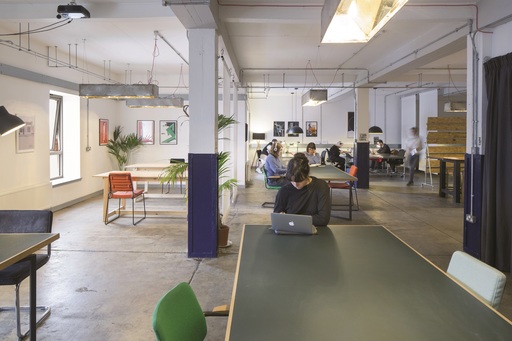 The Whisky Bond, Dawson Rd

Food and drink
For cultural tourists on the Trainspotting circuit, the streets around Maryhill Road may be of some interest. Ninety-seven year-old Cafe D'Jaconelli (570 Maryhill Rd) with its jukebox and red leather booths was one of a number of the film's Glasgow locations, while The BrewHaus, fka Crosslands (182 Queen Margaret Dr), is famous for the balcony off which Begbie chucks his empty pint glass, and for the fight which ensues.
The Botany (795 Maryhill Rd) is ideal for a pint or cocktails and some hearty food (and their conservatory has its own cosy log fire), while during the day North Star Cafe and Comet Pieces (108 and 150 Queen Margaret Dr) provide much in the way of sandwiches and Big Tasty Rolls. Back down at the base of the canal you'll find Ocho (8 Speirs Wharf), an all-day cafe with great brunch options, and Rockvilla Pizza (6 Possil Rd) who have expanded their menu to include meatball (or veggie ball) subs with pizza dough in place of bread. Alternatively, if you feel like cooking, SeeWoo (29 Saracen St) hosts 60,000 square feet of ingredients from across east and south-east Asia. For reference, 60,000 square feet is roughly the area of a full-size football pitch. It's very big – the biggest Asian supermarket in the country.