The Skinny guide to Leith
Sparky, rambunctious and all together different from the Old and New Towns – here's our guide to the best that Leith has to offer, updated for 2023
We've updated this guide to Leith to reflect some of the changes to the area in the last twelve months. We've added new venues and extra places to go; for more of this kind of thing, look out for copies of The Skinny Guide to Edinburgh 2023, available at venues across Scotland from 3 July.
Edinburgh's coolest neighbourhood is now a doddle to get to thanks to the recently completed tram line. Multicultural Leith Walk and Great Junction Street lead to the old port, home to the Ocean Terminal shopping complex and The Royal Yacht Britannia. Sandwiched between is The Shore, where you'll find fine pubs and restaurants overlooking the Water of Leith. From there, it's a short walk to the seafront and Newhaven, a gorgeous fishing village absorbed by the city. 
Food in Leith: Fine dining, fantastic pizza and enormous sandwiches
Razzo (59 Great Junction St) should be your go-to for astonishing Napoletana-style pizza; you'll also find delicious, authentic pies at Origano (236 Leith Walk). Cafe Domenico (30 Sandport St) is a lovely, old-school macaroni and gravy joint with chequered tablecloths, an intimate atmosphere and a reassuringly small menu. It also serves massive sandwiches, but even they don't rival the hefty pieces from the heaven-sent Alby's (8 Portland Ter).
Sabzi (162 Ferry Rd) serves up a vibrant and weekly-changing menu of Punjabi dishes that often take on a Scottish twist. Another great Leith Indian restaurant is the grill-specialist Desi Pakwan (61 Leith Walk); here you'll find flavourful on-the-bone curries and tender tandoori served in a welcoming atmosphere. You'll find a similarly low-key vibe at STACK (42 Dalmeny St), a tiny spot serving up wildly tasty dim sum.
You'll find Edinburgh's best African restaurants this side of town: the brilliant bistro Knight's Kitchen (166 Leith Walk), which delivers delicious African flavours with a Scottish twist, and the recently-expanded Nigerian restaurant Uwagboe's Kitchen & Grill (250-252 Leith Walk). Cocorico (96 Jane St) is a lovely new addition to Leith's food scene, serving up rustic Scottish food with a French flair (try their Croque Madame!). The similarly cute Cafe Marmalade (23 Bernard St) also has a great breakfast game, as does Newhaven gem The Haven (9 Anchorfield).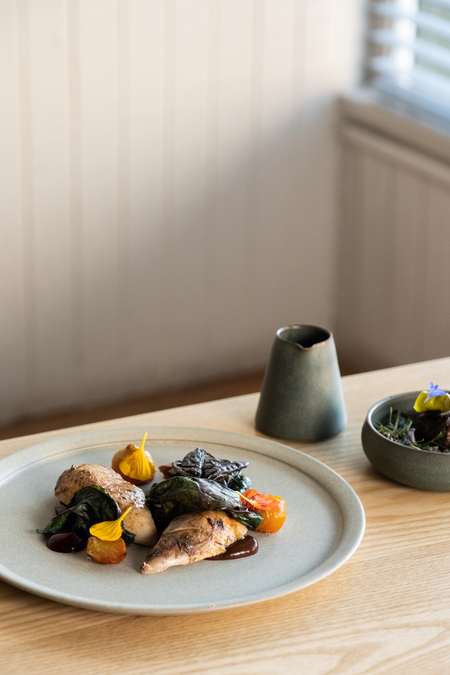 Partridge at the Michelin-starred Heron. Photo: Stephen Lister
Situated by The Shore, Heron (87-91A Henderson St) – recently awarded a Michelin star – delivers relaxed dining using local ingredients, while around the corner on Great Junction Street there's Aurora (no. 187), a tiny spot with an ambitious menu. The pick of Leith's fine dining spots is the award-winning The Little Chartroom (14 Bonnington Rd) – getting a table is the hard part, though, given its massive waiting list.
Street food of a Venezuelan flavour is served up at Orinoco (281 Leith Walk). Right next door you have a Leith institution: Storries (279 Leith Walk), a no-nonsense bakery whose delicious (and ridiculously inexpensive) pies have kept Leithers well-fed for decades. 
Leith has an abundance of great bakeries, in fact, and coincidentally many begin with the letter K. For delicious pastries and cakes, there's Krema Bakehouse (21 Leith Walk). Turkish bakery Kukina (356 Leith Walk) specialise in mouthwatering savoury pastries, while Kvasa (101 Leith Walk) are sourdough experts serving stunning ​​breads and sweet treats. 
The Fishmarket (23A Pier Pl) is a chippy in Newhaven so good the council have built a tram to its door. And if you want to polish off any of the above with some gelato, head to Crolla's (1 The Shore), a lovely late-night gelateria.
Pubs & bars in Leith
You'll probably be looking to wash all that delicious food down with a few pints. The Port O' Leith (58 Constitution St) is a local landmark and always lively, as is The Mousetrap (180 Leith Walk). The vibe is more relaxed at The Lioness of Leith (21 Duke St) and Leith Depot (138 Leith Walk) – the latter has recently opened a new gig space that's teeming with great live music each month. 
Teuchters Landing (1c Dock Pl) is a warren-like drinking den that's wonderfully cosy in the winter while its terrace overlooking the docks is much-coveted on warm days. The neighbouring Lost in Leith (82 Commercial St), which is both a bar and a fermentaria, has a full array of weird and wonderful beers.
Straddling Leith and Newhaven is Dreadnought (72 N Fort St), a no-nonsense boozer with a great beer selection and plenty of space for drinking outside. There's atmosphere aplenty too at the small but perfectly formed Carriers Quarters (42 Bernard St) and similarly old-school ​​pub The Persevere (aka The Percy) (398 Easter Rd). Further up Easter Road you'll find the Old Eastway Tap (no. 218), which specialises in craft beer, cider and real ale, and a shoutout too to the ace Victoria (265 Leith Walk), a fun Swedish joint, and the Tour de France-themed Tourmalet (25 Buchanan St).
At Abode (229 Leith Walk) you'll find a chic bar with a sharply curated wine, beer and spirit menu and life-giving cheese boards. We're also keen on the dreamy Smoke & Mirrors (159 Constitution St). Through its fairy-light arch entrance, there's an intimate bar bursting with character and great cocktails. Speaking of cocktails, you'd be hard-pressed to find a more exciting selection than the menu at Nauticus (142 Duke St), where every concoction has a link to Leith's rich history as a trading hub. Bittersweet (24 Henderson St) offers a little slice of Italian aperitivo culture. And a bit further off the beaten track you'll find The Bullfinch (2-4 Bath Rd), which boasts a fantastic beer garden.
Coffee in Leith
Maybe it's an espresso hit you're after. Leith is littered with great cafes and first port of call should be The Old Spence Café (40 Queen Charlotte St) – inside you'll find a cosy room dressed in vintage furniture with tasty coffee and scrumptious cakes. More utilitarian in style is Williams and Johnson (1 Customs Wharf), all sleek concrete and streamlined furnishing. There's nothing simple about its coffee, though, which is rich and delicious.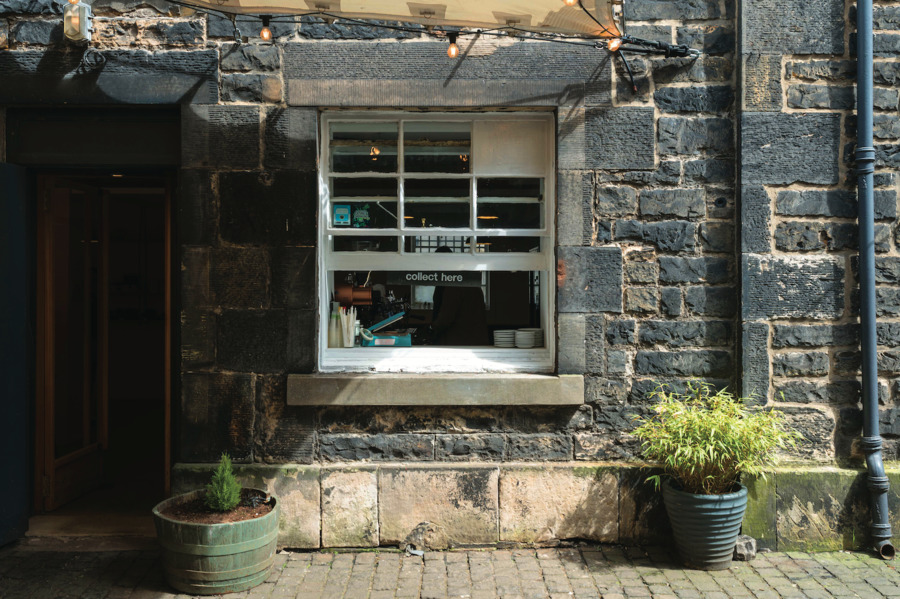 The takeaway hatch at Williams and Johnson. Photo: Jaros Mikos
On Leith Walk you'll find Artisan Roast (no. 72-74) and the similarly named Artisan Coffee (no. 274). If you fancy doing some plant shopping with your espresso, check out the leaf-filled Seb's Urban Jungle (no. 187-189).
There's also the brilliant Milk (Hawthornvale). Adjoined to Edinburgh Sculpture Workshop and situated at the foot of Edinburgh's Old Railway Path Network that runs from Newhaven to Balerno, it's the perfect first stop for a day of gallery hopping or cycling. 
Leith's Indie Shops and Markets
Beets (49 Bernard St) and Leith Bottle Shop (30 Great Junction St) are the neighbourhood's essential stop-offs for wines, spirits and craft beer. Crate diggers, meanwhile, should find their pick in Elvis Shakespeare (347 Leith Walk) and Good Vibes Records and Books (151-153 Constitution St). Bookshop Argonaut (15-17 Leith Walk) has a wonderfully curated selection of fiction, non-fiction, travel writing and graphic novels, while Edinburgh Community Bookshop (179-181 Great Junction St) is an excellent second-hand bookstore supporting a different local charity each month. And among the high street chains of Ocean Terminal you'll find an indie spirit alive in the form of The Leith Collective, a retail space home to dozens of local artists all working together to promote their work and support the local community.
Two of Edinburgh's best indie shops are found in this part of town too, namely Logan Malloch (13 Leith Walk) and Handsel (336 Leith Walk), both of which feature a nifty selection of prints, ceramics, cards, gifts and stationery. We're also big fans of two new Leith galleries: Mote 102 (102 Ferry Rd) is a non-profit changing space offering support and a showcase to local artists and makers, while Sierra Metro (13-15 Ferry Rd) is a coffee house and gallery space where people can gather, work and connect with exhibitions and drink some fine java. And every Saturday, get yourself down to Leith Market (Dock Pl) for some sizzling street food and scotch eggs the size of your head.