The Skinny guide to Glasgow City Centre
Nestled in the nook of the busy M8 motorway, Glasgow's bustling City Centre, just north of the River Clyde, can be confusing at first. But get to grips with its grid system of streets and you'll be parading around like a local in no time
Nestled in the nook of the busy M8 motorway which connects this former City of Architecture and Design to Edinburgh, Glasgow's bustling City Centre, just north of the River Clyde, can be confusing at first. But get to grips with its grid system of streets and you'll be parading around like a local in no time; pay close attention and you may even recognise certain parts of the city from major blockbusters like Fast & Furious Presents: Hobbs & Shaw or World War Z.
During the day, the city centre is great for shopping and art, and by night it comes alive with restaurants, bars, gigs and clubs aplenty, meaning you can quite literally spend the whole day in central Glasgow without even a hint of boredom setting in. It's also the ideal jumping off point for exploring other parts of the city, with transport links always within walking distance.
Shopping
While the phrase 'shop 'til you drop' wasn't invented in Glasgow, we wouldn't be surprised if it was. With three pedestrianised shopping thoroughfares – Buchanan Street, Sauchiehall Street (pronounced Sucky-hall) and Argyle Street – and several shopping centres – St Enoch, Buchanan Galleries, Princes Square, Argyll Arcade and The Savoy Centre – you'll be hard pressed to not find exactly what you're looking for.
There's an abundance of independent shops to be found here too. The super cute basement gift shop Maia Gifts (21 Bath St) is perfect to pick up something kitsch while Fireworks Studio Garnet Pots (35a Dalhousie St) is a must for ceramics fans. Book lovers will want to visit Aye-Aye Books in the CCA (350 Sauchiehall St) or the tell it slant poetry bookshop (134 Renfrew St), while comic book and graphic novel fans should head to Forbidden Planet (122-126 Sauchiehall St). For another record to add to your music collection, be sure to stop by Love Music (34 Dundas St) or Fopp (19 Union St).

Tantrum Doughnuts, Gordon St
Drinks
During the day a hot cuppa is essential for most and you can't go wrong with a trip to the Italian-inspired Laboratorio Espresso (93 W Nile St), serving up delicious cannoli and clean batch brews alongside the usual options. Near Central Station, small batch coffee roasters Gordon Street Coffee (79 Gordon St) serve up excellent pastries and coffees with their in-house roastery just upstairs. Across the street is Riverhill Coffee Bar (24 Gordon St) and artisan doughnut shop Tantrum Doughnuts (28 Gordon St). In the west of the city centre, Singl-end (263 Renfrew St) offers up great coffee and cake, with lovely light brunch options too.
If you're looking for something with a bit more punch, trendy bars and old fashioned boozers can be found on literally every street, basement, back alley and corner of the city centre. Near Central Station, Stereo (22-28 Renfield Ln) has been a staple since 2007. Housed in a building designed by Charles Rennie Mackintosh, upstairs is a vegan bar and restaurant while you'll find all manner of touring and local bands gigging in the basement. Across the lane, their cosy sister venue The Old Hairdresser's is a popular bar, gig and gallery space, while round the corner and up the street (also in the Stereo family) is The Flying Duck (142 Renfield St).
The Horseshoe Bar (17-19 Drury St) is one for Travis fans as it's where the Why Does It Always Rain On Me? hitmakers formed. A few minutes away is Bier Halle (9 Gordon St), a subterranean German-style beer hall serving pizza, hotdogs and steins of beer, with outdoor seating on Gordon Street and Buchanan Street in the summer. On Mitchell Lane, Tabac (no. 10) and Bar Soba (no. 11) are both great for fusion plates and indulgent cocktails. More cocktails can be found nearby at Max's Bar & Grill (73 Queen St), where you'll also find the La Cheetah nightclub in the basement.
Basement gig venues and nightclubs can also be found in Nice N Sleazy and Broadcast on Sauchiehall Street (no. 421 and 427 respectively), while The Variety Bar (no. 401) and The State Bar (148-148a Holland St) are great for nearby pre- or post-gig drinks, the latter giving a true taste of old Glasgow with a great selection of cask ales. Rock fans should head to Rufus T Firefly (207 Hope St), while across the road The Pot Still (no. 154) is a must for whisky fans with their malt of the month offering and generous 35ml measures.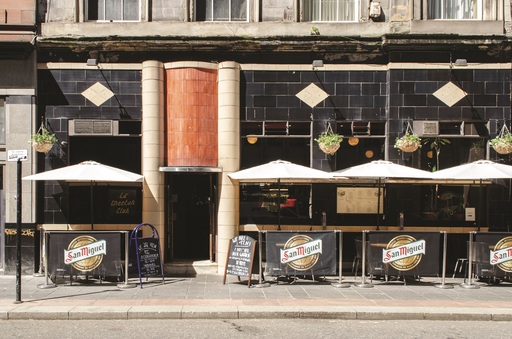 Max's Bar & Grill, Queen St
Food
As well as good drinking spots, Sauchiehall Street is awash with great eateries too. Starting at the west end, you'd be hard pushed to find more authentic Vietnamese cuisine in the city centre than at Non Viet (no. 536), while great Japanese food can be found at Nanakusa (no. 441). For an excellent on-the-go option Falafel To Go (no. 116) offer up affordable, fresh and super tasty wraps. Veggies and vegans will love the light and spacious Saramago Cafe and Bar inside the CCA (no. 350), which has an especially good Sunday brunch menu.
Elsewhere, for Italian cuisine head to Sarti (121 Bath St; 133 Wellington St), Pizza Punks (90 St Vincent St) or Paesano sister restaurant Sugo (70 Mitchell St); for Japanese food try Maki & Ramen (21 Bath St), for Thai head to Ting Thai Caravan (19 W Nile St) or Panang (71-73 St Vincent St) and for Korean Bibimbap (3 W Nile St) is the one. If Mexican street food is more your bag, go for tacos at the super kitsch and vibrant Mezcal (104 Hope St) or Topolobamba (89 St Vincent St), while burger fiends should try Bread Meats Bread (65 St Vincent Street) – just be sure to order a side of poutine. Finally, in the former Arches venue near Central Station you'll find street food market Platform (253 Argyle St) with rotational food trucks and an in-house microbrewery from Innis & Gunn.
Things to Do
Despite being housed in the former townhouse of William Cunnhinghame, an 18th century Tobacco Lord(!!), the Gallery of Modern Art (111 Queen St) is Scotland's most visited modern art gallery with free exhibitions from local and international artists. The award-winning Centre for Contemporary Arts (CCA) (350 Sauchiehall St) is an arts hub with diverse year-round programming, while the nearby Glasgow School of Art's Reid Building hosts regular exhibitions. The Lighthouse (11 Mitchell Ln), Scotland's Centre for Design and Architecture, is mandatory for Mackintosh fans as he designed the original building in the late 19th century; be sure to check out the views from the Mackintosh Tower.
Originally opened in 1903, and also designed by Mackintosh, fans of tea will want to visit the iconic Mackintosh at the Willow tea rooms (215-217 Sauchiehall St), while for a unique slice of history, The Tenement House (145 Buccleuch St) in Garnethill offers a rare glimpse into Glasgow life in the early 20th century. Garnethill also boasts one of the city centre's only green spaces in Garnethill Park, while on its periphery you'll also find The Art Launderette (39 Dalhousie St), a fully functioning launderette with regular exhibitions.
Home to the Scottish Opera, The Theatre Royal (282 Hope St) is the oldest theatre in Glasgow, and the longest running in Scotland having opened in 1867. The Pavilion Theatre (121 Renfield St) and King's Theatre (297 Bath St) have no shortage of offerings too, with plenty of big name stand-up comedians stopping by and an abundance of panto over the festive season. Cinephiles should head for the Glasgow Film Theatre (GFT) (12 Rose St), the UK's first purpose-built arthouse theatre outside of London. Built in 1939, just before WWII, it originally opened as the Cosmo, changing its name to the GFT in 1974, and almost five decades on is still going strong with regular film screenings and the annual Glasgow Film Festival.
There's also no shortage of live music venues and nightclubs to be found here too, with several venues on Sauchiehall Street alone; the famous King Tut's Wah Wah Hut (272A St Vincent St) and world renowned Sub Club (22 Jamaica St) are also in the city centre. 
Travel
Glasgow's city centre is a great starting off point for exploring other parts of the city, with low level trains from Glasgow Central Station (Gordon St) to Exhibition Centre speedily taking you to the OVO Hydro on the banks of the River Clyde. Similarly, low level trains from Queen Street Station (N Hanover St) are a great option for a quick jaunt to Partick and Finnieston where you'll find the Kelvingrove Art Gallery and Museum and SWG3. In the city centre you can also hop on the 10.5k circular Glasgow Subway from Buchanan Street, St Enoch Square, and Cowcaddens making for easy connections to other parts of the city both north and south of the river.