The Skinny guide to Edinburgh's Southside
Home to Edinburgh University and much of the Edinburgh Fringe, the Southside is where to find cheap eats, green spaces and a laidback air, and we've rounded all that up in our 2023 guide
This article has been updated for the The Skinny Guide to Edinburgh 2023, available now at venues across Scotland. Inside, you'll find summaries of the city's different neighbourhoods, our recommendations on what to do, and deep-dives into the history and community that define Edinburgh.
Edinburgh's Southside is right in the thick of the action; a buzzing, central neighbourhood that nevertheless feels local rather than touristed. Home to the main campus of Edinburgh University, there's a wealth of notably cheap eateries and cafes perfect for bunking down with a good book. It's also home to the Edinburgh Festival Fringe, when the typically peaceful green expanses of The Meadows and George Square Gardens are transformed into a veritable carnival of performance tents and street food stalls.
Food and drink in the Southside
Being a student-heavy area, Edinburgh's Southside is filled with great eats and quirky drinking holes. The Sudanese Nile Valley Cafe (6 Chapel St) offers falafel wraps piled high with grilled aubergine and special peanut sauce, while The Shawarma House (119 Nicolson St) does exactly what it says on the tin. Popular with the kids are Sister Bao (32 S Clerk St), with steamed buns for as little as a pound and change; The Original Mosque Kitchen & Cafe (50 Potterrow), whose plates piled high with homemade curry come to just over a fiver; pizza slices at Civerinos Slice (49 Forrest Rd); and a modern take on Thai food at Ting Thai Caravan (8 Teviot Pl). Having expanded into the Southside recently is Leith staple Alby's (94 Buccleuch St), whose enormous, elaborate sandwiches and fries may be the best in Edinburgh – they're open through the day but often sell out way before. For something a little more sit-down (but still cheap), Ikigai Ramen (13 W Crosscauseway) is cosy in both vibes and warming meals, while Kim's Mini Meals' (5 Buccleuch St) innocuous front hides a renowned family restaurant considered one of the best in the city. El Cartel (15 Teviot Pl) crafts its tacos like little works of art bursting with flavour.
To keep the night going, tropical dive bar Paradise Palms (41 Lothian St) has an excellent array of spirits crowding its neon bar. There are similarly chaotic vibes at The Dog House (18 Clerk St), while The Royal Dick in the Summerhall arts complex (1 Summerhall Pl) is inspired by Summerhall's previous life as the university's veterinary school. Also of note is subversive pub Brass Monkey, with actual beds to lounge in (14 Drummond St), and the ever-reliable Dagda (93 Buccleuch St) and The Auld Hoose (23 St Leonards St).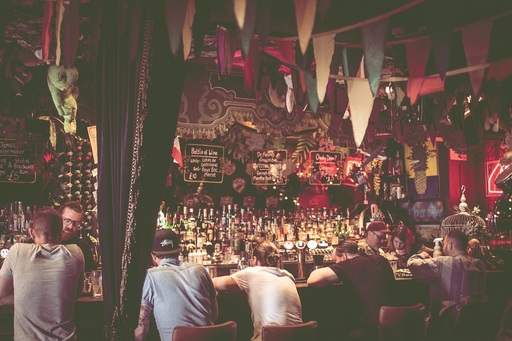 Paradise Palms. Credit: Kristie De Garis
For a less boozy day, there's many a cafe to while away drizzly afternoons. Thomas J Walls (35 Forrest Rd) and Kilimanjaro (104 Nicolson St) both offer brunch and a relaxed atmosphere, Considerit (5A Sciennes) has the pillowiest vegan doughtnuts you've ever seen, while coffee enthusiasts with a taste for the industrial should head to Union Brew Lab (6 S College St) and Cult Espresso (104 Buccleuch St).
Things to do in the Southside
The Southside is typically the heart of the Fringe: Summerhall boasts one of the festival's best programmes, while Assembly Roxy (2 Roxburgh Pl), Queen's Hall (85 Clerk St), and the Festival Theatre (13 Nicolson St) are all within a short stroll of each other.
The National Museum of Scotland (Chambers St), Dovecot Studios (10 Infirmary St), Talbot Rice Gallery (South Bridge), and Surgeons' Hall (Nicolson St) span everything from avant-garde art to gruesome human remains and dinosaur bones. And during the relative warmth (although please manage your expectations) of the summer, the tree-lined expanse of The Meadows and the crags of Arthur's Seat transform into some of the city's key hangout spots.
Indie shops in the Southside
There's not a ton of shopping in the Southside, but there are a few cute indie stand-outs. Edinburgh's radical, queer bookshop Lighthouse Books (43 W Nicolson St) is a veritable haven of excellent reads and community spirit. Five minutes away is Tills Bookshop (1 Hope Park Cres), with a great secondhand collection that often includes new releases. There are also two Armstrong's vintage shops filled with retro gems (14 Teviot Pl, 64 Clerk St), while the Great Grog Bottle Shop (2 Dalkeith Rd) and Jordan Valley (8 Nicolson St) are must-stops for foodies.