The Skinny guide to Edinburgh's Old Town
The Skinny's 2023 guide to the best of Edinburgh's Old Town, from the sights worth seeing to the best independent bars and restaurants
This article has been updated for The Skinny Guide to Edinburgh 2023, available now at venues across Scotland. Inside, you'll find summaries of the city's different neighbourhoods, and our recommendations on what to do – find copies at venues across Edinburgh.
Edinburgh's medieval heart is built around the Royal Mile, stretching from Edinburgh Castle to the Palace of Holyroodhouse via St Giles Cathedral, the recent, proud host of Scotland's version of The Queue. It's a warren of narrow alleyways and haunted subterranean vaults interspersed with quirky independent shops, bars and restaurants. 
Food in Edinburgh's Old Town
When it comes Old Town eateries there's a lot to choose from. For when you're on the go and trying to pack in as many of its attractions as possible a cheeky pie from Piemaker (38 South Bridge) is a must. If it's a sweet treat you're after, MOO Pie Gelato (26 St Mary's St) specialise in outrageous ice cream cookie sandwiches, and joining that queue you see in The Grassmarket outside Mary's Milk Bar should be a top priority. Mary trained in gelato at the Carpigiani Gelato University in Bologna, so she knows a thing or two about ice cream.
Every Saturday The Grassmarket also plays host to the Grassmarket Market (10am-5pm), which as well as including an abundance of local crafts, design and makers stalls, offers a great foodie snapshot of the city. Also on Saturdays, just a five minute walk away you'll find the Edinburgh Farmers' Market (9am-2pm) at the Castle Terrace Car Park, with local produce on offer as well as a hot food truck.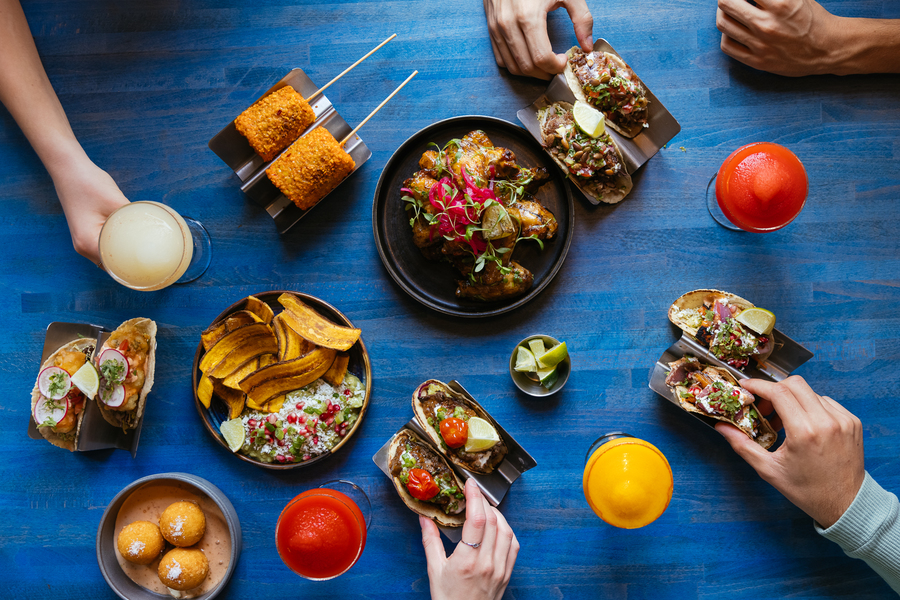 El Cartel. Credit: Carlo Paoloni.
If you'd rather not be eating on-the-go, or outdoors for that matter, then our favourite Old Town restaurants cover myriad styles and world cuisines. For a little taste of America, head to Bubba Q (213 High St) for some top notch barbecue, fill yourself up on chicken wings at Wings (5 Old Fishmarket Cl) or hit The City Cafe (19 Blair St) for an American-style diner complete with jukebox, milkshakes and Coke floats aplenty.
El Cartel (1 Roxburgh's Court) provide the freshest of Mexican street food; Hanam's (3 Johnston Ter) has traditional Kurdish grill and Middle Eastern food; for an Indian 'twist on tapas', head to the inimitable Mother Indias Cafe (3 Infirmary St); the original Civerinos (5 Hunter Sq) have all your pizza needs covered, and for more classic fare, with a focus on local produce, The Outsider (15 George IV Br) is for you.
Drinks in Edinburgh's Old Town
The Old Town is hilly, alley-tastic, and many of its bars and cafes are very small. Bow Bar (80 West Bow) is one of the best – great pints in a lovely cosy environment, with the classic Edinburgh pub dimensions (think large-ish classroom). Deacon Brodies (435 Lawnmarket) and The Waverley Bar (3 St Mary's St) are also great options if you're after the textbook 'pint in Edinburgh' experience.
Want to modernise a little? Go for cocktails at The Devil's Advocate (9 Advocate's Cl) or Dragonfly (52 West Port). The former has a great outdoor patio; the latter is right in the shadow of the Castle. Just across the road and an inch closer to the castle's imposing rock is The West Port Oracle (27 West Port), a new space from the team behind Southside institution Paradise Palms: same friendly atmosphere, comparatively minimalist decor. Diverse menus and a bit more space to breathe can be found at OX184 (184 Cowgate) and Under the Stairs (3A Merchant St), and fans of boundary-pushing beer should head to Salt Horse (57 Blackfriars St) for schooners from the UK's best craft and small breweries.
Away from beer, Room and Rumours (25 East Market St) pair great coffee with delicious, Instagram-friendly doughnuts, while at Gordon Street Coffee (6 Market St) there's the added bonus of seeing (and smelling) the beans roasted in-house if you arrive at the right time. Can't get a spot in The Milkman (7 Cockburn St)? Just go to the other Milkman at the other end of the road (52 Cockburn St); excellent espresso awaits. Need some fruit and veg? Hula (103 West Bow) have smoothies and juices to help you through the earliest mornings. Meanwhile, Procaffeination (4 St Mary's St) is an oasis of calm right in the middle of it all.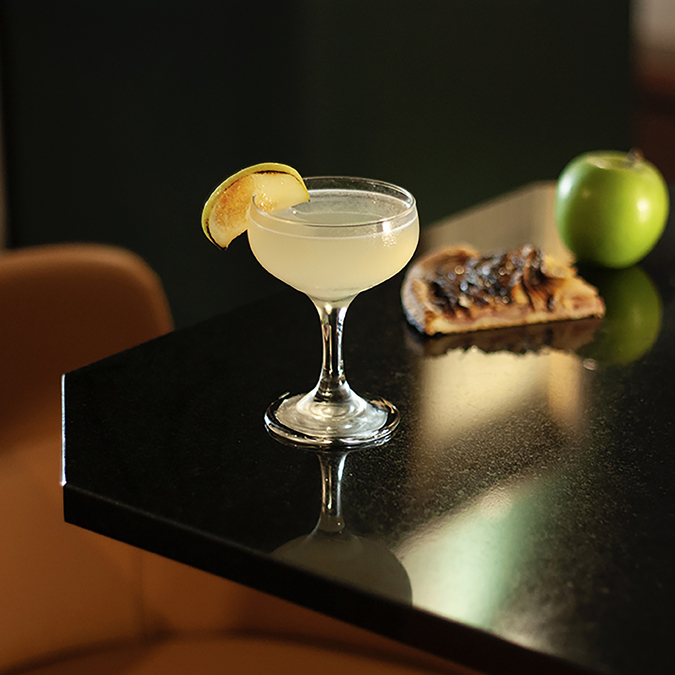 Dragonfly. Credit: Alex Renfrew
Indie shops in Edinburgh's Old Town
Some sections of the Old Town are an obstacle course of tartan and Princess Diana boutiques, but once you learn to navigate your way through, there's a real treasure trove to be found. For Scottish memorabilia, head to Red Door Gallery (42 Victoria St): they have a selection of gorgeous prints by local artists, from unique takes on Edinburgh's iconic cityscape to more abstract designs.
Looking for an even rarer find? Located on the other side of the Grassmarket is Armchair Books (72 West Port), a rickety antiquarian and second-hand bookshop, filled floor to ceiling with gems. For something a little edgier, dig into the Scottish and international music scene at indie record shop Underground Solu'shn (9 Cockburn St) or hit Slow Progress Records (53 Blackfriars St) for records, coffee and delicious vegan doughnuts.
If you're looking for more practical wares, there are plenty of indie boutiques dotted around. For a quirkier vibe, head to Godiva (9 West Port), or iconic Edinburgh vintage emporium Armstrong's (81 Grassmarket) for truly unique pieces. Visit Pieute (19 Candlemaker Row) for graphic tees, or if you're feeling like something a little more refined, MYSA (31 Cockburn St) is your best bet, offering plants, home decor, and tchotchkes in a beautifully designed space.
Finally, if all of this seems to be playing it a little too safe, don't be afraid to push the metaphorical boat out at Sauce (23 Candlemaker Row), a hole-in-the-wall selling – of all things – all manner of marinades and spice blends. And practically opposite is Black Moon Botanica (50 Candlemaker Row), an eclectic, thoughtfully curated boutique perfect for picking up tarot cards, crystals and – appropriately – handmade candles.
Things to do in Edinburgh's Old Town
You can have your mind warped in the halls of optical illusions at Camera Obscura (Castlehill) or by learning about the beginning of the cosmos at Dynamic Earth (Holyrood Rd). Explore Auld Reekie's macabre history by taking one of its many Ghost Tours, or venturing into the hidden streets beneath the city via The Real Mary King's Close (2 High St). Greyfriars Kirk graveyard is a spooky place to explore, and has some sort of Harry Potter connection. Fun fact – everywhere in Edinburgh now has some sort of questionable Harry Potter connection.
Or if you're more interested in modern atrocities, there's always the Scottish Parliament building (Canongate). Also worth a visit are The Scotsman Steps, a gorgeous stairwell-cum-public-urinal from artist Martin Creed made of myriad types of marble. They will lead you the Fruitmarket gallery (45 Market St), one of the city's foremost contemporary art spaces. Opposite, City Art Centre (1 Market St) hosts exhibitions covering art, history and the annual Edinburgh International Science Festival. Round the corner, check out the city's photography gallery, Stills (23 Cockburn St).
Nightlife in Edinburgh's Old Town
For night owls, Sneaky Pete's (73 Cowgate) is the place to be, with a roster of gigs and club nights that could fill an entire Edinburgh visit on its own. Around the corner sit Bannerman's (212 Cowgate), The Hive (15-17 Niddry St), and The Banshee Labyrinth (29 Niddry St), which is spooky, dingy, and loads of fun, with a free cinema that screens films late into the night. 
Take a few steps across the road to reach Stramash (207 Cowgate), and La Belle Angele (11 Hastie's Cl): an Edinburgh institution since the early 90s; up the steps, The Mash House (37 Guthrie St) plays host to some of the best up-and-coming bands as well as club nights across its three varyingly-sized floors.
A few minutes in either direction you'll find Cabaret Voltaire (36-38 Blair St), Legends (71 Cowgate), The Caves (8-10 Niddry St) and The Bongo Club (66 Cowgate): The Caves is an event space made up of the substructure of Edinburgh's 18th century South Bridge while Bongo's spacious setting underneath Edinburgh Central Library attracts late night revellers with regular club nights charting sounds from Europe to Jamaica. Round the corner and up the hill, The Liquid Room (9C Victoria St) has long been known for attracting the top touring bands.