The Skinny Guide to the 2023 Edinburgh Festivals
Each August the city transforms as multiple arts festivals kick off simultaneously and the population explodes. Fest editor Arusa Qureshi offers some guidance on how to navigate Edinburgh's festivals
The Skinny Guide to Edinburgh 2023 is available from venues throughout Scotland from 3 July. Inside, you can find summaries of venues across Edinburgh's various neighbourhoods, as well as articles breaking down Edinburgh culture. This article, and tons more like it, can be found in The Skinny Guide to Edinburgh 2023.

Around June every year, it feels like we've just about caught our breath and recovered from the previous year's iteration of the Edinburgh Festivals before the cycle begins again. The programmes for the Fringe, Edinburgh International Festival, Book and Art Festivals are officially launched, performers nervously finalise their plans and audiences ready themselves to buy tickets for as many of their top picks as they can. For some of us, having arguably the most important cultural events on the planet right here on our doorstep is like all our Christmases rolled into one. For others, it's a strange and mammoth beast where there's just far too much to see and do and not enough time. But whatever your thoughts on festival season, we can all agree that for the month of August in Edinburgh, there's a peculiar magic in the air, whether you find yourself in a small sweatbox of a venue or out and about on the streets of the city, soaking up the atmosphere.
As with any festival programme, there are too many highlights to mention everything but inevitably, there are shows that are already on our radar across the Fringe, EIF, Book and Art Festivals. These range from world-class premieres to unexpected gems, with some of the most famous names around to trailblazers and the next big thing. To get your ultimate fill of all things festival, pick up The Skinny's August issue and Fest, the latter of which publishes four issues between the end of July and August. You'll find it around Edinburgh weekly during the festivals, packed with reviews, recommendations, interviews and maybe even a crossword. For now though, here's a small slice of what to expect and get excited about across genres and disciplines.
Comedy at the Edinburgh Fringe 2023
The Edinburgh Comedy Awards are usually a great place to start if you're looking for sure-fire hits and stars of the Fringe. Launched in 1981 and considered the most prestigious comedy prize in the UK, former winners are forever returning with new shows which are well worth seeking out. This year, you'll find Rose Matafeo doing a work in progress at the Monkey Barrel, which also plays host to John Kearns. Elsewhere, there's Bridget Christie at The Stand's New Town Theatre; Jordan Brookes at Pleasance Courtyard and Frank Skinner, who takes on Assembly George Square. This year, one of the big shockers of the Fringe has been the possibility that the Awards may not return in 2023 due to a lack of funding. At the time of writing, they're still seeking a solution but here's hoping that we're back to crowning our comedy favourites in August as usual.
Aside from the Edinburgh Comedy Awards, one of the best ways to see newcomers and future talent is via Gilded Balloon's So You Think You're Funny? competition. It's been around since 1988 and former winners include Maisie Adam, Ivo Graham and Peter Kay. This year, the Grand Final takes place on 24 August, but there are competition heats you can check out throughout the month too at Teviot.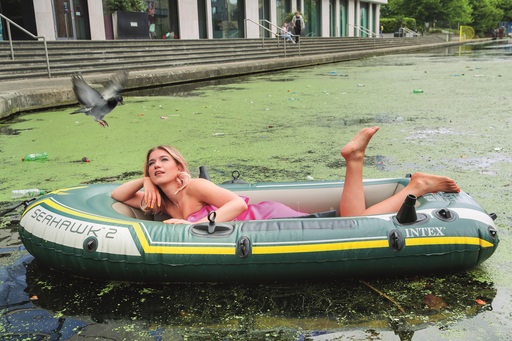 Olga Koch. Credit: Rachael Sherlock.
Last year, one of both team Skinny and Fest's favourite Fringe experiences was the weird and wonderful Mr Chonkers. John Norris is thankfully back at Monkey Barrel with not only Mr Chonkers, but an unhinged variety show called Piggy Time. Also at Monkey Barrel, you'll find this year's winner (no, really) of Britain's Got Talent Viggo Venn with his hi-vis firmly in tow. Other highlights include Olga Koch with new solo show Prawn Cocktail, Stuart Goldsmith with stand-up about the climate crisis, Julia Masli's terrifically absurd clowning and Avital Ash, who workshops her suicide note.
Another unmissable and absolutely insane night out is Stamptown Comedy Night at Pleasance, hosted by Zach Zucker with an always chaotic line-up of performers. Also at Pleasance, Chloe Petts is back with her new solo show If You Can't Say Anything Nice; Janine Harouni returns with a new hour that explores her Arab roots and pregnancy; Kieran Hodgson gives us the lowdown on his move to Scotland; and cult-comedy star Patti Harrison arrives with the best named show (My Huge Tits Huge Because They Are Infected Not Fake!).
At The Stand, Shetland comedian and storyteller Marjolein Robertson presents Marj; Paul Sinha is back with new show Pauly Bengali; and Robin Ince shares his love letter to stand-up comedy, MELONS. Meanwhile over at Summerhall, we're excited about Creepy Boys, a show about a satanic and sexy birthday party, and Baby Wants Candy star Katy Berry is bound to be a focal point at Just The Tonic. As well as her show Bitter at Monkey Barrel, Luisa Omielan also takes God is a Woman The Musical to Laughing Horse @ The Counting House as part of the free festival, while Shelf bring their new show Teenage Men to PBH's Free Fringe @ Voodoo Rooms.
Theatre at the Edinburgh Festivals 2023
The Edinburgh International Festival doesn't traditionally include comedy but when it comes to theatre and music, it's where you're guaranteed to find world-renowned performers. This year marks the first Festival under the direction of new Director Nicola Benedetti, so naturally, the programme looks a little different but as usual, there's plenty to sink your teeth into. Inspired by the literature of Martin Luther King Jr, the 2023 Festival is centred on the question, 'where do we go from here?', with around 300 events asking us to consider the transformative power of the arts. Within the theatre programme, there are three UK premieres from stars of international theatre: Barrie Kosky's The Threepenny Opera from the Berliner Ensemble; Brazilian film and theatre director Christiane Jatahy's Dusk, based on Lars Von Trier's Dogville; and Tiago Rodrigues' As Far As Impossible, recounting the everyday lives of humanitarian workers in war zones.
The National Theatre of Scotland's Thrown, from writer Nat McCleary under director Johnny McKnight, comes to the Festival as part of its world premiere season. The play sees five wildly different women gather in the muddy fields of the Highland Games circuit, ready to compete in the obscure art of Scottish backhold wrestling. There's also New York City-based theatre-maker Geoff Sobelle's absurd dinner party FOOD, and immersive work via Punchdrunk Enrichment, who bring The Lost Lending Library to the Festival, inviting young people aged 6-11 to take a journey into a magic travelling library.
If you think you're spoilt for choice in the comedy section of the Fringe programme, wait until you hear about what's on offer in theatre. As always, there's an immense selection but a good place to begin your search for top picks is to look at the various programmes that are part of showcases. For example, there's the annual Made in Scotland showcase, which this year includes 18 shows across a range of venues throughout Edinburgh. Theatre highlights include Tortoise in a Nutshell's intimate tabletop performance Concerned Others (Summerhall); Raymond Wilson's autobiographical piece I Hope Your Flowers Bloom (Storytelling Centre); and Isobel McArthur's brand-new ensemble comedy The Grand Old Opera House Hotel (Traverse).
The Horizon showcase, which is back for its third year, is another excellent shout, with exceptional, stand-out performances created in England and ready for international touring. We're looking forward to Brook Tate's Birthmarked (Assembly Rooms); Figs in Wigs' feminist adaptation Little Wimmin (Zoo Southside); the final piece of Javaad Alipoor's trilogy Things Hidden Since The Foundation of the World (Traverse); and Rachel Mars' durational performance installation FORGE (Lyceum Roseburn).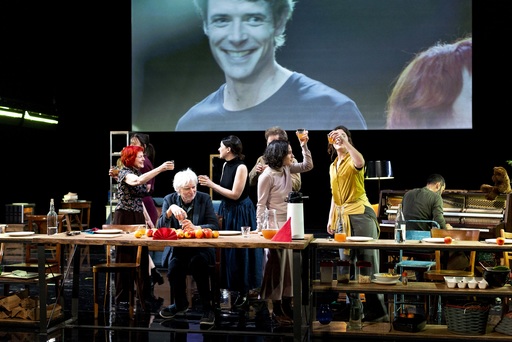 Dusk, Edinburgh International Festival. Credit: Magali Dougados
The Traverse and Lyceum programmes never disappoint, and along with the shows already mentioned, we'd recommend Kieran Hurley's new black comedy ADULTS and Iranian playwright Nassim Soleimanpour's theatrical event NASSIM at the Traverse. At the Lyceum, don't miss Obehi Janice's Casanova-inspired Nova and Tim Crouch's absurdly comic two-hander An Oak Tree.
For some of the best, boundary-pushing and innovative theatre at the Fringe, head to Summerhall, where you'll struggle to narrow down your choices. We're particularly excited about HIGH STEAKS, a show in which performer ELOINA hangs two beef steaks from her labia, butchers them up and sizzles them on a grill; Afro-futuristic East-African story about identity and community, OommoO; and Adam Scott-Rowley's surreal YOU ARE GOING TO DIE, which he performs entirely naked.
Just a short walk from Summerhall, House of Oz is back again this year with a varied programme of shows from Australia. Check out true-life, original musical tribute A Migrant's Son, intimate audio adventure Two Strangers Walk into a Bar…, and the hilarious and poignant Maureen.
Another interactive show that's worth seeing is Ontroerend Goed's Funeral at Zoo Southside, which is described as a theatrical ceremony and collective ritual. At the same venue, writer/performer Jenny Witzel tells her story of living on a boat in South-East London in CREEKSHOW, while at Zoo Playground, Aionos is a hybrid theatrical experience where Ancient Egypt meets Star Wars. At the Storytelling Centre, Niall Moorjani's A Fairie Tale reimagines the folk classic Thomas the Rhymer, exploring queerness, Scottish race and gender identities. While at theSpace, Chloe Rice and Natasha Roland return with last year's hit And Then The Rodeo Burned Down and new show What If They Ate The Baby?
Cabaret at the Edinburgh Fringe
The cabaret section of the Fringe programme is the place to go in August if you're looking for silliness with a side of absurdity. Shiitake Nights at Gilded Balloon's Patter Hoose falls firmly into those categories, featuring 'clowns, comedians and creatures of calamity' from Glasgow. Also at Gilded Balloon, Dizney in Drag: Once Upon a Parody is Australia's The Hairy Godmothers doing adult fairytales, and Lady Marmite is a drag tribute show to the world-famous Lady Marmalade, featuring A'Whora as P!nk, Sminty Drop as Christina, Kiki Snatch as Lil' Kim and Coco Couture as Maya.
Also in the category of drag royalty, Drag Race UK winner Danny Beard heads to Underbelly as part of their debut solo tour; Leather Lungs arrives at House of Oz with Higher Love, a celebration of the powerhouse anthems of ABBA, Queen, and more; and Ginava's Messy Friends at Assembly George Square Gardens is a glorious drag variety show from Australia.
For magic, check out Ben Hart's Jadoo (Assembly George Square Gardens), which sees the magician drawing from his experience of travelling to India and exploring his cultural heritage; Chris Cook (PBH's Free Fringe @ Voodoo Rooms) who celebrates his tenth anniversary by asking: can AI do a better job?; or India's most-famous mind reader Suhani Shah, who makes her debut at Underbelly.
Music at the 2023 Edinburgh Festivals
The Fringe doesn't typically feature the type of bands and artists that you might see at mainstream music festivals, but the best place for established and up-and-coming contemporary music is definitely Summerhall. The Nothing Ever Happens Here programme is always varied and interesting, with this year's selection placing a focus on artists from Scotland. Highlights include the Opening Party with Optimo Espacio and Eyes of Others, Mull Historical Society, We Were Promised Jetpacks, Auntie Flo, Kathryn Joseph, Pictish Trail & Friends, Constant Follower, Withered Hand and the Rebecca Vasmant Ensemble. There's also a special Closing Party hosted by synth-pop duo MARANTA, who invite you to the sensory world of MICROSTERIA. Elsewhere, we can't wait to see musical-comedy heroes Thumpasaurus, San Francisco band Deafheaven and Big Thief's Buck Meek.
For more contemporary music, check out the EIF's selection, which crosses electronic, jazz, blues, roots, Indian contemporary-classical and more. On the programme this year is English electronic icon Alison Goldfrapp, The Velvet Underground's John Cale, Portuguese fado star Mariza, masterful sitar player Anoushka Shankar, Irish radical folk group Lankum, and Detroit-born bassist and composer Endea Owens, among many others.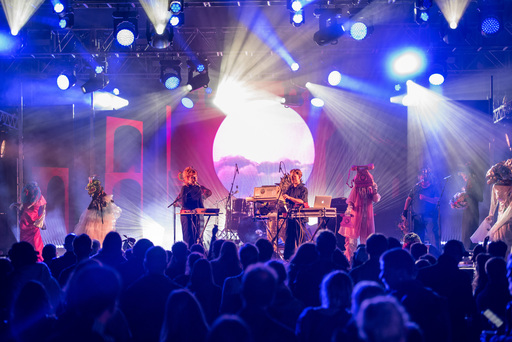 Maranta, VOMITON and Chell Young @ Hidden Door 2021. Credit: Dan Mosley
As is the case every year, the EIF's classical music programme is absolutely packed with crowd-pullers and this year, you'll find 22 symphonic concerts in the Usher Hall and 19 morning recitals in The Queen's Hall. The London Symphony Orchestra will be in residence, as will Korea's KBS Symphony Orchestra, Deutsche Oper Berlin and the Oslo Philharmonic Orchestra. There's also the Budapest Festival Orchestra, led by conductor Iván Fischer, who will have four concerts, including Dvořák's Eighth Symphony presented in an informal performance in the round, and the Simón Bolívar Symphony Orchestra of Venezuela, with its famed young ensemble of players aged 18-25, who are joined by conductors Gustavo Dudamel and Rafael Payare.
In opera, there's a concert performance of Tannhäuser, the only major Wagner opera that has not been performed at the International Festival, with American tenor Clay Hilley making his role debut. Plus, there's The Magic Flute performed in concert by the Scottish Chamber Orchestra and Chorus; a radical retelling of Bartók's Bluebeard's Castle presented by Theatre of Sound; and Trojan Women, which blends Greek tragedy and pansori, an ancient Korean form of musical storytelling, from the National Changgeuk Company of Korea.
In the Fringe programme, 2022 smash hit musical Kathy and Stella Solve a Murder, about Hull's least successful true crime podcasters, is back this year but in a bigger space (Underbelly, George Square). If you didn't catch it last year, this might be your last chance to see it at the Fringe! At the Traverse, After The Act (A Section 28 Musical) is Breach Theatre's new musical about pride, protest and the landmark legislation, and No Love Songs is a new gig-theatre show about the challenges of parenthood featuring songs by Kyle Falconer of The View.
Dance, Physical Theatre & Circus at the Edinburgh Festivals
Circus at the Fringe is a definite winner if you're looking for a fun family day out and as usual, there's loads to choose from. IMA at Murrayfield Ice Rink is an immersive circus experience, set to be a real stand-out, both because of its interesting location and themes of space and sacred places. Afrique en Cirque at Assembly Hall is inspired by daily life in Guinea, with colourful scenery, costumes and staging; women-led YUCK Circus at Assembly George Square Gardens places acrobatics, dancing and comedy front and centre; and Party Ghost at Assembly Checkpoint, which is for ages 12+, combines theatre, death and drag.
Escalate at Underbelly from Australia's Throw Catch Collective has plenty of juggling, rhythm and movement and likewise, Lucky Pigeons at Underbelly's Circus Hub is an energetic show featuring a curious flock of pigeons. Meanwhile, Släpstick's Schërzo at the Pleasance Courtyard is a mischievous clown-esque concerto, ideal for ages 8+.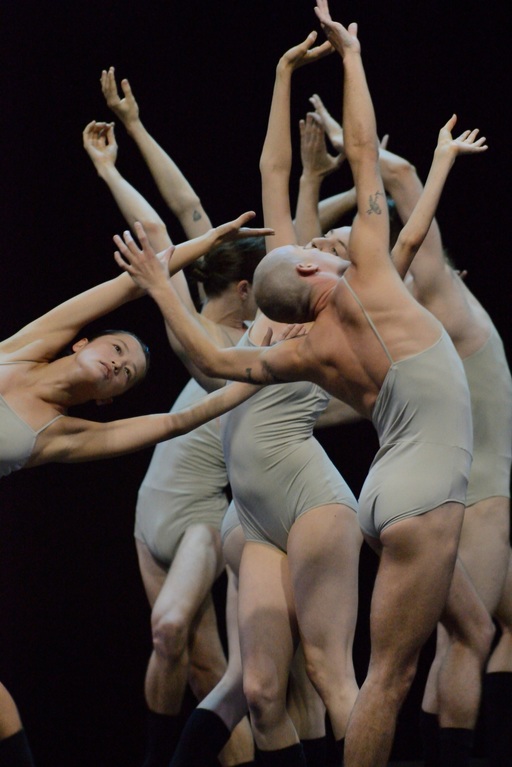 Love Chapter by Sharon Eyal and Gai Behar. Credit: André le Corre
Dance Base have joined forces with Assembly this year to create Assembly @ Dance Base, with a selection of dance, circus, and physical theatre shows as part of their programme. Among the highlights are choreographer Katie Armstrong, who makes her Fringe debut with SKETCHES/GLISK, created in collaboration with multi award-winning composer and DJ Mariam Rezaei. Also on the bill is Solène Weinachter with AFTER ALL, a heartfelt exploration of the death rituals we have; Double Goer, a gruelling dance piece which follows two strikingly similar women; and I'm Muslamic – Don't Panik, Bobak Champion's hip-hop, dance and clown-based exploration of British and Iranian identity.
On the EIF's dance programme, you'll find the powerhouse dance company Alvin Ailey American Dance Theater, who bring two showcases of recent works from the company's dynamic choreographers as well as classic repertoire by founder, Alvin Ailey. There's also Pina Bausch's The Rite of Spring, which originally had its UK premiere at the Festival in 1978. This year, it returns in a double-bill evening with the original choreography, and a cast of over 30 specially assembled dancers from 14 African countries. Also on the programme is Chapter 3: The Brutal Journey of the Heart, Sharon Eyal and Gai Behar's (L-E-V Company) final instalment of their acclaimed trilogy, which began with OCD Love and was followed by Love Chapter 2 in 2018.
Edinburgh Art Festival 2023
The Edinburgh Art Festival is back this year from 11-27 August, under the new direction of Kim McAleese, with a programme that features 55 ambitious projects and exhibitions across more than 35 venues. The opening performance on 11 August at the Queen's Hall, History of the Present, will see Northern Irish writer Maria Fusco collaborate with Scottish artist film-maker Margaret Salmon and composer Annea Lockwood on a hybrid opera on stage and screen that will be performed live. On 13 August, Alberta Whittle presents a newly-commissioned performance at Parliament Hall – The Last Born – making room for ancestral transmissions, while on 19 August JUPITER RISING joins forces with EAF to throw one of the biggest one-night-only parties in Edinburgh curated by artist Lindsey Mendick and collective Bonjour.
This year's commissions also include Sean Burns' Dorothy Towers, which is the story of the legendary Clydesdale and Cleveland Towers, two residential blocks in the centre of Birmingham which have long been a haven for LGBTQ+ people. Hosted at the French Institute, the 16mm film and installation will coincide with workshops and discussions on Edinburgh's queer histories throughout the festival with partners such as the Lavender Menace Queer Books Archive.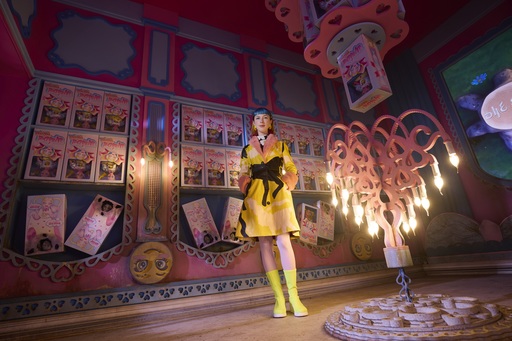 upside-mimi-ᴉɯᴉɯ-uʍop, Rachel Maclean, 2021. Credit: James Glossop, courtesy of Jupiter Artland
Now in its 9th edition, Platform celebrates early-career artists working in Scotland and this year's artists, selected from an open call are Aqsa Arif, Crystal Bennes, Rudy Kanhye, and Richard Maguire. The exhibition runs across the full festival dates at Trinity Apse, an old Gothic church off the Royal Mile.
Other highlights across the Art Festival programme are BEAST! a performance work by the French artist and poet Tarek Lakhrissi (French Institute, 26 August); an illuminated artwork by Rabiya Choudhry at Leith Library; Edinburgh-based poet Nat Raha's first iteration of performance work epistolary (on carceral islands) (50 George Square, 18 August); Lawrence Abu Hamdan's film 45th Parallel (Talbot Rice Gallery); and Dovecot Studios' major exhibition Scottish Women Artists: 250 Years of Challenging Perception, with works by over 45 pioneering women artists including Rachel Maclean, Sekai Machache, Joan Eardley and Alberta Whittle.
Edinburgh International Book Festival 2023
The Edinburgh International Book Festival is celebrating its 40th year in 2023 and the theme this year is The Joy of Words. One of the major events on the programme is It's Not Too Late to Change the World at the Edinburgh Playhouse on 13 August, which is hosted in association with the Edinburgh International Festival. The event welcomes Greta Thunberg, who discusses how collective action – and hope – will serve us in the urgent fight for our planet's welfare. Though the event is already sold out, it'll be live streamed so you can watch it from home on a Pay What You Can basis.
Emily Chappell, Sara Pascoe, Judy Murray, Rob Delaney and Munroe Bergdorf are just a few of the other household names to be making appearances at the EIBF. Across the programme, you'll also find seven Booker Prize winners: Shehan Karunatilaka, Eleanor Catton, Ben Okri, James Kelman, Ian McEwan, and Anne Enright with her brand new novel The Wren, The Wren.
Bernardine Evaristo, Jackie Kay, Val McDermid, Elif Shafak, and Ali Smith talk about how their experiences have informed their writing careers in a series called What Makes a Writer, and Festival Late Nights see a return for the first time in three years, including special salons hosted by Damian Barr and Gemma Cairney [and Arusa Qureshi! - Ed]. Also, you'll find plenty of Scotland-based authors scattered around, including established names like Irvine Welsh, Jenny Colgan, Denise Mina, Chris Brookmyre and Alexander McCall Smith.
If you're looking for poetry, this year's line-up has stars from the USA such as Claudia Rankine and Eileen Myles, as well as Canadian poet Dionne Brand. From the UK, Zaffar Kunial and Alice Oswald present a not-yet-published new work, while Liz Lochhead reads from her New and Selected Poems.
In the Young Adult programme, Alice Oseman will be talking about her bestselling Heartstopper series with Benjamin Dean; Samantha Shannon discusses the new 10th-anniversary edition of the international bestseller The Bone Season; and there's a special event with playwright Alan Bissett, novelist Holly Bourne and screenwriter Emma Dennis-Edwards on the thorny issues around consent.
Kids' shows and events at the Edinburgh Festivals
The Edinburgh International Book Festival is a top-tier location to hang out with the little ones, especially the colourful outdoor courtyard area at ECA which has events all through August. There's Are You Sitting Comfortably? which takes place in The Storytime Yurt every morning, as well as workshops in the Creation Station and costume characters visiting the Festival Village every Saturday and Sunday morning.
Sprog Rock are back on the first Sunday of the Festival, alongside beatboxer Bigg Taj, and on the final weekend there will be a Dragon Hunt, where 10 dragons illustrated by Cressida Cowell will be placed around ECA for families to find. Elsewhere on the programme, there are events for kids with Julia Donaldson, Children's laureate Joseph Coelho, Dapo Adeola, Nathan Bryon, Tracey Corderoy and Steven Lenton.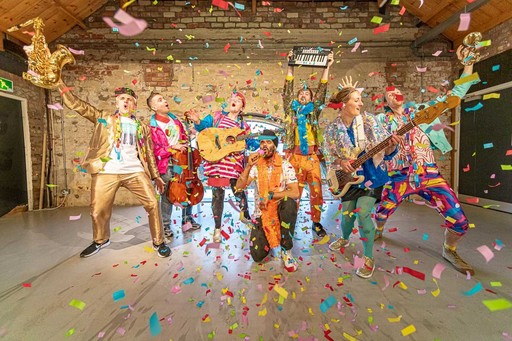 Sprog Rock. Credit: Sprog Rock.
Little ones are also well represented in this year's Fringe programme, with shows for tiny babies and older kids alike. Grow (0+) at the Scottish Storytelling Centre, performed by Niall Moorjani, Diana Redgrave and Vickie Holden, tells the story of a gardener that has agreed to look after their friend's allotment, with joyful results. World in a Word (3+) at Summerhall and part of the Taiwan Season, uses language as a springboard for fun and games, and Marcel Lucont: Les Enfants Terribles (Assembly George Square Gardens, 8+) is a wild interactive game show, where kids get the opportunity to be crowned the most awful child.