Meet Me Halfway: Edinburgh Parklife
With Meet Me Halfway, the City of Edinburgh Council is encouraging you to think greener and meet friends halfway, preferably by foot, wheel or cycle if you can. With live events now possible, maybe a local gig is the ideal place to meet a friend halfway?
With Edinburgh now opening up after a year-and-a-half of lockdown, it's been extremely exciting to see our favourite local businesses back thriving and live music back on the menu at the city's much-loved gig venues. While the August festivals have been more modestly scaled than in previous years, it's been extremely heartening to see the Edinburgh pavements and cycle paths busy again, with people walking and cycling across town to catch a festival show or gig with friends.
One person who's been enjoying the return of Edinburgh's August festivals is Claire Ferguson. The cofounder of Claire North Creative, Claire is a freelance social media director and Scottish travel influencer – find her on adventures around Scotland at @alittlebitofclaire and @alittlebitofscotland. She's also a music fan, and was excited to visit Edinburgh International Festival's new pop-up pavilion at Edinburgh Park to catch one of her favourites from back in the day: Damon Albarn. The Blur and Gorillaz frontman was in town and had brought a string quartet in tow for a new solo show ahead of the release of his new album The Nearer the Fountain, More Pure the Stream Flows.
We spoke to Claire about the return of live music, getting to the festival's new pop-up venue at Edinburgh Park and using a gig as the opportunity to meet a friend halfway.
The Skinny: Where did you begin your journey to head to the concert at Edinburgh Park?
Claire Ferguson: I travelled from South Queensferry, where we live.
Why did you choose to meet at the Damon Albarn gig?
I loved Blur and Gorillaz back in the day, but I haven't seen any of his solo shows, so I was really keen to see him in Edinburgh.
Was this your first gig since the pandemic? How was the atmosphere?
Yeah, it was. It was a strange experience. It took a while to get used to sitting down in the chairs for social distancing. I think it was strange for Albarn too, as he asked us to get out of our seats and come to the front. Many of us did get up as asked and it was fantastic!
How did you choose your route to Edinburgh Park?
I always use an app on my phone to check the best route for walking, cycling or using public transport.
Did you see a different side to Edinburgh or anything new on your journey?
I was glad to catch the sunset. Sunsets always bring out the best in Edinburgh people! Such a happy chilled vibe.
Did you get any food or drink on your route to the gig or afterwards?
No, but I got to order a couple of drinks to my seat at the venue, which was very convenient but could be deadly if you were having some of their amazing cocktails.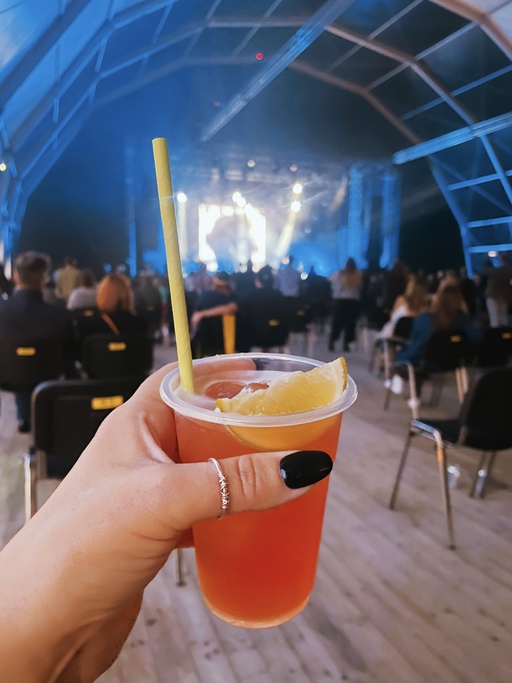 How long did the journey take?
It took roughly 30 mins door-to-door.
What were the highlights of the gig?
Definitely when Damon asked people to come up to the front and stand to experience the gig. The sunset and just seeing how happy people were was also great. Simple things!
What, for you, were the benefits of meeting halfway?
I don't actually drive so using local transport is always easy and convenient. And I find it less stressful than being in a car.
Can you see yourself meeting friends halfway more often?
Absolutely! If there's no need to drive, then don't. 
---
Follow Claire's journey at @alittlebitofscotland
To find out more about the health and environmental benefits of the City of Edinburgh Council's Meet Me Halfway campaign, as well as ideas for your own journey, head to edinburgh.gov.uk/meetmehalfway