The Skinny guide to Gorgie, Dalry & Fountainbridge
Great food and drink, access to some of Edinburgh's best outdoor spaces, and loads of wildlife – here's our introduction to Gorgie, Dalry and Fountainbridge, all updated for our 2023 guide
This article has been updated for The Skinny Guide to Edinburgh 2023, available now at venues across Scotland. Inside, you'll find summaries of the city's different neighbourhoods, our recommendations on what to do, and deep-dives into the history and community that define Edinburgh.
News from the west – things have grown much taller since we last spoke. Fountainbridge and Gorgie's old industrial buildings continue to morph into new hotels and housing, while the enormous new Haymarket development looms over Dalry Road. Still, these are primarily working-class parts of town with welcoming cafes, bars, restaurants and shops plus easy access to great green spaces.
Food and Drink in Gorgie, Dalry & Fountainbridge
Not to be rude to the big-windowed business lads, but we hope The Haymarket doesn't have too much impact on Dalry Road's excellent stretch of foodie places. Start with the great bread and pastries at Twelve Triangles (no. 50), pick up some excellently-curated beers at The Beer Cave (no. 43), or stock up your cupboards at Thai@Haymarket (no. 39).
Chix (no. 25) put out possibly the best fried chicken in the city – grab their gnarly, crunchy chicken tenders and some of their many, many dips. Get steamed up at the excellent Xiangbala Hot Pot (no. 63); visit Riverlife (no. 84) for French Caribbean classics; Pizzeria 1926 (no. 85) recently changed hands, but the Neapolitan pizza reportedly remains delicious. Locanda de Gusti (no. 102) focuses on Naples' seafood, while Wine & Peach (no. 91) offers Mediterranean small plates and cocktails. 
Away from this one bit of street, there's plenty more to enjoy. The Athletic Arms (1 Angle Park Ter) is a classic old-school pub with great cask ales and an enormous whisky selection, while gastropub fans are well-served by the Caley Sample Room (42 Angle Park Ter) and The Fountain (131 Dundee St). After a night in the above, find one of the city's best breakfast rolls at Hank's (162 Fountainbridge) – this writer swears by the lorne sausage and tattie scone. Hula (94A Fountainbridge) serves inventive dishes in a blur of plants and neon, and Grow Urban (92 Grove St) is a fantastic independent plant shop with great coffee.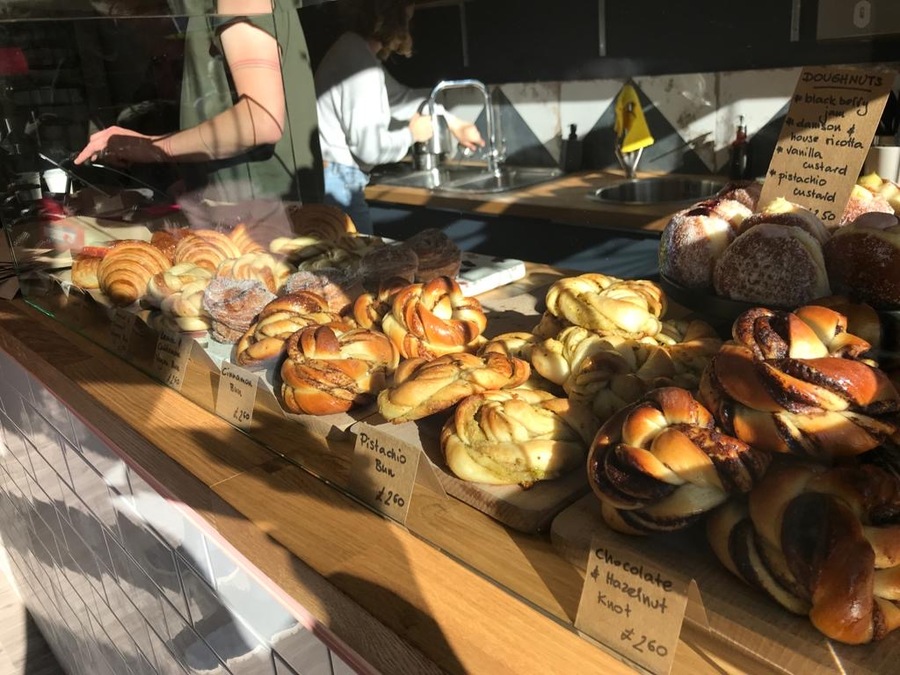 Twelve Triangles. Credit: Twelve Triangles
Further down Dalry Road you'll find the excellent Chennai's Marina (192 Dalry Rd) with delicious and impressively spicy Sri Lankan dishes, while Gorgie Road is the place to go for seemingly any ingredient. Afro-Caribbean (Uwagboe's, no. 193), Japanese and Korean (Sanpo Yoshi, no. 268), or South Asian (Amma Spices, no. 261) – you'll be sorted thanks to these guys or one of their equally independent neighbours.
Things to do in Gorgie, Dalry & Fountainbridge
Our Gorgie/Dalry/Fountainbridge zone is encircled by green spaces, nice walks and outdoor spots. The Union Canal starts at Fountainbridge and goes west through some leafy, bucolic scenery. Continue far enough and you can join the breathtaking Water of Leith path south to Colinton and Balerno, or north through the Dean Village and Stockbridge. Alternatively, get on your bike. Join the Roseburn cycle path just past the stadium at Tynecastle, and you're on a five-mile stretch of smooth, off-street riding that will take you all the way to Leith. It's well-maintained, it's lit at night, and it beats being stuck on the bus.
In terms of parks, you're spoiled for choice. Harrison Park is a well-kept neighbourhood park that stays sunny past 10pm in the summer nights, with a branch of the lightly-fancy Edinburgh grocery chain Margiotta round the corner for your cans and hummus. Saughton Park has a beautifully restored rose garden, a vast playpark and a much-loved skate park, while Colinton Dell is a bumpy, lumpy forest with Scotland's largest mural in its historic railway tunnel.
If the weather won't play ball, get into some animatronic wildlife at the dinosaur-themed indoor mini-golf of Volcano Falls (Fountainbridge). Just up the road, Edinburgh Printmakers (1 Dundee St) are fully embedded in their new home of the former rubber works. Away from the print studios of the title, you'll find two gallery spaces, a cafe, and a pretty nifty gift shop. Keep heading west beyond Gorgie and you'll hit the newly-revamped O2 Academy Edinburgh (11 New Market Rd) – look out for gigs from First Aid Kit, Devo and Amyl & the Sniffers this August. If you're something of a singer yourself, visit Marcos (79 Grove St). Its recent facelift features a private karaoke room; if you 'don't like karaoke', hit one of the many, many pool tables.