The Skinny guide to Glasgow's West End
Our guide – updated for summer 2022 – to the cafes, restaurants, shops and bars that make Glasgow's West End the place to be
The West End of Glasgow is the city's traditional student hotspot, and the University of Glasgow sits right in the heart of it. The River Kelvin passes through the West End, and the bisecting high streets – Byres Road and Great Western Road – are full of independent shops, cafes and bars.
The West End's lanes and alleyways are buzzing, and there's a surprising amount of live music and entertainment for such a leafy area.
Great Western Road
Given the name, it makes sense to head west down Great Western Road as you leave the city centre, with the first key stop coming at The Hug and Pint (no. 171). You'll find delicious vegan food and drinks upstairs, and a cosy and expertly-programmed gig space in the basement. Lupe Pinto's (no. 313) is Glasgow's best shop for North and Central American ingredients from chilis to corn tortillas to chicharrones; Bar Brett (no. 321) serve natural wines alongside elevated fire-cooked dishes; Bananamoon (no. 360) is a riotous cocktail bar with a huge outdoor seating area, and a top-notch sound system inside.
Serenity Now (no. 380) offers up vegan breakfast options and cafe staples, while Te Seba (no. 393-395) will blow your socks off with incredible pasta dishes and apparently-endless variations on the bellini. Websters Theatre (no. 416) presents a range of theatre, comedy and music and is also handy for a pre-subway stop-off, while The Blankfaces (no. 427) create designer threads with the help of homeless Glaswegians, with the profits going to the city's homeless community.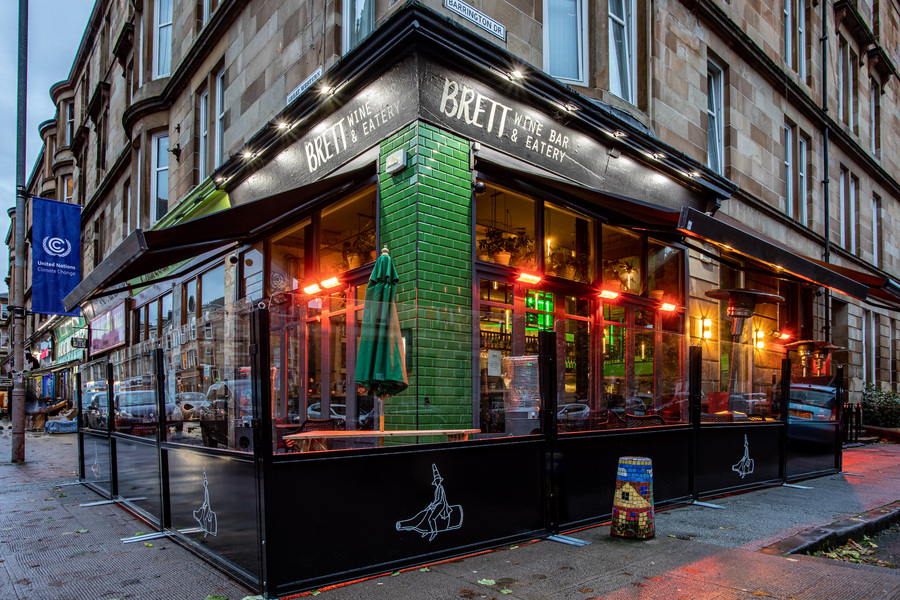 Bar Brett on Great Western Road. Photo: Clair Irwin
Kelvin Pocket (72 S Woodside Rd), underneath the stairs to the Kelvinbridge subway stop, serves up great coffee, while crossing the Kelvin leads to a host of places worth checking out. Inn Deep (no. 445) has brilliant beers from Williams Brothers and a delightful riverside terrace. Back at ground level, the same folk are responsible for Valhalla's Goat (no. 449), an expertly-stocked beer and wine shop, while Roots Fruits and Flowers (no. 455) will sort you out with some great groceries to go with all the beer you've just purchased.
We know that lots of people say it, but it's true: Glasgow's best pizza can be found at Paesano, and their West End branch is just up the road at no. 471. If you need a new book to pull you out of your post-pizza lull, head a few doors up to the second-hand book haven of Caledonia Books (no. 483). At the end of the block, Cottonrake Bakery (no. 497) will fix you up with some fancy and delicious cakes and pastry.
Continue on and you'll hit a pair of excellent cafes – Kothel (no. 536) offer up an all-day coffee shop with options for everyone, while Papercup (no. 603) serve one of the best espressos in the city with beans from their own roastery. Head for the hanging baskets, cold pints and cosy vibes at The Belle (no. 617), and keep walking until you hit the live music and untameable grandness of Òran Mór.
Woodlands
If straight lines aren't your thing, take a left from Great Western Road and you'll head into the windy avenues of Woodlands, south of GWR and east of Byres Road. You'll find a bit of everything, starting with some lovely green space. Kelvingrove Park is one of the city's best, with plenty of walking routes and things to do, as well as offering a charming off-street route towards Finnieston and Partick.
Kelvingrove Art Gallery and Museum (Argyle St) is one of the city's key attractions, and Glasgow University's Hunterian Gallery and Museum (University of Glasgow, 82 Hillhead St) are also nearby if you fancy a day of looking at Old Stuff. Top tip – Kelvingrove is all in one place, but the Hunterian Gallery and Museum are in two different buildings on opposite sides of the street. The Glasgow outpost of The Stand Comedy Club (333 Woodlands Rd) is just east of the river, north of the park.
Fun fact: Glasgow Uni has two separate student unions, the Glasgow University Union and the Queen Margaret Union. The GUU was a little boys' club for nearly 100 years, which only gave up its 'no women' policy when the uni threatened to chuck them out of the building. Very cool and normal behaviour! The QMU (22 University Gardens), on the other hand, has been at the forefront of Glasgow's gig scene since the 1990s and is a regular stopping point for touring bands from around the world.
The residents of nearby Otago Lane have been fighting the good fight against property developers for years, looking to keep their uniquely odd slice of the West End alive. Head down and check it out – you'll find a great mix of new and second-hand records at Mixed Up (no. 18), rare and antique books at Voltaire and Rousseau (no. 12-14), and an extremely laid-back cuppa at Tchai-Ovna House of Tea (no. 42).

For food, take your pick from deliciously meaty burgers at El Perro Negro (152 Woodlands Rd), incredible falafel from Mrs Falafel (1 Ashley St), deli treats from across the Middle East at Scherezade (47 Bank St) and Italian classics at Eusebi Deli (152 Park Rd). Alternatively, grab a pint in classic old school pubs The Arlington (130 Woodlands Rd) and The Doublet (74 Park Rd), or the ever-lively DRAM! (232 Woodlands Rd).
Byres Road
Starting at Kelvinhall subway station, where the West End turns into Partick, Byres Road is synonymous with the Glasgow student experience. A good first port of call, then, is the University Cafe (no. 87). One of the city's many Italian cafes and ice cream parlours, this one's been on the go for more than a century, and is more than worth a look regardless of any gelato-resistant weather. A more recent addition that inspires near-equal fervour is the Korean-inspired street food of Kimchi Cult, just off the main road at 14 Chancellor St.
Continue up the hill and you'll find exciting art at the multi-functional gallery/cafe The Alchemy Experiment (no. 157), a good coffee to keep you going at Tinderbox (no. 189) and a great pint at Tennent's Bar across the street (no. 191). Keep going towards Hillhead subway and you'll enter what we'll call The Lane Zone.
On your right, Ashton Lane – a lovely cobbled street lined with bars and restaurants, with trailblazing restaurant Ubiquitous Chip (no. 12) and Belgian beer bar Brel (no. 37-43) among the highlights. On the left, Ruthven Lane – it's not as flash, but its collection of indie shops including the always-intriguing Ruthven Mews (no. 57) arcade and the vintage wares at Starry Starry Night (19 Dowanside Ln) are well worth checking out. Ruthven Lane is also home to the excellent Hanoi Bike Shop (no. 8), a quaint Vietnamese restaurant whose one-time endorsement by Beyoncé has entered into Scottish food legend. Further up to the right and slightly round the corner, De Courcy's Arcade (5-21 Cresswell Ln) is home to a selection of arty shops, with the lovely Japanese stationery at DRAW our particular favourite.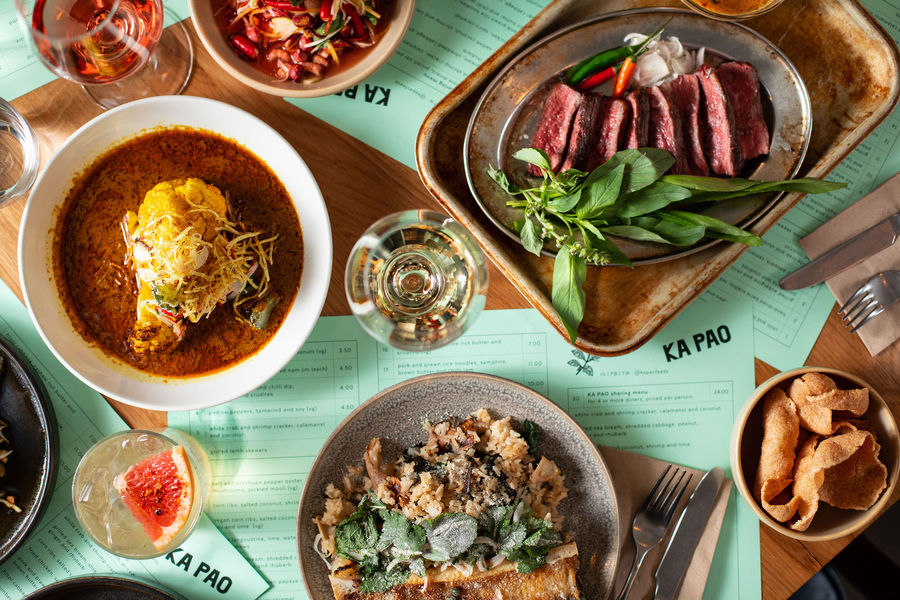 Food and drinks at Ka Pao. Photo: Ka Pao
All the way up Byres Road you'll find various charity and thrift shops, with the Oxfam Music (no. 171) and Oxfam Bookshop (no. 330) ideal if you need something to keep yourself entertained. At the top of the road, stop in at Òran Mór to catch a gig, grab a pint, or just gawk at Alasdair Gray's ceiling mural (one of the largest artworks in the whole country!), while round the back on Vinicombe Street you'll find tasty drinks and food at Hillhead Bookclub (no. 17) and Ka Pao (no. 26).
Over the road are the Glasgow Botanic Gardens (730 Great Western Rd), an ideal destination for strolls and various light-based events all year round. The jewel in the gardens' crown is the grand Kibble Palace, a former exhibition space and concert venue, now a bright and spacious home for a whole host of trees and ferns.