The Skinny Guide to Glasgow's Southside
A world unto itself, the Southside of Glasgow is one of the most vibrant and exciting areas of the city. Here's our 2022 guide to its cafes, bars, restaurants, shops and green spaces
This cosmopolitan corner of Glasgow is where the historic Rent Strikes of 1915 first began and, in 2001, where a local community famously occupied a swimming pool (Govanhill) to prevent its closure (the building is now a grassroots, activist organisation and local arts and well-being hub).
Encompassing two of Scotland's most diverse neighbourhoods, Govanhill and Pollokshields, the Southside is also home to an incredible range of restaurants, cafes, shops and takeaway hole-in-the-walls. Cuisines from all over the world can be found in Govanhill's packed, bustling streets, where 32 languages are spoken within a span of just 13 tenement blocks. Thanks to its low rents, community spirit and buzzy atmosphere, Govanhill is also fast becoming a city hotspot for artists and creatives. Small social enterprises, hip indie businesses and creative hubs have sprung up all over the neighbourhood in the last couple of years.
For a slightly quieter, more relaxed vibe, visitors can head to neighbouring districts Mount Florida and Pollokshields – here you'll find snooker halls, quiet pubs and cosy cafes, dotted along widely spaced, residential streets that feature some of Glasgow's most beautiful architecture. Up the road, Shawlands is the Southside's busy shopping district, teeming with indie outlets, charity shops and cheerful eateries. Every urban region needs a good green space, and thankfully the glorious Queen's Park is just that. Nestled between Shawlands, Mount Florida and Govanhill, this gorgeous expanse of greenery, nick-named 'the people's park', is the beating heart of the Southside.
Food
The Southside is a great place to get lost in, and foodies could easily spend an entire day just wandering around and sampling the local delicacies. In Govanhill, take a walk up Allison Street and pop into the Glasgow Sweet Centre (no. 202) for some of the best samosas in town, plus something sweet for dessert (the Pistachio Burfi is recommended). Once you hit main strip Victoria Road, there's a fantastic array of eateries to choose from. For mouth-wateringly delicious tacos on the go, check out Sacred Tum Tacos (no. 522), and for Italian cuisine with a vintage vibe head to the tiny, homely, retro-styled Errol's Hot Pizza (no. 379).
Head up the road and you'll find even more shoebox-sized gems nestled together at the tip of Allison Street. The veggie rolls at Vietnamese BYOB place Little Hoi An (no. 26) are out-of-this-world, but make sure to ring ahead if you want to sit in – it's extremely hard to get a table. Right next door, Kurdish Street Food (no. 12 - 14) sell the best kebabs in the city, and you can walk away full for less than a fiver.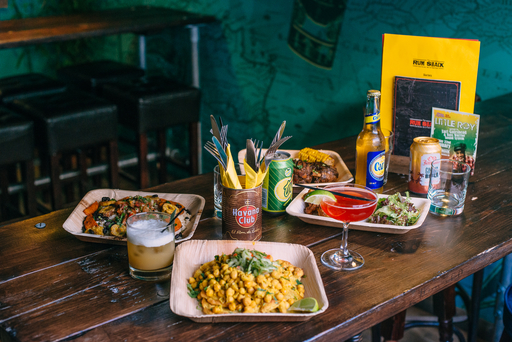 The Rum Shack, Pollokshaws Rd
Turn the corner onto Pollokshaws Road and you'll find some roomier dine-in restaurants, such as the excellent Caribbean bar and canteen The Rum Shack (no. 657-659), Greek-Cypriot Mezze place Halloumi (no. 697) and family-run delhi serving traditional Punjabi food, Ranjit's Kitchen (no. 607). In Pollokshields, Indian restaurant New Anand (76 Nithsdale Rd) is a neighbourhood favourite, while the elegant Nivens (72 Nithsdale Rd), with its fresh Scottish dishes and refined, gorgeous decor, is perfect for a fancy night out.
In Shawlands, try Julie's Kopitiam (1109 Pollokshaws Rd) for delicious Malaysian street food and Silk Road Deli (34 Minard Road) for inventive sandwiches with serious flavour. In Mount Florida, Hooked (1027 Cathcart Rd) is great for fish and chips and if you like your lunch served with a side of history, check out the Battlefield Rest (55 Battlefield Rd). This quaint and cosy continental bistro has been around since 1914, when it was used as a resting and courting place for tram travellers.
Drinks
The Southside is full of places to drink, from the 'old man pub' variety to a bunch of trendier bars. The Allison Arms (720 Pollokshaws Rd) is a lively, permanently crowded establishment that seems to cater to all crowds. Right next door, separated only by Shahed's Takeaway (the perfect stop-off for post- or mid-boozing food), is the legendary Heraghty's (708 Pollokshaws Rd), one of the city's oldest pubs. Fancy a change of scene? Just whip across the road and head into The Rum Shack, where you can choose from a list of delectable cocktails or over 100 different types of rum. There's also the achingly hip Koelschip Yard down the street (686-688 Pollokshaws Rd), serving a pretty impressive selection of craft beer. If you're feeling adventurous, you could always head further afield to Glaswegian institution the Star Bar (537-539 Eglinton St) for karaoke and a £3 three-course meal on Sundays, or over to Minnesota Fats (1053-1055 Cathcart Rd) for a pint over a game of American-style snooker.
If it's caffeine you're after in the Southside, you'll be spoiled for choice. Go-tos for serious coffee fans include Short Long Black (501 Victoria Rd) and Grain and Grind (742 Pollokshaws Rd). After opening during the pandemic, the Transylvania Coffee Shop (462 Victoria Rd) has quickly become a neighbourhood favourite. Owned by a local couple from Transylvania who lost their jobs at hotels shortly before the first lockdown, it's a cheery bistro-esque place bursting with Romanian and Hungarian snacks, fresh produce, flowers, cakes, baked goods and takeaway hot drinks. Its friendly atmosphere is also unparalleled – the 'come on in' vibe and extensive, seasonal decorations (whether for Halloween, Pride or Christmas) will cheer you up no matter what mood you're in.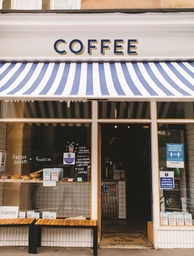 Grain and Grind, Pollokshaws Rd
Milk (452 Victoria Rd), a social enterprise and community-minded cafe, is a particularly lovely place to linger over a coffee with a book or a friend. And tucked away on a side street nearby is a true Southside hidden gem. The Bees Knees Cafe (83 Bowman St) is a snug autumnal treasure trove, complete with vintage mismatched furniture, quirky antique objects, warm mellow lighting and even, according to owner Anna, a couple of friendly ghosts (they like to hang out in the back room, along with the Victorian oil paintings). Perhaps more importantly, it also sells a range of melt-in-the-mouth vegan and gluten-free cakes, along with vegan whipped cream.
Indie Shops and Things To Do
The famous Burrell Collection recently enjoyed its long-awaited reopening – the magnificent civic museum, which has been closed for refurbishment since 2016, is home to 9000 objects and surrounded by the splendour of Pollok Country Park (2060 Pollokshaws Rd). For a contemporary arts and culture fix, head to the Tramway (25 Albert Dr), a renowned international arts venue offering a year-round programme of dance, live art, drama, festivals and free exhibitions. Out back you'll also find the Hidden Gardens, a peaceful and calm Southside oasis.
For records, check out Some Great Reward (520 Victoria Rd) and for one-of-a-kind handcrafted objects head to Wild Gorse Pottery (684 Pollokshaws Rd). Market magpies should visit Park Lane Market (974 Pollokshaws Rd), open on the first and last Sunday of every month, and the Big Zero Waste Market (The Deep End, 21 Nithsdale St), open on the first Saturday of every month.
A number of independent bookshops have recently sprung up in the area – there's Burning House Books (446 Cathcart Rd) with its sleek black shopfront and focus on counterculture and queer history, the lovely, cosy Outwith Books (14 Albert Rd) which also offers a beautiful desk-space area for writers, and the very new and exciting Mount Florida Books (1069 Cathcart Rd). But if you could only visit one Southside bookseller, we'd have to recommend Category Is Books (34 Allison St). The fiercely independent, DIY outlet offers queer community events as well as books, comics, zines and magazines, and is the only bookshop solely dedicated to LGBT+ literature and authors in Scotland.
Go outdoors
Queen's Park, with its urban proximity, is a great place to relax with pals, sprawl out on the grass with a beer or coffee, take in the view at the flagpole or perhaps enjoy some spontaneous entertainment at the Queen's Park Arena. This park truly is the epicentre of the Southside, but there are other green spaces to check out too, each with something distinctive to offer. The huge Linn Park, stretching across four Southside suburbs, is a wilder affair, full of craggy woodland walks, lush waterfalls and several play areas for families. Pollok Country Park (2060 Pollokshaws rd) is the only country park in Glasgow and well worth a visit for its gorgeous landscapes and scenic trails. If you're lucky, you also might spot a Highland coo or two.