The Skinny guide to Glasgow's East End
The East End of Glasgow is home to some of the city's most iconic gig venues, some top quality independent food and drink, and a genuine community buzz, all updated for 2022
The East End is a place where the rich tradition and history of Glasgow's musical heritage combines with bustling, top quality independent food outlets, cool and comfortable drinking holes and, with property prices lower than to the west and south, a buzzy sense of something happening with young people congregating there. 
Connected by the long stretch of Duke Street, Glasgow's East End, once vaunted for a significant uplift by the 2014 Commonwealth Games, has instead grown in a more organic way. Stretching from the Gallowgate to Dennistoun and beyond the football stadium at Parkhead, it retains its sense of community spirit, with the full scale of gentrification not quite reached yet.
It also contains some of the city's more underappreciated green space. Dennistoun was ranked the eighth coolest neighbourhood in the world in 2020 by Time Out. It may feel a bit more rough and ready than some of the glitzier places on that list, but embedding yourself within it you'll realise why it was granted that honour.
Food and drink

Duke Street boasts several eateries worth your time. Mesa (no. 567) has the best coffee and even better sandwiches – dare you not to buy the special every time it changes. Sweet Jane (no. 434), across the road, provides the structural integrity (bread) of their sandwiches and delectable cakes and pastries of all kinds, and down the road is vegan cafe Rawnchy (98 Bellgrove St). Newly opened Wild Flours East (553 Duke St) and the vegan cafe Mayze (172 Sword St) offer cake, coffee and other lunchtime meals, while an unrivalled brunch item in the scampi roll should be obtained from Scran (594 Alexandra Parade). Further along towards town, the rustic-chic of OUTLIER (38 London Rd) is a great place for a rotating menu of sandwiches built from the in-house bakery and for people-watching. Baked (120 Duke St) is an excellent pizza slice shop (try the vegan 'nduja) with moreish arancini offerings. Arancini are plentiful over here it seems, as up at Alexandra Parade, Italian deli Celino's (no. 620) has mounds of the stuff, as well as cold meats and focaccia you can take up the park when it's sunny.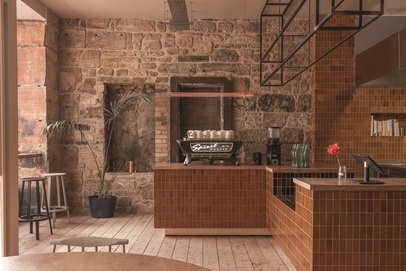 Outlier, London Rd
In terms of bars, Redmonds (304 Duke St) and Palais (380 Duke St) are cosy neighbourhood dives for a late drink. Larger breweries WEST (15 Binnie Pl) and Drygate (85 Drygate) offer their huge selection of beers, good food and huge open spaces for large groups. Good coffee is in abundance too: East (30 Hillfoot St) and Tapa (19-21 Whitehill St) have small spots off the main road, and city institution Dear Green (13-27 E Campbell St) roast their blend in the East End too. The newest kid on the block Zennor (354 Duke St) may seem to be aimed at coffee experts, but its minimalist design and incredible toasties make it an essential stop. For a more extravagant eating experience, head to the relatively new Celentano's (28-32 Cathedral Sq), situated next to the Necropolis in the ground floor of the Cathedral House Hotel. It offers a vibey night of fine dining with wine from taps and small plates of Italian-inspired food with a contemporary twist.
Things to do
The Glasgow Necropolis is a short walk up the hill from Duke Street, located next to the cathedral, and boasting perhaps the best view of the city. Frolicking between the headstones with your headphones on listening to goth tunes as the sun goes down is severely underrated. Alexandra Park is one of the lesser appreciated green spaces in Glasgow. There are points on its slopes where it'd be easy to forget you are even in the city were it not for the nearby M8's ambient hiss of traffic. Glasgow Green is the other end of the spectrum – huge and spacious and lining the river, away from everything else.
TRNSMT festival takes place there each summer, and it's home to the former Templeton Carpet Factory, a 19th century brick impression of a Venetian palazzo. People's Palace is there too which gives a nice overview of Glasgow's history. If you want to see some sport, Celtic play at Celtic Park, Parkhead and the Sir Chris Hoy Velodrome is across the road. The East End's role in the city's musical heritage is vital, and nowhere is this more apparent than at the Barrowland Ballroom on the Gallowgate, a favourite of touring acts from all over and perhaps the best venue in the world. St Luke's (17 Bain St) is another top quality venue hosting smaller bands. The jewel in the crown of the East End though is Glasgow Women's Library (23 Landressy St) in Bridgeton, a community-driven, grassroots-established celebration of the lives and achievements of the city's women, boasting art, archival materials and exhibitions. Read a full interview with them here.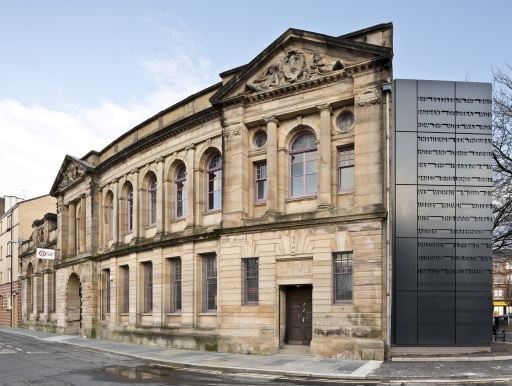 Glasgow Women's Library, Landressy St
Shops
On the weekend, The Barras Market (242 Gallowgate) still goes on despite being a shadow of its former self. Vendors sell their wares come rain or shine, hawking everything from pirate DVDs to vintage clothing. But now it's surrounded by small arts shops that stick out for their uniqueness in the city. Two of the best are Ripe (Barras Market, Moncur St), a tiny magazine shop selling high quality independent journalism with innovative design that spills out onto the street, and Submarine (8 Kent St), which stocks prints from local artists. Joining them is The Woom Room (Stall A7, Barras Market) a workshop, events and exhibition space and shop which stocks prints, clothing, accessories and other bits and bobs from Scotland-based artists.
Down nearer Glasgow Green on St Andrew's Street, get lost in the piles of books at Good Press (no. 32), or find something beautiful for your home at independent lifestyle shop Squid Ink Co (no. 18) or something bespoke for a family member or friend at The Passenger Press (no. 24). Just off Duke Street, the Zero Waste Market (17 Hillfoot St) offers a sustainable way to get your groceries.
Getting there and getting away
The length of Duke Street that runs from High Street train station to Bellgrove is the most underrated walk in terms of time taken in this small city. It takes far longer than it originally seems and there is very little to occupy you along the way other than some land currently undergoing redevelopment where the old abattoir used to be or the Tennent's brewery.
So, unless you're planning on going for a pint at Drygate, getting to where the good stuff is may be best left to the bus or train, the latter of which there are three – Bellgrove and Duke Street on the line to Edinburgh or nearby Alexandra Parade. High Street will get you close enough to get down to the Gallowgate or Bridgeton, or if you're feeling limber, you could walk along from Argyle Street station or St Enoch's subway.