Fly by Night: Two Sides of Copenhagen
A weekend in the 'world's happiest city' reveals that, far from being content to rest on its laurels, Copenhagen is a place of experimentation, discussion and even dissent
Amid the deserted car parks and flat, empty units of the Meatpacking District, fires burn against the whip-sharp cold. A box of flame marks the cloaked entrance to Kødbyens Fiskebar; inside, couples chink thick wet drinks, and watch fish swim in table-mounted tanks.
At Bæst, a new basement place on Klosterstræde, our voices sink into alcoves carved from dark wood and metal; we drink alone, early doors, shrouded in the velvety eeriness of a haunt not yet haunted.
In a den in København K, a grey-pearl smog cushions the 18th-century ceiling. This is Byens Kro – a timeworn warp in the otherwise slick, smart central district – and there is no bar-hopping here; instead, ideas come slowly into focus through the rare indoor smoke.
Copenhagen at night is a different, sharper, meaner animal to Copenhagen by day; and it's kind of a relief. In sunlight – all wide, windy promenades, candy-painted townhouses and the whispered sweep of wheels – it can seem a utopia, and thus perhaps by definition, too good to be true. Except that it is (true), of course: for the second year running, this summer the Danish capital came top of Monocle magazine's agenda-setting list of the top 25 liveable cities in the world, ranked according to things you might imagine like architecture, employment, and greenness, as well as other less conventional factors like the number of murders, daily newspapers, and McDonald's. (One, 13 and 11, respectively. Hmmm.)
The title comes as no real surprise: since the publication of the first World Happiness Report in 2012, which found that the countries with the highest 'life evaluation score' were all in northern Europe – Denmark, Norway, Switzerland, the Netherlands and Sweden – much fuss has been made, and many thinkpieces penned, about this relatively low-populated metropole having been granted the stature of happiest city on the planet. Certainly there are a lot of folk looking proper chuffed skating about in the middle of the afternoon, the plentiful leisure space even stretching, in one case, up the wall of a block of flats that doubles as a ramp – and the sense of community spirit seems strong, from cafes inviting you to place lost gloves in a box to help their bar staff get into design school (quite how, it's not clear), to a neighbourhood shed where locals leave unwanted items so others can pick up free clothes, pushchairs and furnishings. You feel, almost instantly, that this is a country that cares: indeed, education is free, healthcare is free, the job market prides itself on upholding a healthy work-life balance, and Denmark boasts one of the most generous welfare states in the world – funded through high taxation – leading as a result, it is claimed, to the lowest inequality. Everywhere you go, everything is eco – from the tapas in Torvehallerne food hall to the cosmetics counters; even the hairdressers bill themselves as 'økologisk.' (The barman at Bæst, lingeringly stirring a – locally sourced – sea-buckthorn daiquiri, explains that, as it's no more expensive to opt for 'bio,' the preference is ingrained.)
---
---
So far, so rosy. Interestingly, however, we do hear cynicism. While to the outsider life may seem paradisiacal, some critical residents feel that they are too comfortable; that many of the young are, at best, just coasting; at worse, victims of ennui. "Have you noticed anything about the twentysomething males here?" a friend who's been working in the city for a couple of years asks wryly, minutes after we meet; she means to point out a placidity, a sort of floating...ness. The last year in the international press has seen arguments about entitlement: a New York Times story sparked debate (and defence) after it summarised alleged anxieties in Denmark itself as to 'whether their beloved welfare state... had become too rich, undermining the country's work ethic,' creating 'dawdling university students' and 'young pensioners.' Things are too easy, the friend insists, and, somewhat ludicrously, at traffic lights we find ourselves more closely studying the calm, inscrutable faces of strangers, as if this inchoate and unsubstantiated notion is something that could really be known (though ultimately, we reckon, given the choice between a less equal society in which struggle might occasionally, inadvertently lead to a sense of purpose and urgency as byproduct – or a more equal society in which there could be a fine line between comfort and torpor – we're pretty sure which one we'd choose). Besides, we're here to sample the cultural scene, which, happily enough, seems far from lethargic, sharing with the city's nightlife a desire to stimulate and unsettle rather than entertain – and goes some way towards rubbishing the suspicion that Copenhagen might just be a bit too, well, nice.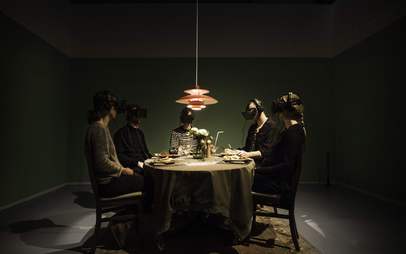 Skammekrogen at Dark Matters, Copenhagen
Our awareness that the nexus of art, technology and social comment is perhaps more a part of everyday discourse here than at home in the UK begins with the discovery, down a quiet street in Nørrebro, of Dark Matters. Rune Brink Hansen and Lasse Andersen's enigmatic 'studio for time space and light' creates visual concepts that arise from experimenting at the intersection of architecture, scenography, design and art; their office is currently unpeopled and cobwebbed, but streets nearby proffer part-peeled posters for their most recent project, Skammekrogen, an immersive theatre performance that utilises the Oculus Rift. In it, participants enter a white room, sit at a table set for dinner, put on their virtual reality headsets and arrive at a family meal with all its attendant tensions and intimacies. "The magic happens when the audience remove their goggles," explains director and writer Johan Knattrup Jensen in a video. "They're seated with a group, who before were strangers, but now... they have formed a bond." The company's shopfront door, meanwhile, directs us towards their next engagement, Naesus, a collaboration with the Tycho Brahe Planetarium to turn its 1000-square metre Space Theatre into an 'audio/visual research dome' as part of the cross-Atlantic Festival of Endless Gratitude.
Later, in a cafe we pick up Scenario magazine – a bimonthly 'briefing on trends, ideas, visions and possible futures' published by the Copenhagen Institute for Futures Studies – and are equal parts interested/alarmed to discover the '17 megapatterns' governing our lives; elsewhere, its lead story argues that competitiveness is the enemy of innovation, making us focus "on the same parameters as everybody else, rather than focusing on where we are different."
Browsing the shop of the Kunsthal Charlottenborg art museum reveals it to stock exclusively existential reading matter – favourites are tiny publishing house Eros's biannual journal 'dedicated to the subject of desire,' and a compendium from Berlin's Sternberg Press that explores ideas of 'the body, the self, as a spirit micro-region with borders that cannot hold' – while billboards across town preview an upcoming music programme that spans the coruscating sonics of Tim Hecker (at the Jazzhouse), fine Berghain techno (an Ostgut Ton label night at Culture Box), and a clutch of broody, mindful producers including Peanut Butter Wolf and Om Unit (at Rust).
There is a levity to be found in the fairground lights of Tivoli Gardens and in frequent moments of silliness – such as when, on one evening's walk home, an electric rickshaw festooned with lanterns and blaring out Avicii drunkenly lurches across our path, the driver melting into giggles in his seat. But overall, the impression that's left is one of a consciously cerebral city: communitarian, self-analytical, and concerned about the future rather than coddled in cotton wool, as some might have it. Sure, Copenhagen may have a lot of things right already – but it doesn't feel like it'll be resting easy anytime soon.
---
MORE FROM THE SKINNY:


• The Mysterious Island: Interview with Collette Rayner
---
Dark Matters: darkmatters.dk Copenhagen Institute for Futures Studies: cifs.dk Festival of Endless Gratitude: facebook.com/endlessgratitude Norwegian airlines operates a service to Copenhagen from Manchester and Edinburgh airports